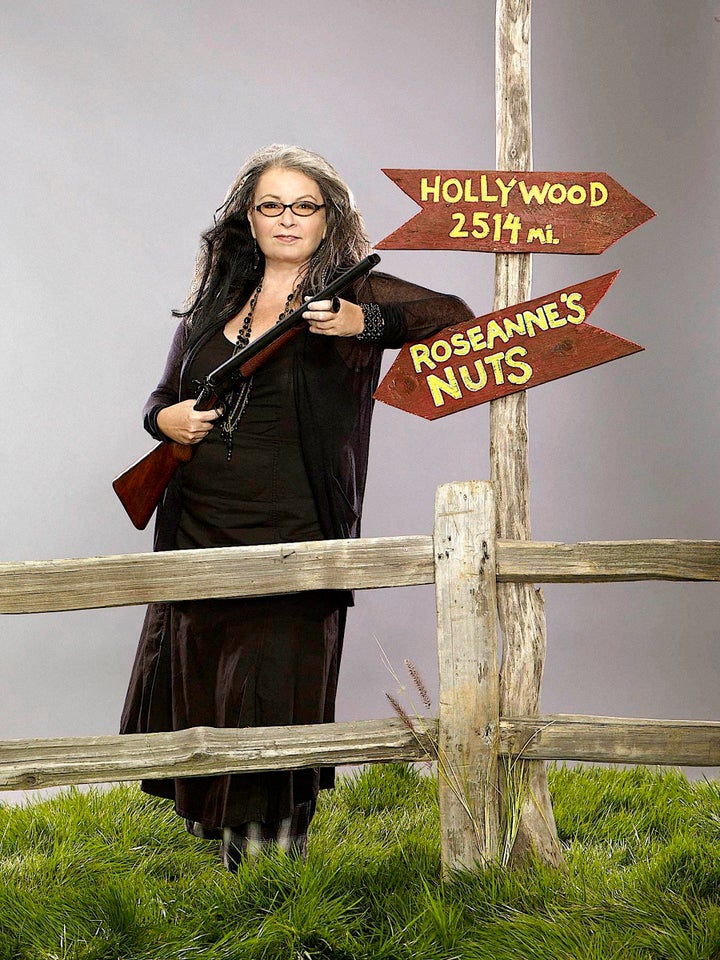 Roseanne Barr has balls. We all know that. So when the comic proclaims, "the solution to all of the world's problems starts with my nuts" in her new reality outing, two things happen. 1) You laugh. 2) You find yourself happy that the woman is back.
And apparently in top form.
Roseanne's Nuts chronicles Barr's never-boring life running a 40-acre macadamia nut farm on the Big Island. She's not alone in this Hawaiian endeavor. Boyfriend/musician Johnny Argent -- perhaps the most patient man in the world -- son Jake, and others are along for the ride. There are 2,000 nut trees on the farm so there's much to do and in the premiere episode, much of that doing revolves around keeping the farm pig-free -- the feisty little fellas can't get enough of Barr's nuts. In a classic Barr moment, the comic, upon capturing one pig, tells the creature to go back to its "people" and tell them never to step foot on the farm again.
The truth is, if anybody can (and could and should) get away with spawning another reality outing, it's Barr. Yes, she unapologetically plays to the camera here. At one point, the cameras pan back and you can spot the reality TV crew lingering nearby as Barr and Argent chat it up. But none of this matters. Barr doesn't care. Frankly, either did I. We want what we want -- Barr, unfiltered, uncensored and brutally honest. You know, those things that made her sitcom Roseanne (1988-1997) a classic. That powerful juju was still vibrant on her own talk show (1998-2000), even though it was shortlived, and, of course, it was there whenever Barr hit the stage -- she generated buzz with a stand-up resurgence and more back in 2005. She's been Argent for eight years and notes in the new series, how she can't stand L.A. any more. Lifetime greenlighted 16 episodes, so brace yourself for a wild ride.
Critics were only given one episode to preview here, but at first glance, this looks to be one of the most refreshing, thoroughly entertaining reality TV offerings of the summer. It's entertainment, yes, but in a cluttered television universe, where so much "feels" manufactured, you can't but appreciate Barr's genuine spunk and originality.
Thank you, Ma'am. Now, please pass the nuts.
Roseanne Nuts airs 9pm/8pm Wednesdays on Lifetime.

Calling all HuffPost superfans!
Sign up for membership to become a founding member and help shape HuffPost's next chapter