It was an off-hand comment from a friend that originally prompted Dallas-based artist Rosemary Meza-DesPlas to begin working in her unusual medium of choice — her own hair.
Back in 2000, Meza-DesPlas was working on a large-scale wall drawing when a friend remarked that her work was so thin and fine that it reminded her of human hair. And it all happened from there. Before long, she began experimenting, initially attempting to glue the hair — "too messy," Meza-DesPlas says — and eventually sewing it to a canvas. Though the process was very time-consuming, she was happy with the result.
"It's a nice idea that my hair is living on, being recycled, if you will, and being given a new context in artwork," Meza-DesPlas explained to HuffPost.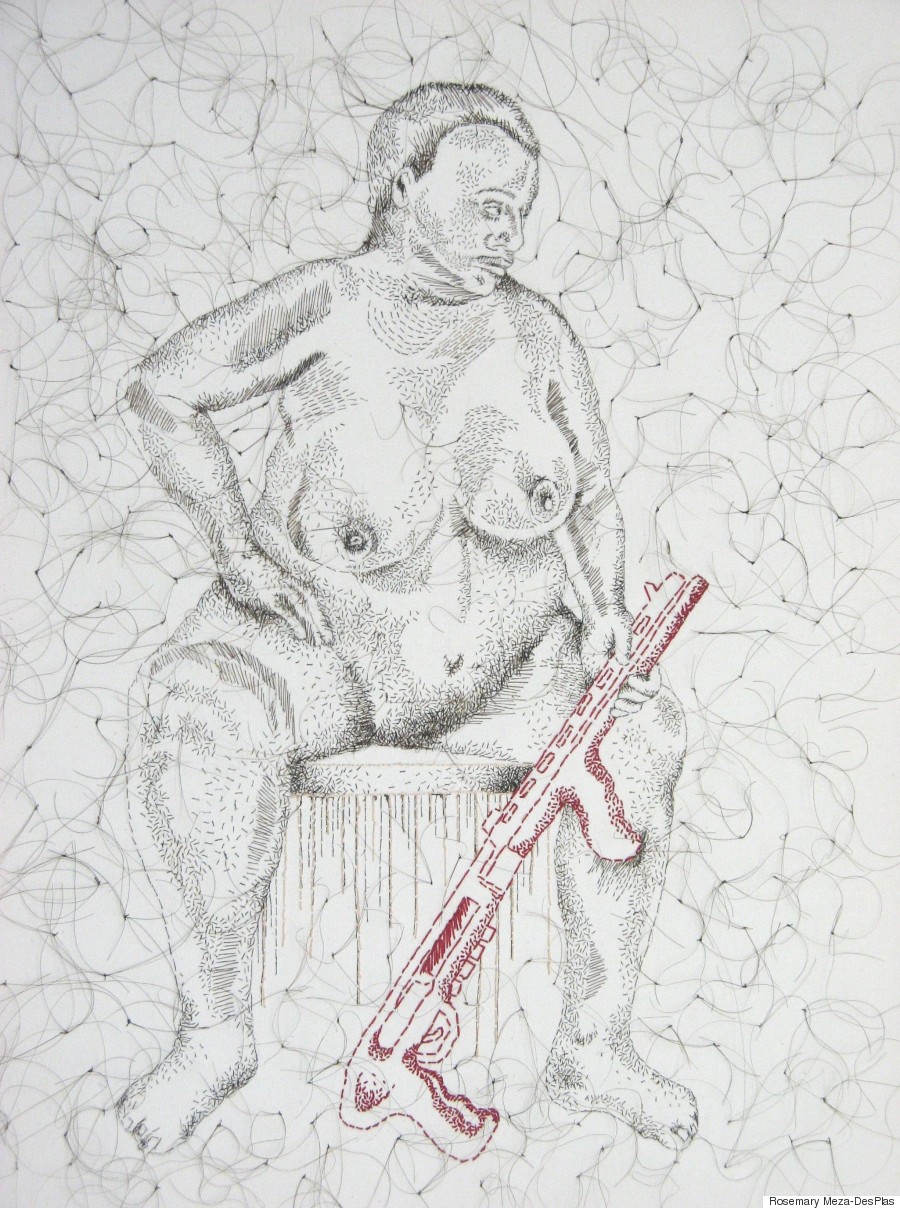 "I'm Not Hattie, I See Red," 2013. Hand-sewn Human Hair on Canvas with red thread.
Meza-DesPlas, whose latest exhibition "I Love You, Man: I Think This is the Beginning of a Beautiful Friendship" is on display through March 28 at ARC Gallery and Educational Foundation in Chicago, says that when she was first starting out using her own hair in her drawings, she typically used graphite for about half of the work and her hair for the other half. But as she's grown more accustomed to manipulating and sewing her hair, she now presents work that is entirely her own hair, with few exceptions.
In order to source her materials, Meza-DesPlas runs her fingers through her hair every morning, holding onto the strands that fall out. She also collects her hair from the shower and, when it's time to get to work, she sorts it from shorter hairs to longer hairs. It's become a ritual for her.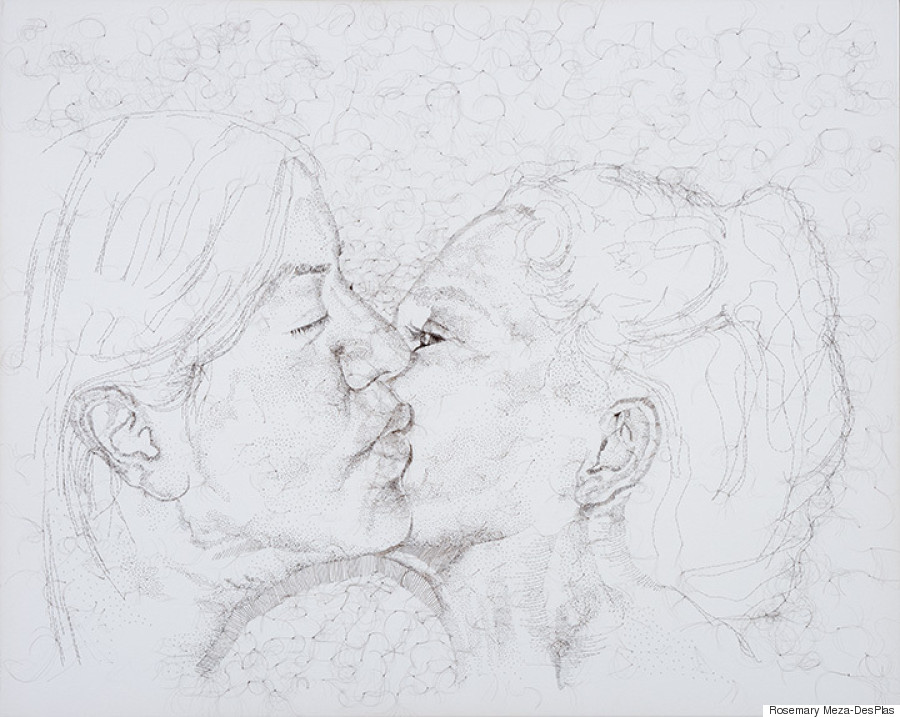 "Peck, not Prick." Hand-sewn human hair on canvas, 2014, 25" x 34". Below, the same piece, part of "I Love You, Man..," in closer detail.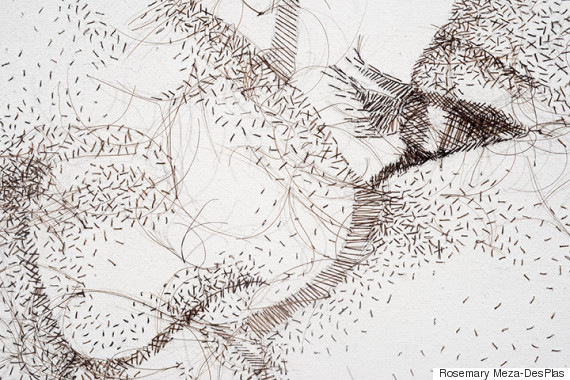 "I like the dichotomy of using hair because there's the idea that hair can be sexy and engaging to people and then on the other hand it can be repulsive, like a hair in your soup or a hair on your hotel pillow," Meza-DesPlas explained.
She also separates a growing number of grey hairs, which she said first started showing up about five years ago, from the pack. In order to feature other different shades — such as red or a darker brown — she dyes her hair and saves it so she can use it at a later time.
"I think at some point, I'll have to switch to a dark background using my grey hair on it," she laughed, saying she might experiment with the grey this summer.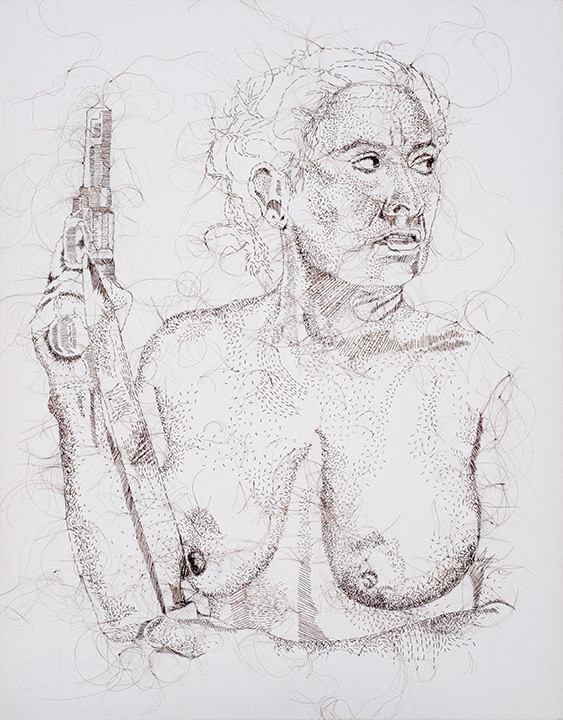 "Cry, Die or Just Make Pies," 2013. Hand-sewn human hair on canvas.
Meza-DesPlas says she was also interested in the biblical imagery associated with hair, such as Samson losing his strength when his hair was cut and how Mary Magdalene washed the feet of Jesus with her hair. A Donatello sculpture depicting Mary Magdalene with long, scraggly hair that segues directly into her clothes was also an inspiration.
"Hair has an unruliness to it, we try to control it and make it do certain things and hair has a mind of its own, it snakes out when it wants to and does certain things when it wants to," she said. "It has a sense of life to it and I feel like my drawings have a sense of life to them.
As for what people make of her work, Meza-DesPlas said many viewers think from afar that her drawings are made with pencils, and only realize the unusual composition when they get closer up.
"Maybe it'll make them think of their own mortality or about things that have died that can be given new life," she added.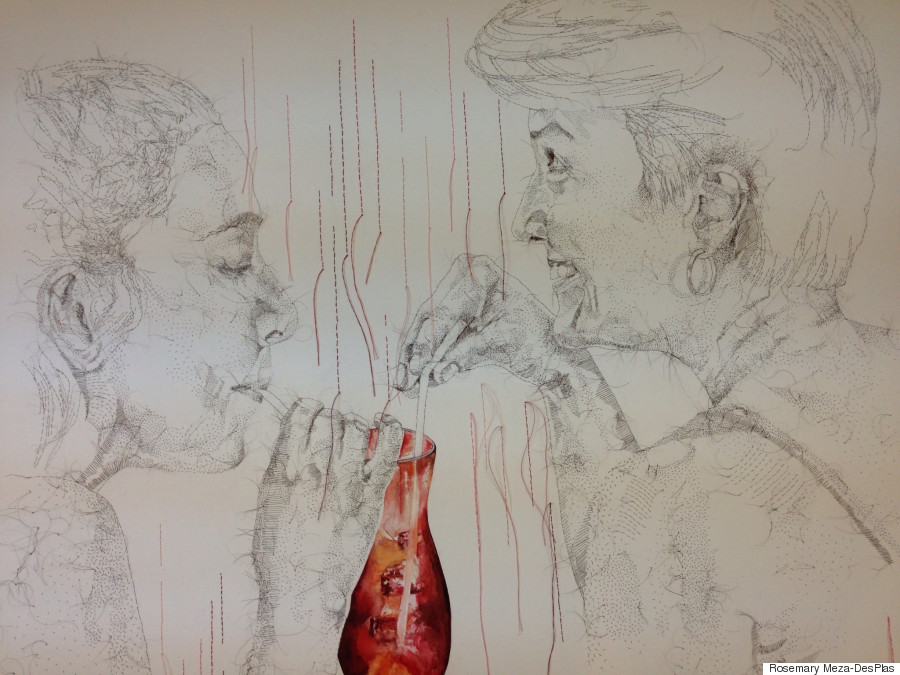 "One Bourbon, One Scotch, One Beer," 2015. Hand-sewn human hair on canvas with watercolor and thread, 25" x 34".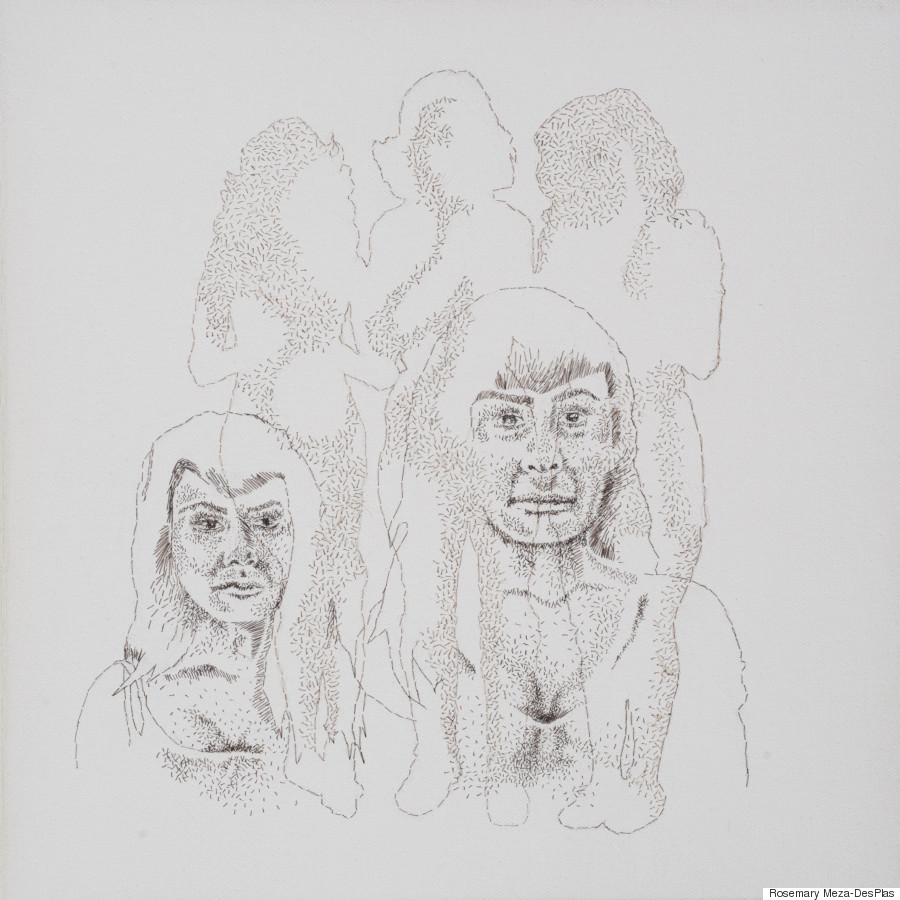 "Jiggle, Jiggle, Jiggle," 2012. Hand-sewn human hair on canvas.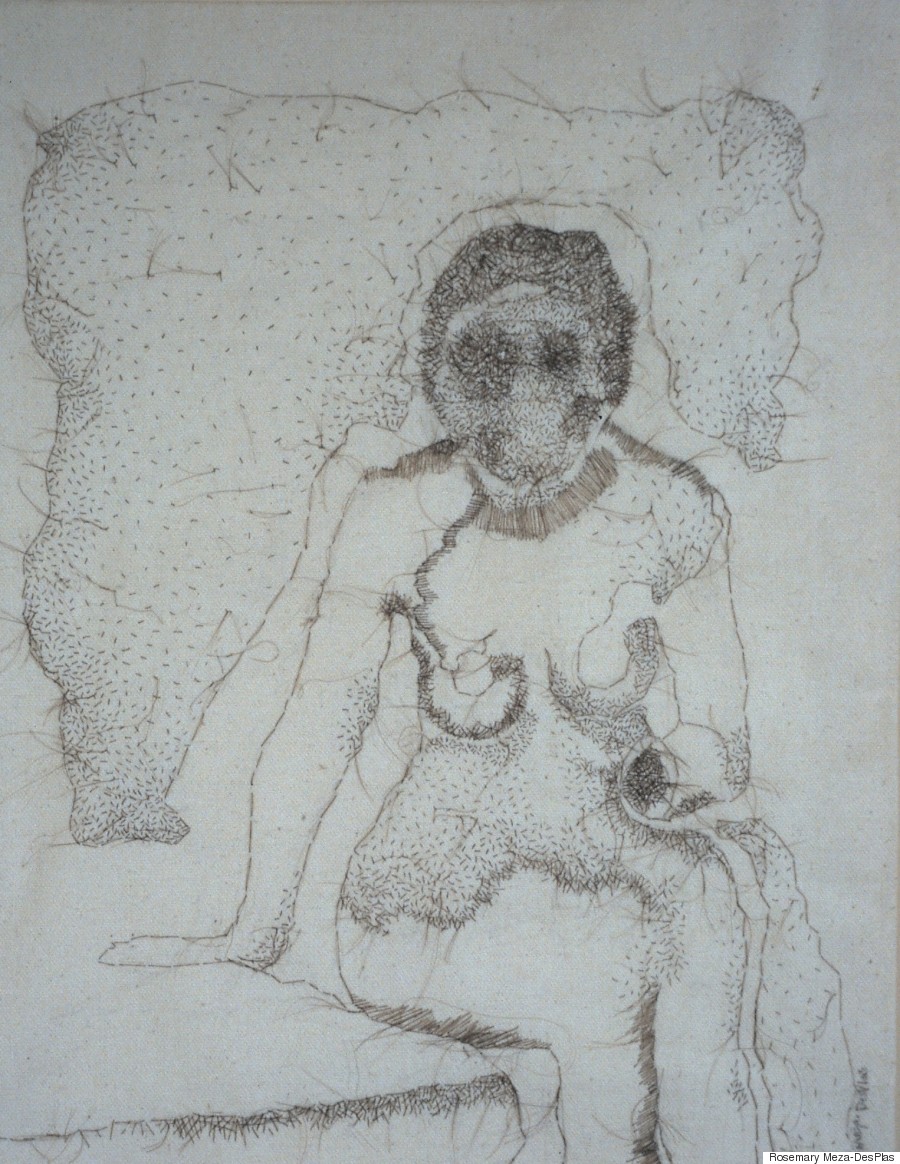 "Woman Under the Influence," 2008. Hand-sewn human hair on canvas.

Related
Before You Go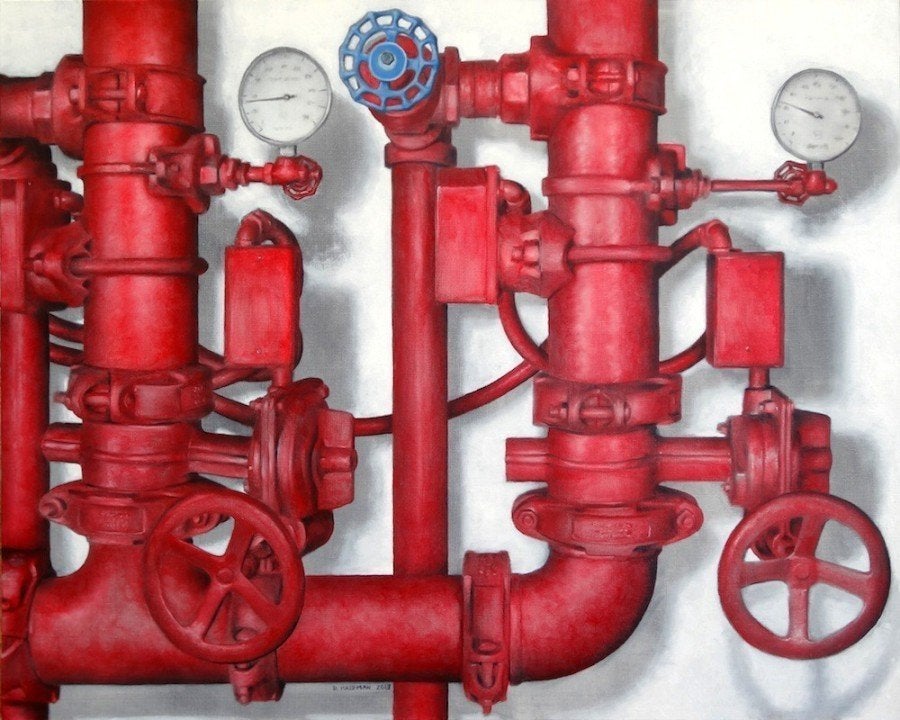 9 Art Techniques That Anyone Can Do To Jumpstart Creativity
Popular in the Community