Ten years ago, while honeymooning in Maui, my husband asked a local woman if she had any advice for our first visit. In her lovely Hawaiian accent she replied, "just go with the flow man, that's all, just go with the flow." It's a sentiment we exchange with one another often, especially when we find ourselves stuck in difficult situations. Garrett will turn to me with his devilish grin and a forced Hawaiian accent and say, "hey babe, just go with the flow." I can't help but smile and you know what, that's really all anyone can do since so little is actually within our control. The great thing about "going with the flow" is that for the most part, "flows" by definition move forward and I am all about moving forward these days.
Having never made focaccia bread before, I wasn't sure what the consistency of the dough should look like, but after attempting the first recipe, I realized pretty quickly it shouldn't look like soup. It was at that moment I could toss the ingredients into the sink or I could take a deep breath, move forward, try to fix it and "just go with the flow." I choose the latter, adding flour and more flour, mixing, then resting. When all was said and done and it was time to knead, the concoction now resembled muffin batter and if you are familiar with muffin batter, it can't be kneaded. Using my rubber spatula I folded it a few times, pushed it into my oiled bowl and crossed my fingers that it would somehow rise and come together. After a few hours it puffed up and once inside the refrigerator, it grew slightly more malleable. I eventually pushed it onto a greased cookie sheet, forming a rectangle with my fingers and popped it into the oven with a hope and a prayer.
Thirty minutes later, viola; beautifully golden and crisp, my rosemary, olive and onion focaccia bread was triumphant. Thankful I hadn't thrown it out and happy I had ventured forward, a successful save was just what I needed to remind myself, "just go with the flow girl, just go with the flow."
Enjoy and Aloha!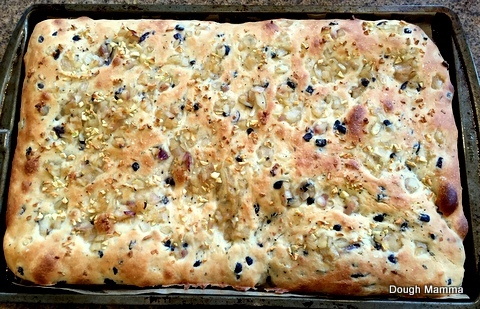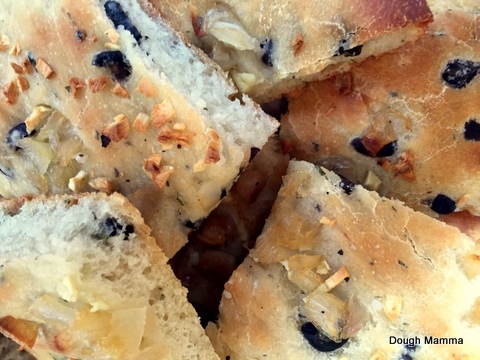 Title: Rosemary, Olive and Onion Focaccia Bread
Author: Doughmamma
Prep time: 6 hours
Cook time: 30 mins
Total time: 6 hours 30 mins
Serves: 16
Notes: Check your bread at twenty minutes and add time accordingly.
Ingredients
2 cups of warm water (about 100 F)
⅛ cup of honey (I like wildflower)
1 packet of active dry yeast
1 cup drained black olives chopped
⅛ cup chopped rosemary
¼ cup really good olive oil
2 tsp salt
4½ cups (1lb and 6½oz)of all purpose flour
1 large sweet onion, small diced
7 large garlic cloves, finely chopped
Coarse salt
Instructions
In a large bowl, pour in your: warm water, honey and yeast. Allow to sit until the yeast is foamy, about 10-15 minutes.
Add olives,rosemary and olive oil. Stir well.
In a separate large bowl, whisk the flour and salt.
Add your flour mixture to your liquid mixture and stir using a wooden spoon. Mix very well. Turn the bowl as you mix. You will stir for about 7 minutes.
Place your mixture in a lightly oiled bowl, cover with a damp towel and place in a warm, draft-free area to rise. This should take about 2 hours.
While your dough is rising, saute your chopped onions for about 5 minutes with 1 Tbsp of olive oil. Remove from heat and set aside.
Remove your bowl of dough, stir a few times while turning the bowl. Cover with plastic wrap and refrigerate for at least 4 hours or overnight.
Heat your oven to 350 F.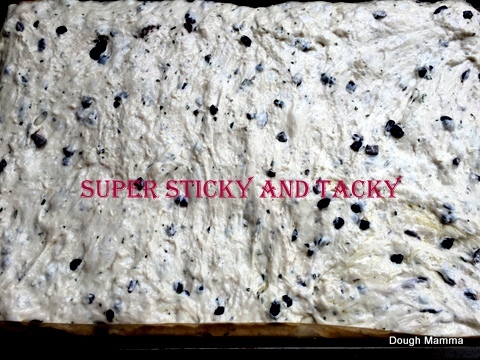 Push and prod your mixture onto a greased cookie sheet. It may be very sticky still, it's o.k, use your fingers to shape dough so that it is evenly spread out on your cookie sheet (9x13).
Top your dough with onions, chopped garlic and a couple pinches of salt .
Bake for 20 minutes and then check. It took 30 minutes for mine to reach golden brown standards.