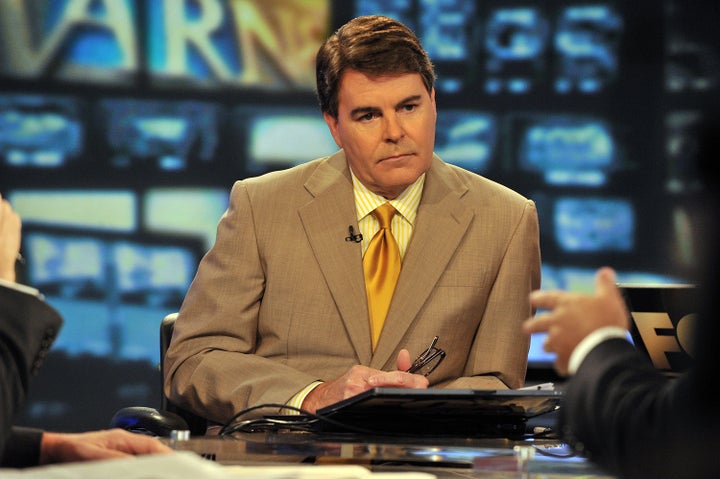 WASHINGTON ― Here's an extraordinary claim that Fox News viewers have been hearing in recent days: The second-in-command at the Justice Department, the Republican law enforcement veteran whom President Donald Trump tapped to become deputy attorney general, threatened the Republican members of Congress investigating his department. He might be guilty of a crime.
Gregg Jarrett ― a Fox News legal analyst who has recently taken to calling the FBI "America's secret police" and the "shadow government" while calling Robert Mueller's special counsel investigation "illegitimate and corrupt" ― has recently begun telling Fox News viewers that Deputy Attorney General Rod Rosenstein threatened members of Congress.
Jarrett has claimed that a "highly reliable congressional source" told him that Rosenstein "used the power of his office to threaten members of Congress" by threatening to subpoena their texts and emails during a Jan. 10 meeting with House Intelligence Committee Chairman Rep. Devin Nunes (R-Calif.) and others.
A dubious claim from a cable news analyst isn't normally worth dwelling on. But with the Fox News-addicted president indicating he wants Rosenstein gone and Mueller's special counsel investigation, which Rosenstein oversees, ended, Jarrett's claim could wind up in the presidential Twitter feed at any moment. It might even give Trump the excuse he wants to fire Rosenstein, the Republican the president has previously suggested he believes is a Democrat.
In an environment where most of Trump's supporters already buy into the notion that the FBI is biased against Trump, Jarrett's allegations against Rosenstein ― along with attacks from Fox host Sean Hannity and members of Congress ― could continue to sour public opinion of Rosenstein, who was well respected on both sides of the aisle before Trump made him deputy attorney general on April 26. He is in control of the Russia investigation, from which Attorney General Jeff Sessions had recused himself.
A recent survey showed that of Trump voters who had heard about Nunes' memo alleging misconduct at the highest levels of the Justice Department and the FBI, 56 percent said they got at least some of their information from cable TV, and 95 percent of that group said they watched Fox News. Jarrett's allegation about Rosenstein has been repeated on Gateway Pundit, World Net Daily and other right-wing sites. Conservative blogs like Hot Air and RedState, on the other hand, have treated Jarrett's reporting with a great deal of skepticism. 
The president's oldest son has promoted it on his Twitter feed.
The Justice Department would not comment on Jarrett's allegations against Rosenstein. Sessions, who has gently defended the Justice Department as a whole as it has come under attack from his former colleagues on Capitol Hill, said last week that Rosenstein represents the "kind of quality and leadership that we want in the department."
It's certainly possible that Rosenstein mentioned members' texts and emails. But it's tough to imagine a scenario in which the deputy attorney general would actually threaten to subpoena the text messages of members of Congress who were investigating the Justice Department. At the time of the reported meeting on Jan. 10, members of Congress were zeroing in on text messages exchanged by two FBI employees who were having an affair. Lawmakers, focused on the idea that the "deep state" was out to get Trump, would later investigate "secret society" texts that were obviously a joke. 
Nunes doesn't seem interested in clarifying or shooting down incendiary reports being aired during Fox News' prime-time block. Nunes appeared on Hannity on Monday night, claiming that the Hillary Clinton campaign had "colluded with the Russians." A spokesman for Nunes did not respond to a request for comment.
The airing Fox News has given to Jarrett's initially single-sourced claim about the deputy attorney general raises a broader issue with Fox News' coverage of the Justice Department, which suffered a big blow when Bret Baier falsely reported on a "likely indictment" of Clinton just ahead of the 2016 election. (Baier subsequently apologized.)
These days, the most explosive and unsubstantiated claims getting aired on Fox News aren't coming from its national security reporters, such as Catherine Herridge. Instead, they're coming from figures like Jarrett and Fox News contributor Sara Carter, who appears to be in close contact with the House Intelligence Committee and currently posts her stories on SaraACarter.com. Neither typically appears on the programs Fox News considers hard news.
Last week, after the release of the Nunes memo, Rep. Paul Gosar (R-Ariz.) accused Rosenstein and other Justice Department officials of treason. So if Republicans really are accusing the deputy attorney general of the United States of committing a criminal act during a meeting with them, it's pretty clear the knives are out for Rosenstein ― even if they're really dull.
Ryan Reilly is HuffPost's senior justice reporter, covering criminal justice, federal law enforcement and legal affairs. Have a tip? Reach him at ryan.reilly@huffpost.com or on Signal at 202-527-9261.
Calling all HuffPost superfans!
Sign up for membership to become a founding member and help shape HuffPost's next chapter