One of the Federal Communications Commission's top five officials has urged Americans to "make a ruckus" in response to the agency's plan to vote next month on a policy to gut net neutrality.
In an op-ed published Wednesday in the Los Angeles Times, FCC Commissioner Jessica Rosenworcel issued an urgent plea for the public to call or write to the FCC before the Dec. 14 vote.
"Reach out to the rest of the FCC now," wrote Rosenworcel, who served as a commissioner under the Obama administration from 2012 to 2017 and was unanimously confirmed to return under Chairman Ajit Pai in August. "Tell them they can't take away internet openness without a fight."
Net neutrality is the principle that internet service providers can't offer faster speeds and access to websites that pay them more, meaning that juggernauts like Netflix and Facebook are essentially treated equally to smaller companies. In February 2015, the FCC adopted new rules to preserve net neutrality, classifying broadband providers as public utilities like electricity or phone companies under Title II of the Communications Act of 1934.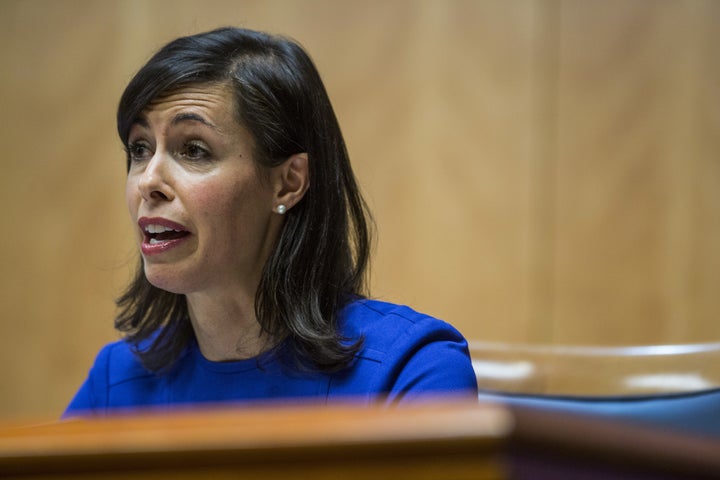 Opponents of net neutrality, including Comcast, AT&T and Verizon ― which owns HuffPost's parent company, Oath ― argue that services such as Netflix and Amazon should have to pay more for the disproportionately high bandwidth they use. During peak hours in North America in 2015, Netflix used over one- third of internet data received by computers. That number has since declined as Amazon and other streaming services have gained market share.
Republicans opposed the Obama-era net neutrality rule. On Tuesday, Pai released his long-expected proposal to reverse the policy, calling the 2015 regulations "politically motivated" and based on "a misguided and flawed interpretation."
But Rosenworcel says Pai's proposal is a "lousy idea," writing that "it deserves a heated response from the millions of Americans who work and create online every day."
"There is something not right about a few unelected FCC officials making such vast determinations about the future of the internet," she added. "I'm not alone in thinking this."
Earlier this year, the FCC received more than 22 million comments on the rule, most supporting repeal. But more than 80 percent of them were sent by bots, according to an analysis by the data analytics company Gravwell. The 17.4 percent determined to be authentic were "overwhelmingly in support of net neutrality regulations," the company said.
"There is something not right about a few unelected FCC officials making such vast determinations about the future of the internet. I'm not alone in thinking this."
On Wednesday, New York Attorney General Eric Schneiderman publicly criticized the FCC for refusing to turn over evidence of fake comments to his office, which is investigating.
"When they do this, they will likely find that, outside of a cadre of high-paid lobbyists and lawyers in Washington, there isn't a constituency that likes this proposal," Rosenworcel wrote. "In fact, the FCC will probably discover that they have angered the public and caused them to question just whom the agency works for."
Repealing the FCC's 2015 net neutrality rule would notch a win for monopolistic companies that are already wield tremendous market power. Unlike in other countries, where companies compete in local markets to offer the fastest or cheapest services, internet providers in the U.S. enjoy near monopolies in local markets. As a result, the U.S. is far behind other developed countries in high-speed internet access, which is severely limited in poor rural areas.
"You go girl!" Hillary Clinton, the former Democratic presidential nominee, wrote in a tweet promoting Rosenworcel's op-ed. "This is important; costs will go up, & powerful companies will get more powerful. We can't let it slip through the cracks."
CORRECTION: A previous version of this story mischaracterized the majority of the comments to the FCC as opposed to repeal. Most of the comments, in large part from bots, favored repealing net neutrality rules.
Popular in the Community