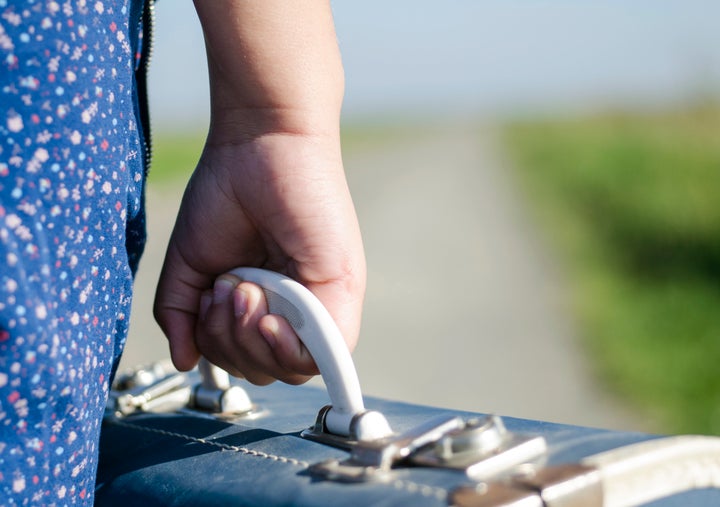 When Rosetta Watson, a black woman with disabilities living in Maplewood, Missouri, needed protection from an abusive ex-boyfriend, she did what she was supposed to do: She called the police. On four occasions between 2011 and 2012, she contacted local law enforcement, telling authorities that Robert Hennings hit, shoved and choked her.
Watson wanted relief from the violence. But instead, according to a federal lawsuit the American Civil Liberties Union filed last week against Maplewood, she was evicted and forced to leave town for six months.
Under a local ordinance in the St. Louis suburb, more than two calls to the cops regarding domestic violence within 180 days qualifies as a "nuisance." Individuals who violate the rule can be evicted and lose their occupancy permit ― which is required to live in the city ― for six months. 
Maplewood's city manager, Martin Corcoran, did not immediately return a request for comment.
For Watson, the repercussions were severe: After she was booted from her home, she lost her Section 8 housing voucher. Without it, she couldn't find an affordable home and ended up on the streets for a period of time. She eventually moved to St. Louis. But when her ex-boyfriend abused her again ― this time stabbing her in the legs ― she was too frightened to call the cops and instead went to the hospital by herself. The hospital called police, Hennings was charged, pleaded guilty to domestic assault in the third degree, and was sentenced to incarceration. He died in 2013. 
The lawsuit the ACLU filed on Watson's behalf claims that the Maplewood nuisance ordinance violates the First Amendment right to petition the government for assistance, as well as the rights to travel, equal protection and due process. It comes on the heels of two other ACLU lawsuits that challenged nuisance ordinances, including one in in Norristown, Pennsylvania, and one in Surprise, Arizona. Both were filed on behalf of domestic violence victims and resulted in the repeal of the local laws.
Sandra Park, senior staff attorney at the ACLU's Women's Rights Project, said she's seen similar ordinances in over 30 states. They can result in serious consequences for domestic violence victims and their families, she said.  
"Violence and crime can escalate, because residents stop reporting to police, and perpetrators are empowered to act with impunity," Park said. "Victims realize that reaching out to police will place them in more danger, not protect them."
The ACLU's lawsuit details Watson's four calls to Maplewood police that served as the basis of her eviction.
On Sept. 24, 2011, she called the police after she said Hennings struck her in the face with a closed fist. He was arrested for assault in the third degree, and police took photos of her lip. Two months later, on Nov. 8, 2011, she called police again to say that he shoved her. Hennings was arrested for assault in the third degree again. On Jan. 7, 2012, Watson told police she was afraid of him and wanted him to leave her home. Once police arrived, he did. On Feb. 22, 2012, she told police that Hennings was waiting at her home when she got there, and had refused to leave. He hit her and choked her, she said, and Hennings was arrested for domestic assault in the third degree once more. 
A revocation order the city issued to Watson on April 10, 2012 stated that her repeated calls about domestic violence had put Maplewood police officers at risk, and she was ordered to vacate the premises by May 30 of that year. 
But because of the city's decision to force her from her home, Watson was the one who was most endangered, suggested Erika Sussman, the executive director of the Center for Survivor Agency and Justice.
"Nuisance laws undermine critical housing protections for survivors, placing them in the dangerous predicament of having to choose between enduring physical abuse on the one hand or facing eviction and homelessness of themselves and their children on the other," Sussman said, pointing to a recent report her organization authored on economic security for survivors. "Such consequences are particularly acute for survivors of color and other marginalized communities."
Last week, Sen. Jeanne Shaheen (D-N.H.) reintroduced a bill that would establish a nationwide standard that victims of domestic violence and sexual assault can't be evicted or denied access to housing solely for being victims of those crimes.
While no one is immune from domestic violence, Sussman said, women living in poverty ― with annual incomes of less than $25,000 ― are nearly twice as likely to experience abuse and face significant financial barriers to safely leaving the relationship.
After Watson was evicted, her lawsuit alleges, she was afraid to call police even after suffering a brutal physical attack and has "severe and ongoing emotional suffering and mental anguish."
In a statement, Watson said she wanted to make sure other women did not suffer like she did.
"I thought calling 911 would help me stop the domestic violence, but instead Maplewood punished me," she said in a statement. "I lost my home, my community, and my faith in police to provide protection."
Melissa Jeltsen covers domestic violence and issues related to women's health, safety and security. Tips? Feedback? Send an email or follow her on Twitter.
Calling all HuffPost superfans!
Sign up for membership to become a founding member and help shape HuffPost's next chapter