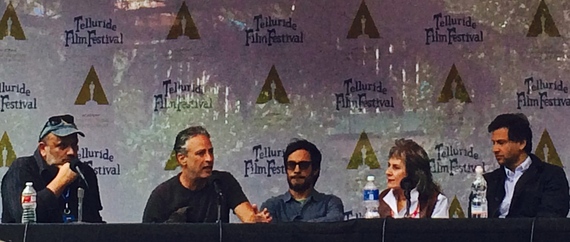 Jon Stewart speaks on panel with Eran Riklis, Gael García Bernal, Annette Insdorf and Jean-Marc Vallée at the Telluride Film Festival
Warning: Jon Stewart is a dangerous man. Appearance on The Daily Show has been know to cause imprisonment, torture and risk of life. Guests consort at their own risk.
Who would ever guess that talking with Stewart and his merry band of pranksters was so dangerous? But following an interview with The Daily Show's Jason Jones, Newsweek correspondent Maziar Bahari paid the price.
The story of this Kafkaesque imprisonment unfolds in Rosewater, the debut film of Jon Stewart. Premiering at the Telluride Film Festival, this captivating movie that embraces the style of a political thriller played to standing-room-only audiences.
Based on the memoir Then They Came for Me by Maziar Bahari, Rosewater tells the story of what happens to a reporter who gives voice to dissidents, who posts videos depicting street protests following a corrupted election, who has the nerve to talk with a journalist who jokes about politics.
It seems the Iranian security forces lack a sense of humor. In 2009 Bahari was imprisoned in Tehran, charged with spying for the United States. According to his accusers, the Iranian/Canadian journalist's espionage was obvious, for why else would he appear on American television with Jones, a self-described American spy?
In this gripping, revealing and compassionate film, Stewart has outdone himself. Weaving his signature humor with concern for humanity, Rosewater is a close-up inside Iran, dissolving stereotypes and portraying a complex society fighting for an equitable government. Rosewater takes us on a journey whose innocent beginnings devolve into a spiraling nightmare that may or may not come out of its tailspin.
Rosewater opens with a sequence of worshippers at a mosque being showered with rosewater, used by Muslims for its cleansing and purifying effect. In prison, Bahari (beautifully played by Gael Garcia Bernal) knows his interrogator mostly by the smell of the rosewater he spritzes on himself. Bahari is blindfolded during these sessions, so the smell of rosewater becomes the sensory cue for recognizing his captor.
The portrait of the volatile Rosewater is subtle and convincing. As Stewart says, Rosewater is a "kiss-up, kick-down" kind of guy, a man who beats Bahari viciously even after extracting a confession because his superior tells him to. He needs a promotion. But he's careful to stay away from Bahari's head, as they "need his face" to appear on television as a turned man, an apologist for spying, a backer of the corrupted election results.
The boss man tells Rosewater, "Take away his hope." Implicit threats to Bahari's mother who lives in Tehran and his pregnant wife in London and whether he will ever see his family again leaves Bahari overwhelmed with desperation and feeling he is going crazy in solitary confinement.
Capitve and captor develop a relationship over the course of the 118-day incarceration, becoming intimate in a surreal way. Rosewater's interrogations spark in him a fascination with New Jersey, which he considers to be some kind of free zone. He questions Bahari intently about why he frequently travels there, and listens in titillation while Bahari, in an attempt to forestall the beatings, spins a Scheherazade-like tale of his massage escapades in the Garden State.
Bahari is an easy target for the regime, as he comes from a family of activists, his father imprisoned by the Shah and a sister by the Ayatollah Khomeini. But when Bahari hears that Secretary of State Hilary Rodham-Clinton has denounced his detainment, he can't stop laughing - he knows the high-profile support is his ticket to freedom.
Frustrated with the glacial pace of looking for a screenwriter, Stewart took on the task himself. Kudos for this first-time screenplay, lean and nuanced with lines that reveal complexities: "Who is Iran's greatest enemy? Al-Qaeda." Maybe we're not so different after all.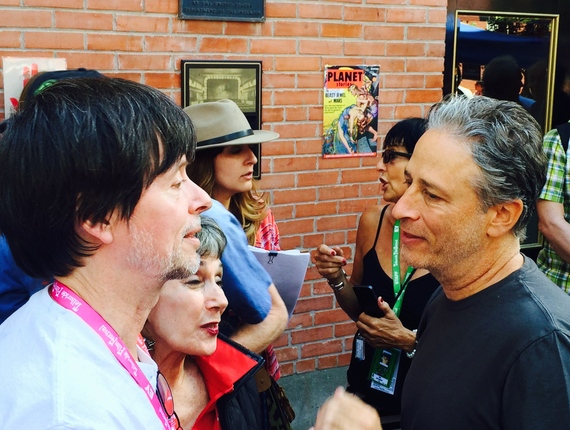 Jon Stewart talks with Filmmaker Ken Burns
Popular in the Community