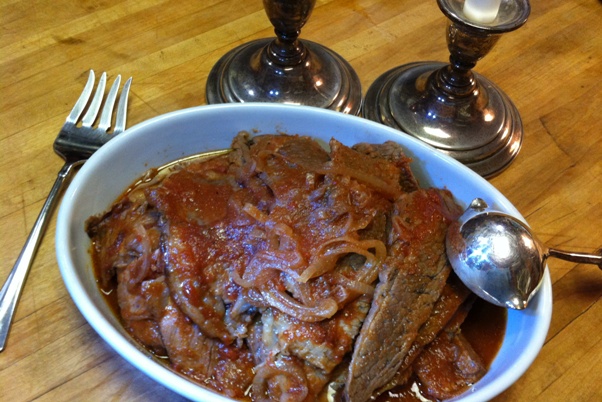 When brisket is served on a special occasion, it had better be special.
I'm not talking everyday barbecued brisket, but an entire brisket made as the centerpiece for a traditional Jewish New Year meal when a family is of Eastern European extraction and most likely entered America on the East Coast.
A brisket of such proportions might show up at other celebrations, too. In the case of the best Jewish-styled brisket I've ever tasted (sorry, Mom), it turned up in Tulsa, Okla., in a rehearsal dinner buffet at the home of the bride's parents, my cousins David and Michele Schwartz.
It's a long story of how David Schwartz of New York City and the former Michele Steinberg of Pittsburgh got to Tulsa, where I experienced this magical meat. It was presented in a deep serving vessel swathed in a lush dark red sauce. The slices were easily retrieved by tongs. Getting at the sweet-sourish sauce was helpfully aided by a big spoon. The meat melted in my mouth.
This was kosher meat. The Schwartzes keep a kosher home. Michele's father once owned a kosher slaughterhouse in Pittsburgh, so my cousin grew up familiar with meat cuts. Michele, 67, orders kosher beef, lamb, chicken and turkey from St. Louis.
Michele's mother made whole briskets the same way Michele makes them to this day. This recipe is more than 80 years old.
Suspend your impulses for purity. The main ingredient is also from Pittsburgh and one of the city's most famous products -- Heinz ketchup, begun in 1869. Before Heinz turned to making ketchup with high fructose corn syrup, the product used by Michele's mother during the World War II years most likely resembled the recently introduced retro ketchup Heinz is now making with regular sugar, called Simply Heinz.
A typical entire brisket can weigh up to 15 pounds. Considering a brisket takes up the volume of an average turkey, Michele bakes it in two aluminum turkey-roasting pans nested together for doubled strength. "When you're finished, the oven's clean and I just throw them away," she said.
Instead of an enormous whole brisket, I used what is called a brisket top flat or a single brisket, depending on the part of the country in which you're buying meat. This smaller piece comes right off the top of the whole brisket, as if the whole brisket were a sandwich with nothing between the two slabs, and the butcher gives you the top piece of bread. My brisket flat weighed 6.22 pounds and fit nicely in a lasagna pan. Count on 20 percent shrinkage during cooking.
Obtaining the recipe took about an hour on the phone with Michele.
"I never measure," she said. "My mother just showed me, and I've shown my kids. I look at it and think it could use a little more seasoning or ketchup, like Julia Child."
This recipe is nearly foolproof. My first trial came out great. And like Michele, I've already stashed the leftovers in heavy-duty plastic zip bags in the freezer.
I've named this recipe Cousin Michele's Best Brisket in Lush Sauce. I plan to serve it for Rosh Hashana, the Jewish New Year, which begins at sundown Wednesday, Sept. 4. Luckily, I already have plenty in the freezer.

Cousin Michele's Best Brisket in Lush Sauce
From my cousin Michele Schwartz of Tulsa, Okla., whose father once owned a kosher slaughterhouse in Pittsburgh, comes this recipe from her mother for brisket in a lush gravy.
Michele uses only kosher meat in her home. For that reason, she begins with a small amount of seasoned salt, as kosher meat goes through salting during processing. If you use regular brisket, you'll have to salt your way through this, starting small and adjusting along the way. Not to worry, there are plenty of opportunities to taste and fix. The sauce should be gravy-like with lots of body and hints of perceivable garlic.

Ingredients
1 tablespoon plus 1 teaspoon granulated garlic (not garlic powder)
1 teaspoon Lawry's Seasoned Salt
Ground black pepper, to taste
1 (5- to 6-pound) single brisket, sometimes called top flat, fat trimmed as desired
2 cups Heinz ketchup, such as Simply Heinz made without high fructose corn syrup
Splash sweet red wine, such as Manischewitz Concord Grape
1. Heat oven to 400 F. Slice onions in rings.
2. Spread two-thirds of the onions on the bottom of a disposable aluminum roasting pan or a large baking dish, such as a lasagna pan. Sprinkle with half the granulated garlic, seasoned salt and black pepper.
3. Lay the meat on top of the onions, fat side up. Scatter remaining one-third of the onions on top of the meat. Sprinkle with remaining seasonings.
4. Pour the ketchup into a 2-cup measuring cup and then pour it over the meat. Fill the ketchup's measuring cup with about 1 cup water, swish around to pick up any ketchup still in the measure, and pour this water over the meat. Add a splash of the sweet red wine.
5. Using your hands or a big spoon, combine the elements together, making sure some slides off the meat and down the sides. You should have the beginnings of a sauce.
6. Cover the roasting pan with heavy duty foil, crimping sides to seal. Bake for 45 minutes. Reduce the heat to 350 F and bake 30 to 40 minutes more.
7. Open cover and prick the meat with a fork. If the brisket resists the puncture and still feels tough, return to the oven for 30 minutes more. The idea is to stop the cooking when the meat is about three-fourths of the way cooked; more cooking will ensue after slicing.
8. When satisfied with the cooking progress, remove the pan from the oven. Uncover and cool on counter, saving the foil cover. When cool, recover the roasting pan and refrigerate the meat in the sauce overnight. The next day, skim solidified fat that has risen to the top (Michele leaves a tiny bit of fat, for flavor.)
9. Lift the brisket out of the sauce and place on a cutting board, leaving sauce in the baking pan.
10. Starting at the pointed end, use a long sharp slicing knife to cut slices about a quarter-inch thick, cutting across the grain. When this portion is sliced, turn the brisket to finish slicing across the grain for the rest of the cut.
11. Taste the gravy. Correct seasonings, adding more ketchup if you prefer it to be thicker. Return sliced meat to the sauce, turning meat to coat it. You may do this in advance and return it to the refrigerator, or proceed to the next step.
12. Closer to serving, reheat the meat in the sauce, covered, at 350 F for 1 hour. Bring it to the table hot with a serving fork to pick up the meat and a big spoon for the gravy.
Zester Daily contributor Elaine Corn is a James Beard Award-winning cookbook author and food editor.
Top photo: Cousin Michele's Best Brisket in Lush Sauce for Rosh Hashana. Credit: Elaine Corn