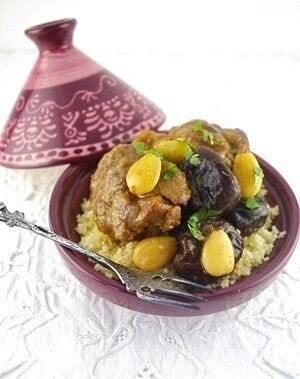 I am the granddaughter of immigrants, hearty Russian Jewish stock coming from a cold land where bodies were sustained with potatoes, cabbage, beets, onions, chicken and beef. Although recipes were adapted to new world ingredients, the dishes my grandmother and then my mother prepared were the same, the celebrations and the celebratory meals varying little. I grew up in the tradition of hot cabbage soup, kasha varnitchkes and carrot tzimmis; the dinner table was laden with smoked fish and chopped chicken livers; chicken soup with matzoh balls, noodle pudding and golden, sweet loaves of Challah took pride of place at holiday mealtimes. I thought little of it, accepting these delicacies with a smile and a hearty appetite, growing to love these simple dishes as the comfort foods of my childhood. Each dish carried on a tradition, both culinary and symbolic.
Little did I expect to be laughed at, these near and dear family and cultural culinary traditions mocked! But years after I had been living in France, a friend of mine, Jewish but of North African descent described for me mealtimes prepared by her Russian mother-in-law. "Brown," she exclaimed with distaste. "All of your food is brown. I look across the table at all of the dishes and all I see is brown!" Ah, yes! One can understand her feelings. Her own parents came from a land not of cold and grey but of sunshine and color. Her culinary heritage is filled to overflowing with voluptuous violet eggplant, lemons as bright as the sun, carrots and pumpkins a rich golden orange, deep forest green zucchini and coriander, fragrant and vivacious. Dishes come alive with spices, saffron, cinnamon, ginger and cumin, and are sweetened with figs, dates, apricots and raisins and drizzled with ever so much honey. Olives in shiny black, greens and purples glitter on the table and dazzle the palate. Though I defended my culinary inheritance with the pride of a scrappy but out-weighed boxer, I could definitely see her point.
The Jewish New Year - Rosh Hashana - is upon us again. Joyous and festive, this is a time of renewal, a holiday to remember the year past and look towards the promise of a new - and brighter - year to come. We put on our best clothes, dress the table in all its finery and create a feast worthy of this most special of days. We gather family and friends around the table and partake of the traditional meal, share the traditional foods passed down from one generation to the next. But this discussion with my friend had got me thinking. I listened with rapt attention as she described the luscious sweet and savory tagine she was making that would be the centerpiece of her New Year meal. These celebratory feasts play a huge part in all Jewish holidays and the foods served are steeped in symbolism. Traditionally Jews eat sweet foods for Rosh Hashana as a sign and hope for sweetness in the New Year. But while our sweetness has always come to the table as honey cake and other desserts or simply apples or a turban-shaped Challah (both symbolizing a round, continuous year) dipped in golden honey, our North African brothers and sisters bring the sweetness to the main course by mixing meat with dried fruits and, yes, honey. I love chilled gefilte fish, earthy chopped liver, sizzling potato latkes and golden chicken soup, but there is something exciting about exploring the world for new foods, intriguing dishes, marrying flavors and cultures, infusing the old tried and true with the new and creating one's own traditions.
And this is how Agneau aux Pruneaux, Lamb and Prune Tagine, has become my new traditional New Year meal. Succulent, tender lamb slow-cooked with plump, fruity prunes, crunchy almonds and sweet honey, flavored with spices redolent of warm, beautiful countries, this is the perfect celebratory dish. Layer upon layer of flavor all meld together to delight the senses and inspire hope for that sweet year to come. Why not shake up tradition a bit, bring in something new yet still infused with the symbolism of this Holiest - and most joyous - of Holidays. Sweet!
Lamb and Prune Tagine

1 large yellow onion, chopped
2 cloves garlic, finely chopped
A few tablespoons vegetable oil for cooking
2 lbs (1 kg) boneless lamb shoulder, excess fat removed and cut into very large chunks *
Salt and freshly ground pepper
½ tsp saffron powder or turmeric
1 tsp ground ginger
¼ tsp ground nutmeg
7 oz (200 g) pitted prunes, or more as desired
Handful (about 2 oz/60 g or more) whole blanched almonds
2 tsps ground cinnamon
3 Tbs honey
Handful chopped fresh coriander/cilantro

* Do not cut the chunks too small, no bite-size cubes, and do not remove all of the fat or the meat may dry out. Larger chunks with a little fat clinging to the lamb will ensure it stays moist and tender.

In a large, heavy pot with a lid, heat 2 or 3 tablespoons oil. Add the chopped onion and cook, stirring often, until it starts to soften and become translucent. Add the chopped garlic and continue to sauté until the garlic is soft, only one or two minutes longer. The onion will begin to caramelize a luscious golden brown but browned garlic may taste bitter, so be careful with the cooking. Add the chunks of lamb and brown on all sides, tossing to guarantee even browning. If the onion is caramelizing too quickly, simply scoop it out into a bowl and set aside while the lamb browns, adding it back into the pot when the lamb is done.

Add the saffron, ginger and nutmeg; salt and pepper generously. Toss to coat the lamb evenly with the spices.

Add enough water to just cover the meat, stir well, and bring up to the boil. Turn down the heat, cover the pot almost completely and allow to simmer for 1 hour 15 minutes, adding water as needed (remember, if too much water boils away, there will be no delicious sauce! You can always thicken it up a bit at the end of the cooking.). The meat should be tender.

At the end of this cooking time, add the prunes, almonds, cinnamon and the honey, stir and continue simmering slowly for an additional 15 minutes. Taste and add more freshly ground black pepper to balance the sweetness, if desired.

Serve over hot couscous grains sprinkled with chopped coriander/cilantro.

Jamie Schler lives, eats and writes in France. To read more of her work visit Life's a Feast.

Related