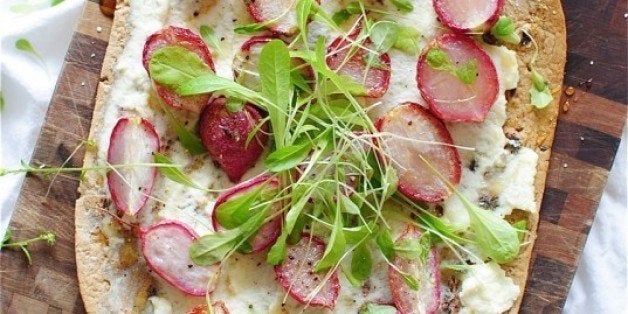 Rosh Hashanah is the time of year that I finally relax my vice grip on summer and admit that it's really fall. Please make no mistake about it: it's because of the food. The traditional apples are dipped in honey (to symbolize a sweet year to come), the pomegranates finally arriving for snacking, these are the kinds of things that make me finally think I'll survive without gazpacho for a few months.
Rosh Hashanah, the Jewish New Year, will be celebrated the world-over this September. In my house, the beginning of this holiday always meant that I was in agony -- the whole house smelled like braising brisket ALL DAY and we didn't get to eat it until SUNDOWN.
In truth, I relate to my Jewish heritage through the food. Apples and honey for Rosh Hashanah, blintzes for Yom Kippur, latkes for Hanukkah -- you get the idea -- these are the things that make me feel Jewish. My family never kept Kosher, so it wasn't uncommon to see bacon sneak into our Brussels sprouts, or sour cream occasionally mingle with the latkes and brisket on our plates. My mom definitely believes that a life without lobster is probably not worth living and I have always agreed with her.
To this day, the smell of my mother's brisket bubbling away in the oven makes me feel okay about putting a sweater on and switching from iced coffee to hot. In order to share this recipe with you, she made me promise to mention the following two mandates for your brisket-cooking: 1) "the more dill the better," and 2) "the more red wine the better -- not saying whether I mean in the pot or not." The apple, as they say, does not fall far from the tree.
Check out my mom's brisket recipe, as well as our Rosh Hashanah menu suggestions below. L'shanah tovah (that means Happy New Year)!
4-6 lbs. brisket
4 cloves of garlic, minced
4 large onions, sliced
2 tbs. oil
4 small cans of tomato sauce
4 cans of water (tomato sauce cans) [*Ed note: this is one of my favorite cooking directions of all time]
1/2 bottle of red wine
12oz. mushrooms, sliced
4-8 carrots, sliced in rounds
1 bunch fresh dill, chopped
salt & pepper
3 bay leaves
3-4 potatoes cut into chunks, if desired
Preheat oven to 350 degrees.
Put roasting pan on stove over two burners. Add oil and brown sliced onions and garlic.
Brown brisket on both sides in the pan. Remove the pan from the heat.
Put brisket fat side up and add tomato sauce, water, wine, mushrooms, carrots, bay leaves, salt and pepper. Sprinkle the whole surface with dill. Cover roasting pan and put in oven for 3 1/2 hours.
Add potatoes (if desired) during last 2 hours.