Throughout its 25-year run, "The Oprah Winfrey Show" frequently featured themes involving food. There was the episode involving people addicted to food, an entire show on going vegan and plenty of segments on how to eat to lose weight season after season. On screen and off, Oprah searched for ways to eat healthy foods that didn't taste bland. Then, in the early 1990s, one woman changed everything.
Her name was Rosie Daley and, back then, she was the chef at an exclusive health spa in California. While a guest at the spa, Oprah had a healthy but incredibly flavorful meal she couldn't forget.
On a 1994 episode of "The Oprah Show," Oprah explained how the meal changed two lives that day in California. "I had a meal that was so incredible, I couldn't possibly believe that it was low-fat and low-calorie," the talk show host said. "So, after I finished the meal, I went into the kitchen to find out who cooked it. Who was responsible?"
That's when Oprah first met Daley, who she quickly hired as her own personal chef. In addition to cooking healthy meals for Oprah, Daley also shared her culinary secrets on "The Oprah Show," from her creamy corn chowder without the cream to her un-fried French fries. Daley's recipes were so popular, she and Oprah collaborated on a cookbook called In the Kitchen with Rosie: Oprah's Favorite Recipes, which became a best-seller.
Twenty years and six million cookbook copies later, Daley has since returned to California to be closer to her son, Marley. Even to this day, Oprah's former chef tells "Oprah: Where Are They Now?" that she still marvels as her success. "I was extremely surprised with how successful In the Kitchen with Rosie was," she says. "I'm still very surprised!"
Financially, the cookbook had a big impact on Daley's day-to-day. "For the first time in my life, I didn't feel like I really was worried about [how] I was going to pay rent and how I was going to get by," Daley says. "It really made me look at life differently."
Related
Before You Go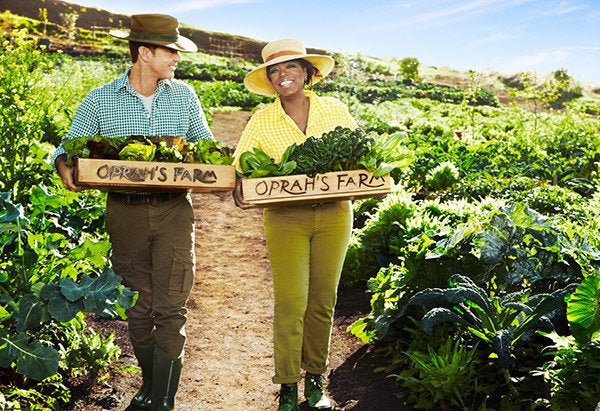 Oprah's Farm