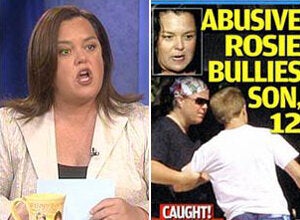 An article in "The Globe" — and featured on its cover — alleges that Rosie O'Donnell was caught bullying her 12-year old son Parker late last month. According to Perez Hilton, the article, which was headlined "Raging Rosie Bullies Her Boy," said Rosie was "abusive and stated she manhandled her 12 year old son. The article also claimed that Rosie was probably subjecting her other three children to emotional damage by verbally abusing her son in front of them."
"The story is absolutely ludicrous and ridiculous," O'Donnell's publicist told NYPost.com. "There is no truth to it whatsoever."...

Her rep didn't say if O'Donnell was planning legal action against the tabloid, but did say the former daytime TV host works tirelessly on the behalf of children....

"I would put The Globe at the bottom of the bird cage," her publicist said.
Related
Popular in the Community