 As soon as I popped the preview copy of Janis Martin: The Blanco Sessions into my computer, I knew Rosie Flores had produced a masterpiece. The reviews would be fantastic, and they were; rolling in from No Depression, American Songwriter, the LA Times, and the print version of the New York Times.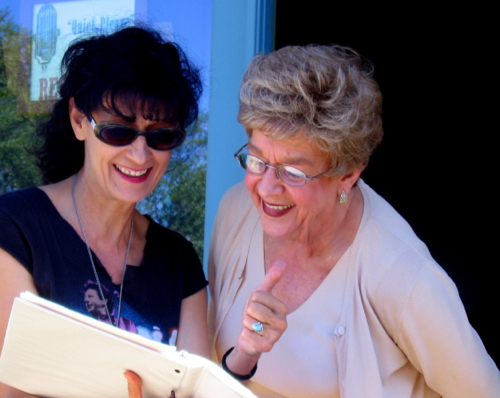 Rosie Flores and Janis Martin on Recording Day (Photo Courtesy of Rosie Flores)
Rosie did not disappoint. How could she? A huge rockabilly star and producer in her own right, Flores won the Peabody Award for the narration of a 10-hour documentary, Whole Lotta Shakin is a member of the Austin Music Hall of Fame, had Rosie Flores Day declared in Austin (2006), was the first Latina country artist on Billboard for "Crying Over You," and VenusZine named her one of the top "75 Greatest Female Guitarists of All Time." Listen to 1995's "Rockabilly Filly" (1995/ Hightone Records) to get an idea why VenusZine felt compelled to respond to Rolling Stone's 2003 list of the top 100 guitarists of all time. The list included only two women, Joni Mitchell and Joan Jett.
The heart and soul of this story of friendship finds its genesis in the distinction that separates women musicians from men in "best" lists. Janis Martin was a woman working in rock and roll during the 1950s -- an industry dominated by R&B, the emergence of rock and roll, and the bright star of Elvis Presley. Martin was so good the industry dubbed her the "Female Elvis," and that nickname overshadowed the fact that Martin was an innovator; pioneering the sounds of rock and country music.
Martin was born in 1940 in Virginia, honed her rockabilly credentials early on -- and by thirteen was a cast member of WRVA's Old Dominion Barn Dance. Southern roots took hold in her distinctive "rockabilly" style -- hillbilly music crossed with rhythm and blues. She was shaking on stage before Elvis did his thing on The Ed Sullivan Show. RCA wanted to grab onto Elvis' shooting star and quickly signed Martin. Her first single, "Will You, Willyum," sold 750,000 copies and RCA booked her on Grand Ole Opry, American Bandstand and The Tonight Show. Billboard named Janis Martin the Most Promising Female Vocalist in 1956. Readers are probably wondering why they have never heard of this artist. The "female" adjective sums up what happened next, and why Janis Martin disappeared from the charts, but not from the hearts of loyal fans.
Before signing with RCA, the teenage star secretly married her soldier boyfriend, who was transferred overseas. After a reunion with her husband while she was on a USO tour, she found herself pregnant and RCA unceremoniously dumped her. This was the 1950s, where men could be bad boys, but even a married pregnant star was taboo.
Enter rockabilly favorite Rosie Flores, who told the rest of the story to Rachel Martin on NPR's Weekend Edition. Flores says she first heard about Martin in 1979 at a rockabilly show in San Francisco. Chided by a Martin fan for not knowing anything about the '50s star, Flores stopped at a vintage vinyl store in Los Angeles, found some early recordings, and fell in love with the sound, the voice, the guitar parts and Martin's solid musicianship. "It was Janis Martin for me that really became kind of a role model and an idol... because of how amazing her voice sounded and the kind of guitar parts that were on her records," Flores says. "It just really spoke to me."
Rosie Flores became a fan and ultimately a collaborator, convincing Martin to join in two duets on Flores' acclaimed Rockabilly Filly CD. Martin had not been in a studio for over 30 years. For Flores, it was "a dream come true," and the two became close friends and musical soul mates. However, it took until 2007 before Flores could convince Martin to get back into the studio and record again.
Through the years of our friendship I never gave up on trying to get Janis back in the studio to record something new and in 2007 she finally agreed. Drummer Bobby Trimble and I combed through a plethora of material, finally selecting 10 new songs we thought would fit Janis to a tee and then we put together an amazing band and recorded those sides.
Thankfully for music, history, friendship and persuasion won out, because just a few months after the completion of the Blanco sessions, Martin tragically and surprisingly died from cancer, never having heard the final product and never fulfilling plans to tour with the new, now final compilation. It was a huge blow to Flores, who more than anything lost a treasured friend. Grief took a backseat to honoring her friend, and Flores valiantly and graciously tackled a recording industry reeling from reorganization in the face of social media. No one wanted to take a risk on a star who had passed away, but Flores pressed on and finally went to Kickstarter, where her own fans and legions of Janis Martin fans funded the final mixing and mastering for Cow Island Music.
The backstory is fascinating and incredibly inspiring, and much more is revealed in the liner notes for the CD. Still, there was something unsaid about this project, and I asked Flores in an email to help me get at the heart of the collaboration and the friendship. Here is what she offered:
There's something unique about woman-to-woman conversations about the rock world. Rock music seemed to be originally owned by the male side of our species, or at least initially in the '50s when Elvis, Jerry Lee and all those rockers started creating the sound. It didn't take too long for the females to find their own voice in it and that's where Janis Martin, Wanda Jackson and Brenda Lee to name a few jumped on in and created a platform for the many women like myself to follow suit. I think it's that special bond that Janis and I found together along with a mutual respect where we could both could trust each other in a creative conversation and to take the music we both loved a step further. I've had a similar friendship with Wanda Jackson particularly in her early days of coming back out again on the road. Though I've not had the chance to produce a whole record for her, only 2 songs on my Rockabilly Filly CD, we still carry that special bond of being two women friends with artistic integrity who love what we do and feel some pride in inspiring other girls to keep on rockin' with the same dreams.
Fighting for dreams to come true is the heart and soul of this story of unselfish, humble collaboration. Rosie Flores, today's "Rockabilly Filly," reached deep to help that pregnant teenage pioneer of a genre realize an unfulfilled dream. The dream will not die with Martins' death. Flores won't allow that to happen. Friends fight for each other and souls live on in hearts and minds.
Ironically, Flores also fought hard to get Martin to include a version of the Patsy Cline standard, "Sweet Dreams," on the Blanco Sessions. Martin protested that it was a country song, and Flores told her "no one sings it like you do. " She recorded it, and with no disrespect to the great Patsy Cline, once you hear this version, you realize Janis Martin made it her own. You can listen here. See if you don't agree. The CD is doing well on Amazon; breaking the top 100 and clocking in at number 9 in Country Sales.
I wonder what it feels like for Flores to listen to "Sweet Dreams"? Perhaps it is best to imagine and leave some thoughts private. Flores offers a clue in the final liner notes to the Blanco Sessions.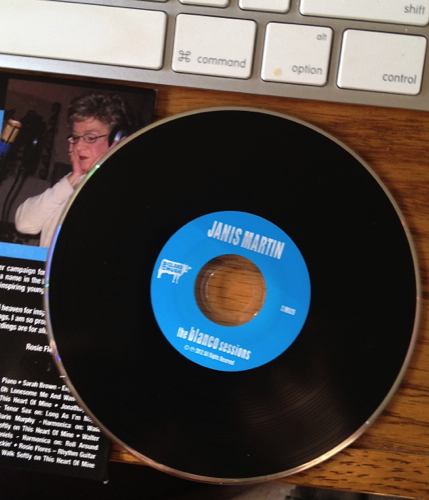 Photo by G. Nienaber
I thank the great Janis Martin, up in rock'n'roll heaven for inspiring me to do what I do. Thank you for giving me the chance to help with your final recordings. I am so proud of you. I will see you again someday, and we'll work on the next batch of songs! These final recordings are for all of those fans out there who love your voice, your spirit, your heart, and your rock'n'roll soul.
Fans of Rosie Flores can offer the same sentiment to a gracious, humble artist who has produced a gift of classic music and a stunning story of steadfast friendship.
REAL LIFE. REAL NEWS. REAL VOICES.
Help us tell more of the stories that matter from voices that too often remain unheard.