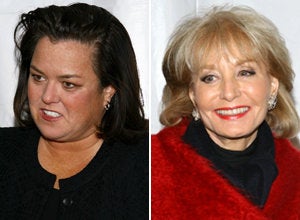 Rosie O'Donnell, whose NBC variety show airs next week, cannot shake questions about her tumultuous time on "The View." And Wednesday morning, she fanned the flames by telling reporters that Barbara Walters misrepresents the camaraderie among co-hosts of "The View."
The Los Angeles Times' Denise Martin reports:
Barbara Walters, [Rosie] told reporters on Wednesday morning, "wanted everyone to believe and think and act as if [the women on 'The View'] get along and are really good friends and happy and hang out together, and, you know, that's just not the reality.

"I'm not saying they loathe each other, but the fact of the matter is, there was not a lot of camaraderie off camera."

O'Donnell famously exited the ABC daytime talk show after months of politically charged bickering with her co-hosts, among them Elisabeth Hasselbeck, who came under scrutiny again in this election year as the show's only staunchly conservative voice.

But she conceded "arguing about politics is not the best use of my talent."

"I didn't grow up thinking, 'I hope I can talk about politics.' If you watch my stand-up comedy, I talk about my life, my family. It only became about [politics] with the job on 'The View.'
Rosie's former sparring partner, Elisabeth Hasselbeck, has been at the center of countless fights on "The View" this election season, but Rosie has reportedly mended fences with the conservative co-host (despite calling her Sarah Palin's "identical cousin" and saying both are "women who hunt in high heels").
"Rosie Live" airs Nov. 26 at 8PM, and is expected to feature Liza Minnelli, Alec Baldwin, Ne-Yo, Alanis Morissette, Gloria Estefan, Kathy Griffin and Jane Krakowski.
The headline and body of this article originally suggested Rosie O'Donnell said Barbara Walters lies about the co-hosts' camaraderie. Upon reevaluating the story, the word "lies" was removed in favor of "exaggerates" and "misrepresents."
Popular in the Community