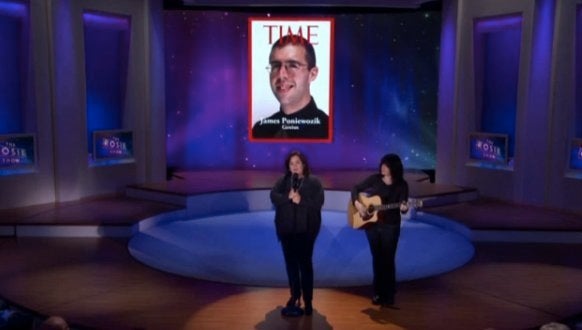 Every critic wrestles, at one point or another, with the sneaking suspicion that nobody is reading their work and that nobody cares what they think. Time's television critic James Poniewozik must have saved himself a lot of therapy dollars on Wednesday when Rosie O'Donnell not only confirmed that she was interested in his opinion, but actually sang him a personal song on her new talk show.
To be fair, O'Donnell had done roughly the same bit the night before, personally calling out critics who had reviewed the new OWN show. But after Poniewozik posted his review on Wednesday -- complete with helpful pronunciation guide in case she wanted to mention him -- O'Donnell kicked things up a notch. Her song, to the tune of Leonard Cohen's "Hallelujah," was, to put it mildly, complimentary (quite a bit more complimentary than Poniewozik's actual review, which came with a few caveats.)
O'Donnell even brought out a choir and put up a picture of Poniewozik, telling him that his words should be "etched in the stone entries of all of our hearts." She ended by saying, "we're not above sucking up!"
For his part, Poniewozik took a victory lap on Twitter. "Apparently my shameless plea for attention just got me serenaded on @rosie," he wrote.
REAL LIFE. REAL NEWS. REAL VOICES.
Help us tell more of the stories that matter from voices that too often remain unheard.