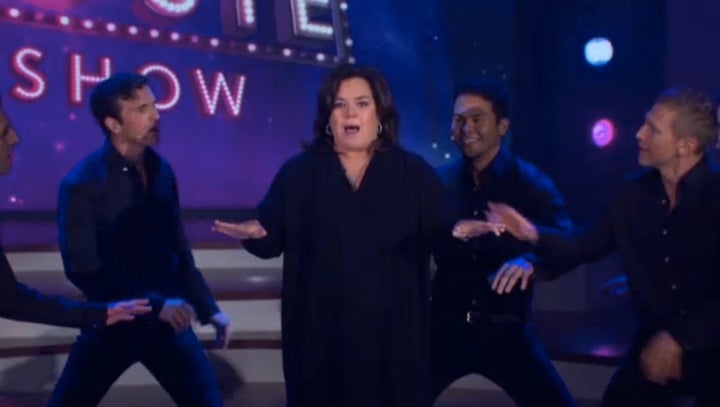 Rosie O'Donnell kicked off her new primetime talk show on Monday.
The first episode of "The Rosie Show" seemed to be all over the map by design. It included, among other things, a musical number, a game show segment, and a bunch of celeb chat with O'Donnell's new favorite person, Russell Brand.
The song was kicked off by "regular audience member" Suze Orman, who just happened to be in the crowd at Harpo Studios (where the show is filmed) and asked O'Donnell how she had come to be hosting a live talk show on Oprah Winfrey's cable channel. Out came the shirtless dancers to accompany O'Donnell in her number. The song even included a reference to her last big television gig: "Remember my problems on 'The View?'" O'Donnell crooned. "I told Hasselbeck a thing or two! Oy vey..."
The game show segment is called "The Ro Game," and was played by two audience members. Every answer has the letters "ro" in it! The winning audience member got a trip to Jamaica.
But wait! All of a sudden, who should walk out on stage but Oprah herself! As she and O'Donnell greeted each other, streams of confetti came down from the rafters.
In a web video, O'Donnell and her producers also discussed her new obsession with Brand. Let's just say the love is there, and it's intense.
Calling all HuffPost superfans!
Sign up for membership to become a founding member and help shape HuffPost's next chapter