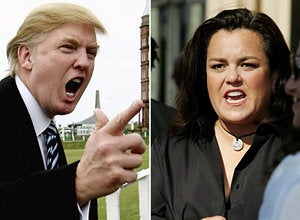 "I decided to write the blog because every other LGBT blog that was reporting on Rosie's staying at Trump was writing about it as if it was just ironic or funny that she'd be staying at his hotel, because of their history," Bendix told HuffPost Chicago via email Wednesday. "I couldn't believe no one at OWN or even in the media had questioned it yet, based on his recent statements about gay marriage. Also, living in Chicago and being so excited about Rosie's coming to Harpo Studios, I felt a personal connection to her coming to my town and patronizing a Trump hotel when there are so many other penthouses she could stay in."
It appears that O'Donnell listened.
Bendix, who is also a member of GLAAD's Chicago Leadership Council, received a direct message from the actress via Twitter Tuesday that said "No Trump." O'Donnell also asked for suggestions on where else she could stay.
"I told her the Swissôtel, James Hotel or Elysian would be options to look into," Bendix said. "Although I'm shocked no one who is actually doing the booking for OWN could figure this out! I'm really glad Rosie is responding to it, though. She could have ignored it and stayed there regardless. I have a lot of respect for her decision."
O'Donnell isn't the only one skipping a stay at a Trump hotel due to his opposition to gay marriage and civil unions.
New York-based gay activist Allen Roskoff told the Daily News last month that he was urging members of the gay and progressive community to boycott all things Trump, calling him an "extreme bigot."
"Not only should gays be furious, we should be boycotting the products of the advertisers on his TV show," Roskoff told the paper. "..and certainly boycotting his casinos and hotels and apartment buildings."
Also, as Bendix noted in her blog last week, GLAAD is asking the LGBT community to sign a pledge to Tune Out Trump.
It looks like Rosie O'Donnell is doing just that.
Popular in the Community