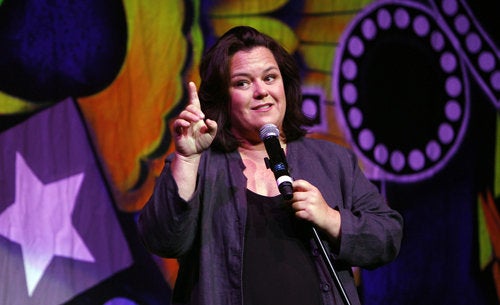 Two separate reports suggest strongly that Rosie O'Donnell is in advanced negotiations to bring a Sunday night variety show to NBC.
Multiple sources confirm to me exclusively that Hasselbeck's former View nemesis, Rosie O'Donnell, is in active talks with NBC to return to television with her own weekly primetime variety show.

The news comes just as the Peacock is said to be courting exiting Tonight Show host Jay Leno for a similar gig. It's possible O'Donnell's series would be a fallback in case Leno defects to ABC after his late-night reign ends next year (as many expect he will). NBC was unavailable for comment.

The possible NBC-O'Donnell hook-up is particularly ironic in light of the fact that less than a year ago the network's cable news arm, MSNBC, was close to giving the Koosh Ball-lovin' funny lady her own one-hour showcase. But when word of the discussions leaked out before the ink was dry, O'Donnell claimed the network "panicked" and the deal went south.

O'Donnell's rep declined to comment, but an insider with knowledge of the Peacock negotiations tells me that NBC isn't the only major network making a play for the ex-View moderator. CBS is (or was) also said to be interested in giving the ratings magnet her own series, but at this point, NBC is said to have the upper hand.
Monday, Fox News' Roger Friedman (a trusted source for Rosie news, even if he claims this scoop came from insiders at NBC and not from Rosie herself) added more details:
What I'm told is that Ben Silverman and Jeff Zucker like the idea -- and it's a great one that Rosie's had for a long time. The new show could turn out to be a 2009 version of Carol Burnett or even "The Ed Sullivan Show.'

The latter would even be better with Rosie presenting it all live -- as in not on tape -- from a Broadway theater, possibly on Sunday night. The show would have skits but more importantly O'Donnell could feature all kinds of acts from comedy to drama to music -- exactly what's missing from prime time.

And what would be cooler than O'Donnell introducing famous folks who are in the audience but don't necessarily want to do an interview? You could have Leonardo DiCaprio wave to the crowd while a new hot teeny-bopper group like the Jonas Brothers or a classic act like Cyndi Lauper performs live on stage.

Sources tell me that O'Donnell has been kicking this idea around since 2002. No one does live TV better than this comedienne, and with the potential for some kind of controversy every Sunday -- something outrageous or cutting-edge -- NBC would be certain to grab big numbers.

The first report of Rosie's new show surfaced last week in a report from "Entertainment Weekly." But the details weren't so clear then, especially the part of taking over a darkened Broadway theater.
Popular in the Community