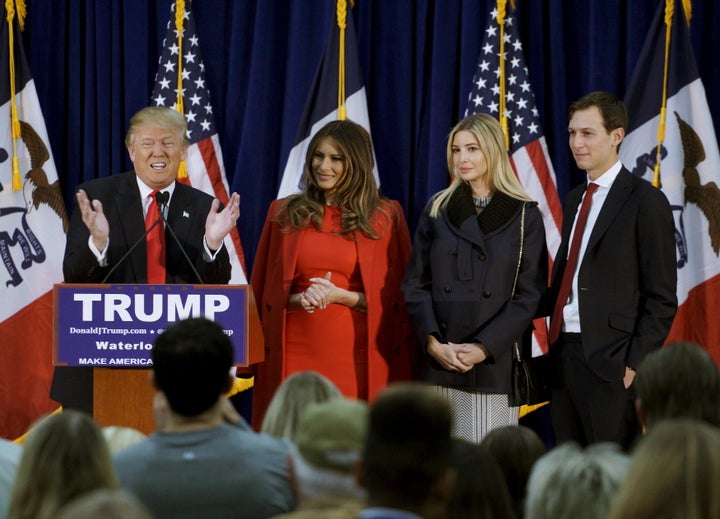 NEW YORK -- New York Observer national political reporter Ross Barkan resigned Wednesday morning, less than 24 hours after the weekly newspaper owned by Donald Trump's son-in-law endorsed the real estate mogul for president.
Barkan, who has worked at the paper for three years, told The Huffington Post there were a "variety of different factors" that finally led to his decision, but acknowledged the endorsement was one of them. The editorial was published online Tuesday afternoon and appeared in Wednesday's print edition.
"I've been thinking about my next move for a while," said Barkan, who does not have another job lined up.
Barkan said he continues to have respect for editor Ken Kurson and his colleagues. Still, he said that "the last month has been difficult for me and difficult for some of our colleagues."
The Observer, under editors like Vanity Fair's Graydon Carter and the late Peter Kaplan, was known for obsessively chronicling New York's "power elite" in media, real estate and politics. Its reporters critically, at times gleefully, scrutinized Manhattan's rarified worlds and Trump, as one former scribe noted after Tuesday's ringing endorsement, was a rich target.
But today's Observer -- which was purchased in 2006 by real estate scion Jared Kushner, who married Trump's daughter Ivanka three years later -- sounded downright Trumpian on Tuesday in blasting "the media elite, the professional political class and the people largely insulated or directly benefitting from the failures of the last seven years."
"The media and cultural elite's inability to grasp the profound alienation, anger and disillusionment of millions of Americans has fueled Mr. Trump's popularity," the endorsement read. "The media's enthusiastic embrace of the Obama narrative — that America should be willing to accept a dimmer future — has blinded it to the appeal of the Trump candidacy, and of an alternative, more compelling narrative."
To some, The Observer has already been on Trump's side for years. The paper faced criticism in 2014 for publishing an unflattering, 7,000-word feature on New York Attorney General Eric Schneiderman after he brought a fraud suit against Trump University.
But The Observer's relationship with Trump grew more complicated this month.
On April 4, Kurson acknowledged providing input for Trump's speech before the American Israel Public Affairs Committee conference in Washington, D.C. Trump had said Kushner helped with the speech, which was noted in a piece on the event written by Barkan. Kurson's input was not mentioned.
Kurson, once a speechwriter for former New York Mayor Rudy Giuliani, dismissed the idea that his reading a draft and providing input was in conflict with his role running the paper. "It's a complicated world and I don't intend to let the eleven people who have appointed themselves the journalist police tell me, at age 47, how to behave or to whom I'm allowed to speak," he told HuffPost.
But hours later, senior politics editor Jill Jorgensen said that Observer staffers, including Kurson, would not be permitted going forward to provide a candidate any assistance. Also, Jorgensen said that Observer journalists should be able to cover Trump "in the same way they cover every other candidate in the presidential race."
As Trump's campaign took off last summer, Kurson said the paper wouldn't opine on him. But Tuesday's endorsement left no doubt where the editorial board stands.
Soon after, several journalists and media watchers lamented the state of the paper, which would've once feasted on the real estate mogul-turned-reality star on a path to become the Republican presidential nominee. One offered the staff advice Tuesday night:
In a Wednesday statement, Kurson said Barkan was "an excellent reporter whose three years at the Observer are much appreciated" and spoke about the timing of the endorsement, which was published a week before New York's primary.
"The editorial board decided over the weekend to endorse," Kurson said. "I don't typically alert the staff -- not because it's some big secret but because usually it's not of major interest. In this instance, sensing that endorsing Trump would be of greater interest to the staff, I did notify several staffers beforehand, including Jill Jorgensen, who is Ross' direct editor."
Jorgensen told HuffPost she was informed "about the endorsement Tuesday afternoon, shortly before the print edition of the paper closed."
Barkan said that a newspaper has a right to endorse candidates as it sees fit. Still, he said that the decision to back Trump caught him off guard.
"As much as it may seem obvious to the rest of the media world that we were going to glowingly endorse Trump," he said, "I was not aware that it would happen until it happened."
This reporter worked at the New York Observer from 2004 to 2007.
Popular in the Community