If there is one word that could describe the hilariously talented Ross Mathews, it would be "infectious." From his warm and signature laugh to his zest for anything celebrity, Mathews loves every single project he is involved in, from hosting the GLAAD Awards this year, to being a permanent judge on "RuPaul's Drag Race" to his podcast, to his newest gig, as a co-host on "Hollywood Live." Ross sat down with us to chat about his love for his podcast "Straight Talk with Ross Mathews," his love drag queens, and how he has learned to "embrace the mistakes"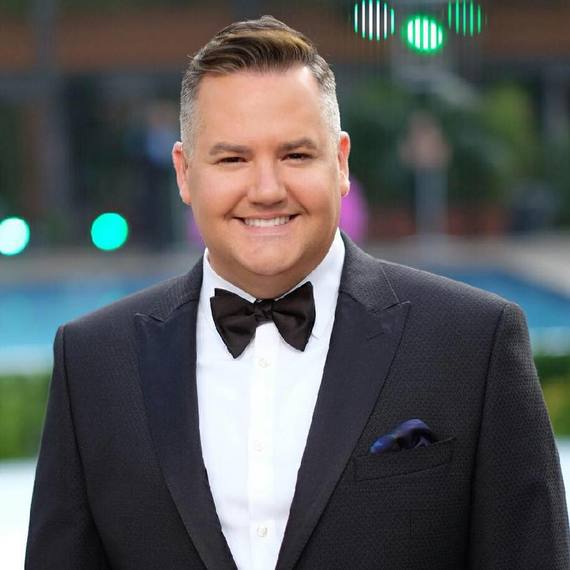 Your podcast is absolutely amazing and so inspiring in so many different ways!
That makes me so happy! The podcast is like my diary almost. I sometimes almost forget it goes out to the world. It's just me and my friends and there are no rules, I love it so much!
I could totally see a camera in there, it's almost it's own television show!
You know, it's funny you say that, we're totally doing that. I think in about five weeks or so we are going to start filming it and streaming it live, it won't affect the podcast at all. We're going to do it in a studio, the whole bit. It will all be free too!
You're hosting the GLADD Awards this year correct?
I hosted it a couple years ago in Los Angeles and then in New York and I loved it. I was pushing to do it again actually. I know the classy thing is to let them come to you, but that's so not me. I'm not like that in dating, I'm not like that in work, I'm like a square peg in a round hole and I force it to happen!
I must think that being asked to host such a prestigious awards ceremony is a real honor for you, as such a visible member of the community.
It is. I went to my first GLAAD awards about fourteen years ago with a friend who had an extra ticket, and I sat in the back at one of the back tables. I thought to myself "one day I'll be up there." And now i am. I always said to those little kids that are in the back of the room, thinking that they could be up there one day... take a seat bitch, because I'm not going anywhere for a while, and I'm not LOL!

You truly are that person though. You are that little gay boy that so many little gay boys want to eventually be and actually can aspire to be!
I am. Only if you own yourself 100 percent, don't take shit from anybody, and put your own individuality out into the world.
I read your book Man Up! and you really give a full picture of yourself. Is it hard to stay balanced and grounded in such an image conscious business and place like Hollywood?
For some people it is, for me it's not. I'm not good at anything other than being myself, I'm incapable of it. The other thing is, as much as I love the pop culture and the celebrities and everything like that, I don't have a ton of interest going to the parties and all that stuff. I come home, to my dogs, to my partner, and I go to happy hour with my friends that I've had since high school. That's how I roll. And i think that's how I am able to do it. You see some people get caught up in the bullshit, it's just not me. Look, I'm from a small town in Washington State; we are white and pasty people, and I think that has served me well in Hollywood.

Being on the red carpet must be such a rush after a while, especially at the big awards ceremonies like the Academy Awards. Does it ever still hit you that you are actually "really" at these events?
Oh all the time! I think that's why I don't live in Hollywood. I live in Burbank and I think that's part of the reason I don't live right there. I still want it to be exciting when it's Oscar day and it's exciting and glamorous! If I was in that world all the time, you're right maybe I would be more "ho hum, another Oscars." But this formula is working well for me, and I'm sticking with it.
I think you are an absolute perfect fit as a judge for RuPaul's Drag Race!
Aren't you right in absolutely every way! I watch that show, and I really care. I watch it from my couch and I'm talking to the television critiquing and my partner Salvatore is looking at me and going "no one can hear you." So guess what-now they can! They asked me last year If I could be a judge, and schedule-wise I could only do it half of the time. I split the chair with Carson Kressley, and it's really great because each of us have such a totally different point of view. I got emotionally invested last year and I am thrilled to be back again this year. It will be in the same situation, about half the time. It's one of my favorite gigs, it really is.
In speaking to the girls every week, so many of them have so much love for the judges, even if the critique's are super critical. Is it hard to get to know the contestants from that side of the judges table?
You know, we only get to see them when they are in front of the judges table. We don't get to see them behind the scenes or anything like that. It really is a representation of Hollywood; there are no "take two's" and you only get that one time to really make an impression. I fall in love with them as the season goes on as i get to see them more, but I truly fall in love as I watch the season because you get to see the behind the curtain drama and growth that I don't get to see on the stage.
You know, it's funny at the premiere party I get to meet them and I try to go up to each one of them and introduce myself and say "Hi, I'm Ross I can't wait to get to know you. I've judged you for the past month and a half." It's really great. Then I try to follow them all on Twitter and be supportive. I try to go see them in Palm Springs when they perform at Toucan's, you gotta support the kids!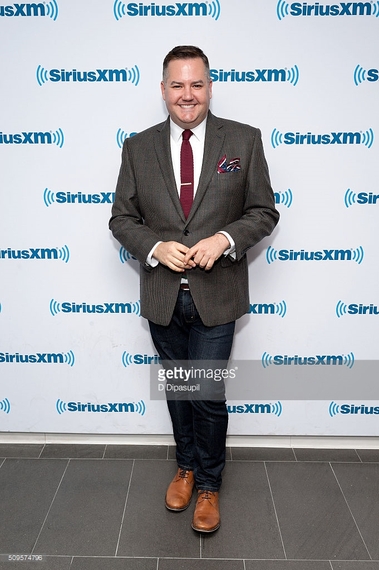 What do you think it is about drag and about Drag Race in general that really is such a hit with both the gay community as well as the non gay viewers?
You know, I think it's two things really. I think it's a hit with the gay community because it's celebrating your individuality and putting it on display, literally. Letting your freak flag fly and bedazzling it at the same time. I think it's a hit with pop culture in general because these people are the funniest and brightest minds out there. They are coming up with the vernacular and the slang that not just the gays and the queens are using it. It's the girls who work at the makeup counter, the girls who work at the bank, and then suddenly your mother is using it on Facebook! LOL. These people are setting the trends because they are the brightest quickest and sharpest minds, they really just are.
Who do you think last year really stand out in your mind that you really fell in love with.
Oh Violet Chachki. Violet provided the most jaw dropping moments of the season. Whether it was that first runway where she was almost totally naked or her corset invisible waist moment, or even the finale look; I think that look was so "Gone With The Wind" unbelievable! That's why she won; she made us drop our jaw more than any other queen. She defined a type of queen; you see different queens now and you think "oh she's kind of a Violet Chachki queen"; that means you are carving something new out.
I adore that you just said "Gone With The Wind Unbelievable;" I do believe you have managed to jam a Real Housewives of Atlanta pun into a RuPaul's Drag Race conversation!
Well Kenya Moore says "Gone With The Wind Fabulous" I wasn't going to quote her ver batim, that's plagiarism! LOL.
Are you doing another book?
I'm hoping to, yeah. I've been talking to my publishers, and some agents and would really like to do it. I would kind of like to do one based on the spirit of my podcast. It's a gay high pitched Dr. Laura for people. I want to be the gay best friend you wish you had and know you need!

Is it hard talking into the mic and not having an audience to bounce off of?
It flexes a totally different muscle. I've been in front of audiences since I was eight years old as a young Mayim Bialik playing a young Bette Midler in my hometown community theatre. I know how to find the joke and all that. It's different when you're doing a podcast or radio versus television. It's a different cadence, a different muscle, you have to find the joke in a different way. I just find podcasting to be so intimate; I am literally in your ears. People take ear buds and literally put them in their ears and use their imagination and they get to fill in the colors.
Some of your guests have been completely amazing. I mean, who knew that How To Get Away With Murder star Matt McGorry was such a fantastically wonderful feminist!?
Thank you! They do a great job at my podcast, and I have reached out to some of my friends also. Rosie O'Donnell, Kelly Osbourne, George Noory who hosts Coast to Coast AM, which is a radio show I listen to all the time, Meghan McCain, really fascinating people. I don't have anyone on I am not interested in. I feel we got to to know Matt McGorry, like really get to know him. You see him in all kinds of stuff, he's an actor, but what is he really like? We got a great conversation with him.

You have done and are doing a little bit of everything. What more do you want to do?
You know what I am loving right now, the freedom of the podcast and the "Choose Your Own Adventure" style of it. I am absolutely loving the talk show I am doing, I am live across the country! No retakes, you cant tell me what to say or not say, I am talking pop culture, I am having big guests on, and I am flexing that live television muscle I've always wanted to flex. I get to do it every single day. Hollywood Today Live is so much fun! It's on in fifty percent of the country right now, but if it's not on where you live, it's on Hulu as well so you can watch it there too. We just got extended to August of 2017 so we have a lot of time and I am really excited where that is. I'd love to get that really established, make it the "go to" place and have people say "oh did you hear what Ross said about that today"?
And it's live! I love live television. When I first started out in television, a producer told me "embrace the mistakes, the mistakes are the best part." That's why I love live television. It was one particular producer who is still a great friend of mine. It was the first time I was going to do something live. on Leno in the early days. It was the ball dropping in Times Square on New Year's Eve. I was counting the ball down and was wondering what would happen if I screwed up. The producer gave me that advice and I've never forgotten it. That's why I'm good at live television; not to toot my own tooter, but that's why I love it.
hollywoodtodaylive.com
Hollywood Today LIVE is on Monday -- Friday. Check the listings below to find your nearest station and time.
REAL LIFE. REAL NEWS. REAL VOICES.
Help us tell more of the stories that matter from voices that too often remain unheard.