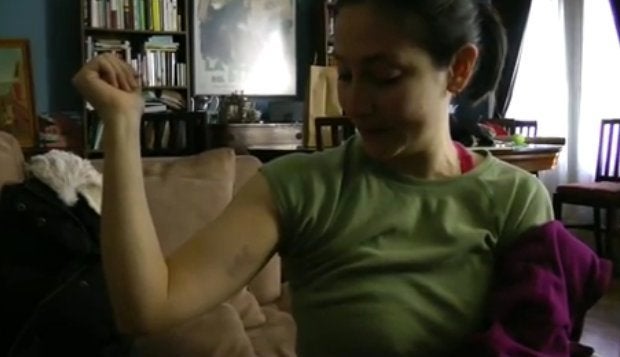 The past year has been a public airing of dirty laundry for suspended San Francisco Sheriff Ross Mirkarimi and his wife Eliana Lopez.
Since a neighbor turned over a video of Lopez alleging domestic violence to authorities in January, Mirkarimi has faced an extremely public investigation, a plea bargain, an unpaid suspension and now, an Ethics Committee inquiry.
Lopez, who did not authorize the release of the video to police, has condemned her neighbor, Mayor Ed Lee, the city, district attorneys and the media, fighting desperately for privacy.
The video, taken on a cell phone camera by Lopez's neighbor Ivory Madison, shows a tearful Lopez pointing to her a bruise on her arm allegedly caused by Mirkarimi, as she details the incident and previous abuse:
This happened yesterday and in 2011. This is the second time this is happening, and I told Ross I want to work on the marriage, we need help. I have been telling him we need help. And I'm going to use this just in case he wants to take Theo away from me. Because he said that, that he is very powerful and he can do it.
"The only function that video tape serves is to humiliate and embarrass Eliana Lopez," she wrote. "Is that really how the City of San Francisco wants to treat crime victims?"

But Mayor Lee argued that the tape was crucial evidence in the Ethics Committee inquiry, and two weeks later, the tape was made public.
Hours after the release, Lopez issued the following statement statement to the press:
I am sad and hurt by the elected officials of the city of San Francisco: Mayor Lee, City Attorney Herrera, District Attorney George Gascon and Judge Wong. They each have contributed to the release of the video against my wishes and allowed it to go viral. Because of their actions the images on that video will exist forever for anyone to see -- including my son, Theo, now and forever. My grandchildren will see the video, as well as my great grandchildren. I believe what Judge Wong, the District Attorney, the City Attorney, and Mayor Lee have done to me is far worse than anything they accuse Ross of doing. I hope they realize after reflection that what they have done is irreparable and perpetually damaging to me and my family.
Watch Eliana Lopez's confession in the video below:

Calling all HuffPost superfans!
Sign up for membership to become a founding member and help shape HuffPost's next chapter