Ross Perot, the Texas businessman who ran unsuccessfully for president twice, has died at age 89 after a five-month battle with leukemia, The Dallas Morning News was first to report Tuesday.
Perot broke from the Republican Party in the early 1990s, upending the 1992 election by winning 19% of the vote as an independent candidate running against then–Arkansas Gov. Bill Clinton (D) and incumbent President George H.W. Bush (R). He failed, however, to carry a single state. 
He formed his own contingent, dubbed the Reform Party, in 1995 and ran for president again the following year, that time securing a much smaller percentage of votes.
Perot famously treated Americans to 30-minute infomercials paid for with his own money about his plan for the economy, which drew as many as 16.5 million viewers with the aid of cardboard graphs and charts, according to a 1992 New York Times report. Dana Carvey played him with a whiny twang on "Saturday Night Live." Perot blamed both parties for running up the national deficit and later, in 2008, created a website to track the debt.
One of his predictions was at least partially right ― what he dubbed the "giant sucking sound" of jobs from America to Mexico that would result from the North American Free Trade Agreement. Clinton said NAFTA would create an "export boom" to Mexico along with a wealth of U.S. jobs, but it is generally accepted that it led to a flood of outsourcing. Claims that NAFTA created U.S. jobs are based on "disingenuous accounting," according to a 2013 Economic Policy Institute report.
Clinton and former President George W. Bush ― the son of the late George H.W. Bush ― expressed condolences in statements, calling Perot a "unique figure" and a "strong patriot," respectively.
"Although we were opponents," Clinton said, "I respected Ross for his support for our veterans, the business he built, and the passion he brought to his politics." 
"Texas and America have lost a strong patriot," the younger Bush said, adding that Perot "epitomized the entrepreneurial spirit and the American creed." 
Over the course of his life, Perot, who stood at just 5-foot-6, rose from the poverty of the Great Depression to make billions in the computer business and become a prominent philanthropist.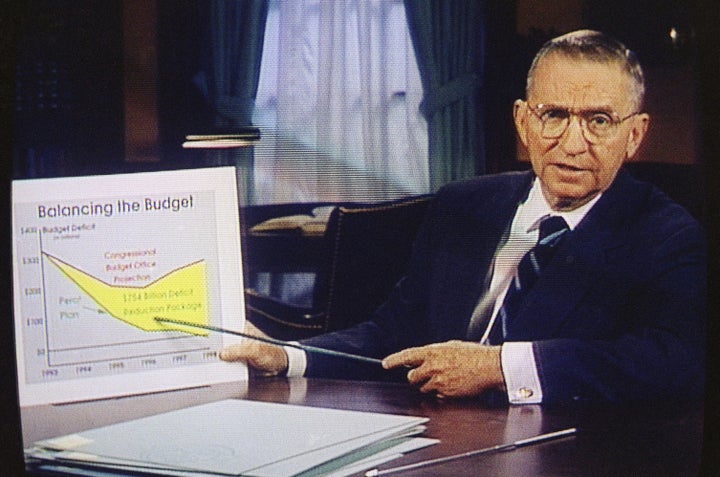 Born on June 27, 1930, in Texarkana, Texas, Perot began work from an early age, delivering newspapers on a pony named Miss Bee as a child, according to The Associated Press. He spent a few years in the Navy before his short-lived stint as a salesman for IBM in 1957. In 1962, he launched his own data processing company called Electronic Data Systems, which found clients in the insurance industry.
Perot netted $1.5 billion, according to Forbes, by selling the company to General Motors in 1986. His next enterprise, Perot Systems, sold to Dell Computer for $3.9 billion in 2009. 
The Dallas Morning News lauded Perot's reputation as a family man. He was still married to Margot, his wife of more than 60 years, at the time of his death.
The outlet also noted the businessman's affinity for holding onto things, reporting that a 10,000-square-foot library in the Perot Group's Dallas headquarters "features a mind-boggling array of memorabilia, including Osama bin Laden's walking cane, which was given to Perot by the special forces who killed the terrorist."
In 1979, Perot successfully financed a rescue mission for two EDS executives jailed in Iran by recruiting the retired U.S. Army Special Forces Col. Arthur "Bull" Simons to lead a raid and shepherd the executives to Turkey. The ordeal was recounted in "On Wings of Eagles," a best-selling book that was later turned into an NBC miniseries.
He was bestowed a Churchill Medal by Prince Charles and then-first lady Nancy Reagan at age 55. Charles called Perot a man of "bold imagination, pioneering spirit and dynamic leadership," according to a contemporaneous AP report.    
Perot received an award from the Department of Veterans Affairs for his support of veterans and the military in 2009.
He is survived by his wife, Margot, and their five children: Ross Jr., Nancy, Suzanne, Carolyn and Katherine. 
Calling all HuffPost superfans!
Sign up for membership to become a founding member and help shape HuffPost's next chapter
BEFORE YOU GO
PHOTO GALLERY
Notable Deaths in 2019