What is it about Rossini operas that make them still hot tickets? Could it be those galloping orchestrals or heart-stopping vocal vaults? Or perhaps those preposterous story lines are needed distractions in a time of stress. Who knows, who cares, opera fans in Philly can't get enough. In September, Opera Philadelphia's raucous production of The Barber of Seville packed them in at the Academy of Music, with an added 6,000 crowding in on Independence Mall for a arena screening of the opening night performance.
In November, the Academy of Vocal Arts performed to sold-out houses with a way over the grand opera buffa top production of Rossini's L'Italiana In Algeri. Stage director Dorothy Danner keeps everything in dizzying motion between shipwrecks, wife-swapping and the occasional hookah party. Even the palace eunuchs, aka the male chorus in scary vestal garb, peak through the curtains ala The Three Stooges. Later, they are smarmy, bare-chested pirates, as the women's chorus vamp in skimpy harem couture. But all of the canoodling is just eye candy for the great vocal performances and fine musical detailing by Richard Raub and the AVA orchestra.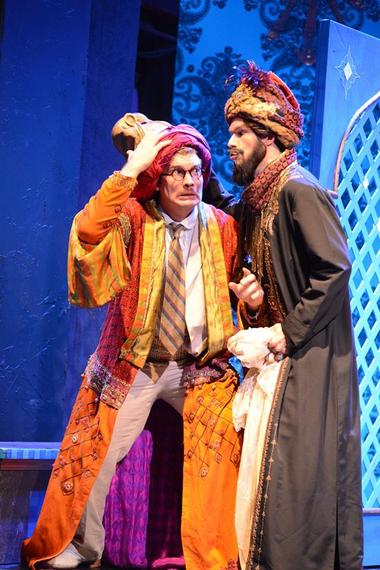 Andre Courville & Micahel Adams in L'Italiana in Algeri (photo courtesy of AVA)
The story is un-pc zany, Sultan Mustafa, the Bey of Algiers is bored with his wife, Elvira, who is so devoted to him that she will put up with his insults and abuse. Meanwhile, palace janitor and ready tenor, Lindoro pines for his beloved Isabella in Italy but she is in fact is at sea and soon to be washed ashore in Algiers with her companion Taddeo who may be just a gigolo with a heart of gold plate.
Mufasta is also bored with his cloistered harem and dispatches his aide (de campy) Haly to find him a worldly woman of Italy. When Isabella shows up, he is smitten. Isabella, hip this creepy scenario, plays him so she can get close to Lindoro. Meanwhile, Mufasta orders Lindoro to wed his cast off wife Elvira, in exchange for his passage back to Italy. Elvira and Lindoro join forces to foil Mustafa's oily plots.
Raub (a bit clockwork in the overture) mostly ignites Rossinian classicism and this orchestra frames lustrous vocal performances. Soprano Anush Avestisyanin as Elvira is hilarious and in voluptuous voice. Bass-baritone Andre Courville's Mustafa is a buffoon worthy of Warner Bros 40s cartoon and like Avestisyan, vocally couldn't be more commanding. Julia Dawson as Zulma, Elvira's sidekick and Jorge Espino as Haly, vocally blooming otherwise thankless supporting roles. Michael Adams' Taddeo is a the hapless baritone par excellence.
Rossini makes this ultimately a nationalist message with Isabella singing of blood, country and men. Two breakout performances are icing on this AVA soufflé- First year resident mezzo Hannah Ludwig as Isabella has the stage presence and technical maturity of a major star. Tenor Jonas Hacker (a Rossini tenor natural) had some passagio issues in his front solos, but without doubt, he has all of the range of a Rossini tenor and his duet chemistry with Avestisyan, Ludwig and Courville stellar throughout.
AVA continues to give opera audiences in Philly a preview of resident artists on the brink of their international careers. The conservatoire was created during the depression by Helen Corning Warden to provide tuition free training for already accomplished young opera singers embarking on professional careers. AVA will celebrate their 80th year gala this spring with an star-studded array of former AVA resident artists. Upcoming in December you can catch most of the current roster of singers in Ghenady Mierson's concert series Russian Romances featuring classics and rarities from Russian repertoire.
for more information about AVA's 80th season check www.avaopera.org
Related
Popular in the Community