Deaconess Mary Cooper sat in an empty, front row pew at the Rossville A.M.E. Zion church reflecting on the summer roasts held in the congregation's bucolic backyard pit in Sandy Ground, Staten Island.
"You didn't get no barbecue from Mr. Skin Tom unless it was done," said the 83-year-old Cooper with a slow smile spreading across her delicate face.
"I ate ribs, I ate chicken, and I ate the pork. All of it."
The church's annual barbecues were more than a summer tradition; they were a rite of passage, both for the congregants and non-churchgoing residents alike.
But things are slowly changing in the area that was once the hub of African-American life on Staten Island. Like so many other churches founded in predominantly black areas of the country, Rossville A.M.E. has had to adapt to major changes -- such as outward migration, new housing development, and gentrification -- all of which have changed the face and fabric of these communities, often making these churches the last original institutions left standing.
"The dynamic that you're seeing here is definitely playing out in other historic black communities that are facing redevelopment pressures," said Derek Hyra, an associate professor of urban affairs and planning at Virginia Tech, who has studied similar trends occurring in Harlem and Washington, D.C.'s Shaw neighborhood.
Today, the number of barbeques and other annual summer traditions once held by Rossville A.M.E. has declined drastically, along with the community's dwindling black population. And with those fading traditions, much of the engagement that has kept the community strong during tough times has faded as well. The last barbeque congregants remember was held two or three years ago.
"We don't have the same amount of people that's involved," said Cooper. "Even the kids, they're not the same."
Like most elder churchgoers, Cooper grew up in this small neighborhood located on the southern shore of Staten Island. She spent most of her youth racing about the yards of her neighbors, roller-skating down the steep hill where a grade school once stood, or making a game out of guessing the value of a car on the rare chance one would drive by her and her friends.
"A great percentage of the people remember their family stories, cherish their family stories, and maintain a real sense of family and interconnectedness," said Carlotta DeFillo, 62, a librarian at Historical Richmond Town, a living history village and museum located in Staten Island. "They could look at a house or a street and say all the people that lived there generation after generation."
But the sparsely filled pews on a recent Sunday indicated a major transformation.
During that morning's service, Reverend Janet Jones, 65, stood before her congregation and spoke with an assured optimism. When the New Jersey native became Reverend of Rossville A.M.E. in 2003, the church was losing more congregants than it was gaining. For the first seven years of Jones' tenure, the church had only gained one new member as a steady procession of longtime congregants passed away.
The church was founded in 1850, while the original settlement of Sandy Ground was founded in the early 1800s by an group of vegetable farmers. The largest wave of settlers, black oystermen from Snow Hill, Md., established Sandy Ground after dreams of autonomy and freedom led them out of the south. A steady commitment to the oyster industry proved lucrative for the residents, allowing them to gradually attain both financial and social capital, such as well-built homes, thriving enterprises and high literacy rates.
A designated New York City landmark, Rossville A.M.E served as more than just the spiritual center of the community: It was a pillar of African American life throughout the region.
"People could come here and find jobs," said Sylvia Moody D'Alessandro, executive director of the Sandy Ground Historical Society and a descendant of Sandy Ground's original settlers. "It was the center of social life on the Eastern seaboard."
At its height, Sandy Ground stood as a beacon of hard work and bootstrap success, until an unexpected series of catastrophes crippled the community's growth.
Pollution of nearby waters poisoned the area's oysters, resulting in several outbreaks of typhoid and the subsequent closing of the oyster beds in 1916. Fires in 1930 and 1963 would go on to destroy more than a dozen Sandy Ground homes and businesses. The lasting devastation heaped on the community forced residents to migrate to northern Staten Island, to Manhattan, and even New Jersey in search of work. Still, outside forces, including the nearby construction of the Verrazano Bridge, opened the floodgates for new housing developments and a predominantly white, affluent Catholic community to flourish in the wake of the black community's decline.
Yvonne Taylor, 78, whose Sandy Ground roots reach back five generations, can count on two hands the number of African-American families living in Sandy Ground today. "90 percent of it used to be African-Americans," she said. Now? "Say 10, perhaps 10. Eight to 10 black families are in this community."
Her family's Sandy Ground home, designated as an official New York City landmark in 2011, stands in the same place, still in the family's name, though she no longer resides there. Instead, she rents the home out.
When asked if any black-owned businesses remained in the neighborhood, Taylor didn't have to think too hard. "Unfortunately, no," she said.
"They had to look for work elsewhere and that often meant picking up roots and moving someplace else," Taylor said. "They relocated and never rebuilt."
"It's just changed," said Marcia Munro-Emanuel, 66. "Now people have two-by-four yards and they think they own the world."

Today, only two congregants of Rossville still live in the town. However, families with historical ties to Sandy Ground, such as Cooper and her four daughters, still travel from as far away as Willingboro, N.J., at least once a week to sit in the same pews as their forebears.
Rossville A.M.E. has struggled to help provide transportation for its congregants who don't have any other means of getting to the church. When the church van broke down, many were left stranded. Some have even whispered at moving the church out of Sandy Ground, but Rev. Jones says uprooting the church and moving it closer to its far flung congregants is not an option.
"If you want to start a riot you can talk about relocating the church," she warned.
The church's struggle to maintain its relevance speaks to the larger role religious institutions play in their communities, according to Gerald Gamm, an associate professor of political science and history at the University of Rochestor who has written on the urban Jewish exodus from Boston in the 1970s.
"Religious institutions are the crossroads of a community," he said, likening the role of Rossville in Sandy Ground to the role of Catholic churches in Boston.
"These churches and synagogues that we typically think of as just religious institutions only alive on Saturday and Sunday, in fact, become crucial building blocks of a community that normally function not only as religious places but as community centers," Gamm added.
Young, eager and committed, Priscilla Briggs, 46, of New Brighton, N.J., represents what Rev. Jones hopes to be the future of Rossville A.M.E. Zion Church. Briggs learned of Rossville through her 9-year-old daughter, Amirah, who would attend the Sunday service through their daycare provider. After months of her daughter urging Briggs to join her, the mother finally followed her onto the church van one day.
"Everybody on the van was like, 'Yay!'," Briggs said. "And I've been here ever since. It's going to be two years in September."
During her weekly welcome call-out to guests, Jones pointed out Warren Harding, a 20-year-old rising senior at Oberlin College and one of the three men in attendance.
"You learn the history of the African-American community here, which was really important for us to have that solidarity in many ways," said Harding, referring to his Jamaican grandmother's migrating to the United States and choosing a church. "The other church didn't have a lot of black folk in it."
Harding, Briggs, Munro-Emanuel, Taylor, Cooper and about 30 other congregants, mostly restless children and older women, sat contentedly beside one another as Jones preached that Sunday: mothers sat next to nephews, and godmothers scooted towards sisters who leaned onto great aunts.
They shared hushed whispers and worn Bibles. They punctuated Rev. Jones' short sermon on duality with determined "Amen's" and assured "Mhmm's" before heading to the pulpit to receive communion. Afterwards, everyone lingered in the pews as pale sunlight passed through the stained glass windows bearing their ancestors names.

"This will always be my church," said Munro-Emanuel before heading out on her hour long journey home.
"This will always be my home."
CORRECTION: A previous version of this article states that Rossville A.M.E. Zion Church was founded in 1897. The church was founded in 1850 and built in 1897. The article also stated that the original Sandy Ground settlers were oystermen when they were, in fact, vegetable farmers. The subsequent wave of settlers were oystermen. We apologize for the error.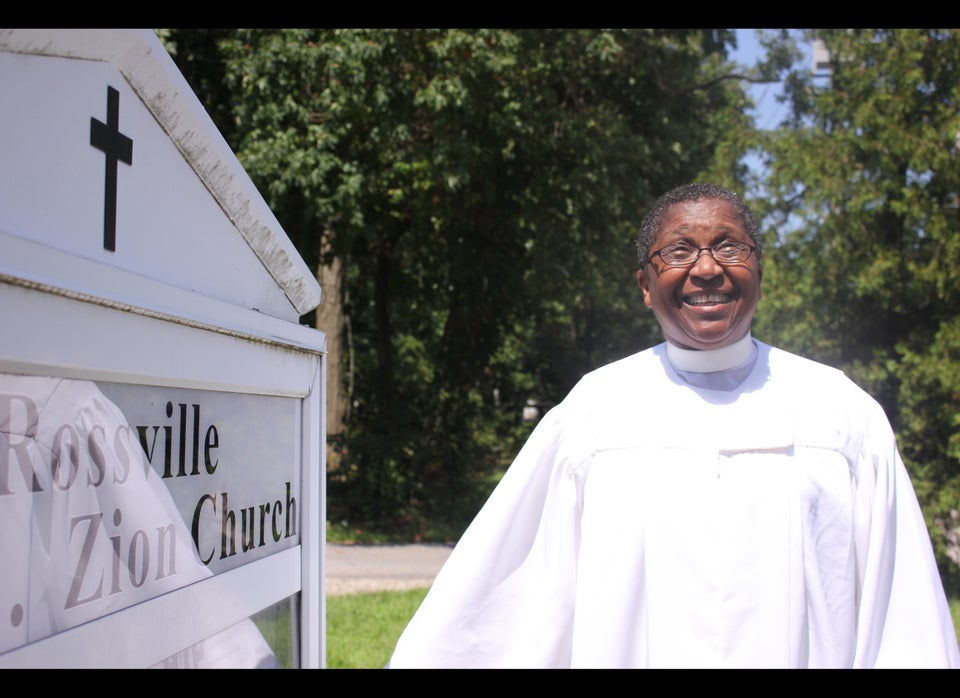 The Road Back To Glory: Rossville A.M.E. Zion Church
Popular in the Community