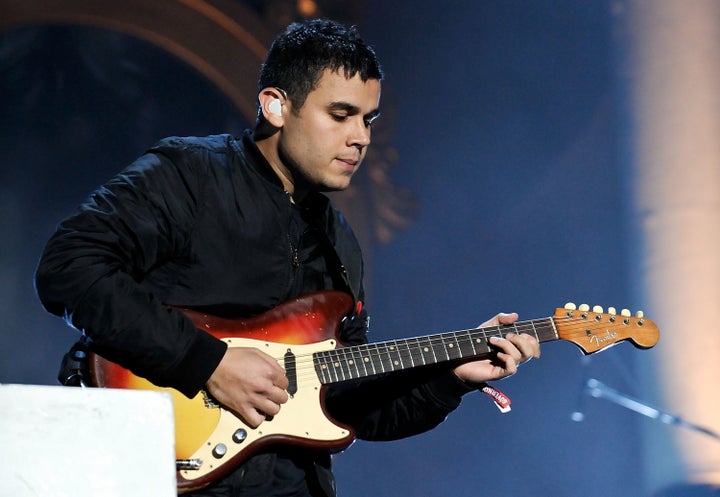 Gearing up for the Sept. 15 release of his first solo album, "Half-Light," Batmanglij looked back on his experience in a candid Daily Beast interview with former MTV News correspondent John Norris.
In the seven years since the 33-year-old came out as gay, the mainstream music industry has embraced more openly queer stars like Frank Ocean, Sam Smith and Troye Sivan. Still, he said he "supports" artists who come out on their own terms, rather than bowing to media or public pressure. 
"I remember reading BUTT magazine before I was out—maybe even before I was out to all my friends and family," he said. "Before I felt comfortable with identifying as something that wasn't straight. And I felt a kinship to the people who refused to not be transparent about who they were. And I felt certain that if I did have a career in music that was successful to any degree, to the point where people were interested in who I was, that I would be out."
He went on to note, "I think there is a little bit of a danger in saying, 'Why do we need labels?' I have a problem with musicians who never want to come out, but I don't have a problem with a musician being like, 'I'm gonna come out at the right time. And I will know when that is.' I support that, because that was me."
Batmanglij also discussed "Bike Dream," an '80s-inspired tune featured on "Half-Light" that includes lyrics that explicitly reference same-sex love. "Two boys/One to love you sweetly," Batmanglij sings on the track, which can be heard below. "One does so discreetly, never will he meet me."
"Yeah, some of the lyrics are that old," he said. "And I think I liked the idea that the song had an openness that you wouldn't hear it just in one way. That like, anybody could hear the song and identify with it, whether they identified as queer or straight—so I liked that openness."
The discussion later turned to U.S. politics and Batmanglij, who is of Iranian-American heritage, admitted to witnessing "scary stuff" in the wake of President Donald Trump's election. Still, he remains hopeful for the future. 
"I notice that there is a younger generation that doesn't see gender the way that I probably saw it as I entered adolescence. There's a generation that doesn't see it that way, and there's something really cool about that, and that is progress," he said. "I believe there is a younger generation of people who as they grow up and as they take charge of this country, things will change, finally."
Read Rostam Batmanglij's full Daily Beast interview with John Norris here. 
Calling all HuffPost superfans!
Sign up for membership to become a founding member and help shape HuffPost's next chapter
BEFORE YOU GO