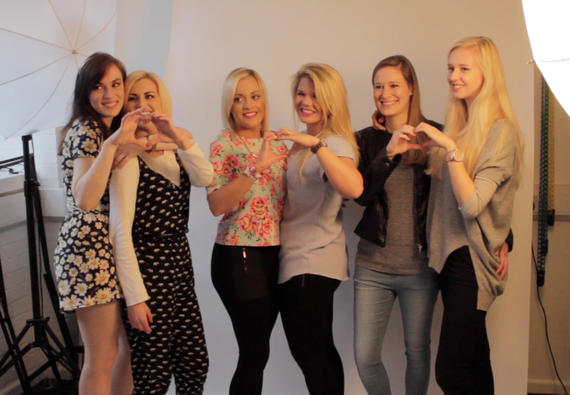 On the 26th April 2014, 600 people headed towards the Mermaid Theatre in London. The doors were set to open at 12:45pm, and the queues began hours before. At 12pm we drove past the queue in our taxi, heading for the back door. One of the fans spotted us and started, in shock, to frantically wave. We were not arriving to the theatre as an attendee, but we were arriving as the Youtube vloggers that they were queuing up to see. To say that the experience was surreal, would be an under statement. Alongside me in the taxi sat my beautiful wife Whitney and our fellow Youtuber's and dearest friends, Kaelyn and Lucy. We had been planning this event for months. Dubbed "ROSWEGLYN", an amalgamation of all of our names, we had decided to hold a meet and greet with Youtuber's Rose and Rosie (The Roses) and Kaelyn and Lucy (Luclyn). With no managers or agents, we had planned this event completely by ourselves. When we started out we literally thought we could just meet in a random coffee shop or park and a handful of people would turn up. How wrong we were. When we initially wanted to gather a rough idea of attendees, we had nearly 1000 people RSVP. We realised we had to scrap our park plans and found a theatre that could hold 600 attendees.
Months later, with organisations, a photobooth and merchandise all ordered and booked, the day was finally upon us. We still couldn't believe that 600 people wanted to come meet and greet us. We are, after all, just ordinary people that upload regular footage to Youtube of our lives. From that has grown a friendship between the 6 of us, and for that we are forever grateful. After driving past the queue to the venue, it started to dawn on us the scale of the event. Whilst waiting backstage my sister, who was there to help at the event, came running in to let us know she had just caused the "Mexican wave" amongst the crowd, everyone was in great spirits.
Unfortunately the morning had not run so smoothly for all of us as anticipated. As we were heading into London Paddington station, where we were due to meet Rose and Rosie, we received a frantic call from Lucy, informing us that Rose had collapsed at Reading station and was currently in an ambulance on the way to the hospital. We were all in complete shock and of course very worried as to what had happened to our dear friend Rose. Just the day before all 6 of us had met up, we had a laugh at Diva magazines photoshoot and shared dominos whilst running over the script with our host for the event, Bella Qvist. How could it be that Rose was now on her way to hospital and no longer attending? Heart broken, as cliché as it sounded, the show had to go on. Kaelyn went on stage ahead of our host to inform the crowd as to what had happened to Rose, though word had spread fast from Twitter. Whilst undoubtedly upset, the crowd were thankful Rose was ultimately ok and still very happy for the event to go ahead.
The four of us made our way on to the stage, from great introductions written by Rose and delivered brilliantly by Bella. Personally I love the fact that we are "practically joint at the face". We then proceeded with a half an hour Q&A, which I must admit was rather nerve wracking suddenly speaking in front of 600 people with all eyes on you. We successfully made our way through the questions, ranging from what characteristics do we like most about one another, to Lucy's favourite character from Harry Potter. We took a stage 'selfie' with the audience and we sang Happy Birthday to a 14 year old who was in attendance with her mum. Even now the experience is all completely surreal, and the meet and greet was yet to come.
When we started to meet and greet all the attendees, they lined up in wrist band order given out the order they arrived to the venue. We didn't realise how exhausting it would be to meet all 600, we stood on our feet for 5 hours, and admittedly had to change from our heels to flat shoes. However, we would do it all again as it was amazing to meet each and every attendee. What was unwavering was the overwhelming feeling from meeting all these lovely people who had been watching our videos from years or months, and the impact we had on them. Some shook, some cried, some were unable to get words out. We were just as nervous and emotional as they were! We are honoured that attendees traveled from Australia, Hong Kong, Denmark, Germany and Sweden to name a few, just to meet us.
Knowing the impact that we have on these attendees, mainly young LGBT teens, but also older followers and parents to, is a incomprehensible feeling. We were told that by putting our lives out there, living visibly as a happily married femme couple, we have made lives easier for the younger (and older) generation in accepting who they are or knowing that they will end up happy. To be seen as role models truly makes what we do all the more worthwhile.
What we created wasn't just a Youtube event, is was a safe haven for LGBT teens to meet up and make friends. They frequently commented how amazing it was to feel they could be themselves. After the event it really did dawn on me, that other than going to gay clubs when you're 18 years of age, there isn't a safe space where you can meet other LGBT people and feel that you're not alone. Where being gay is better than ok, in fact it's pretty awesome. Youtube hasn't just brought ROSWEGLYN together as friends, but it also has brought a whole new community along with it where acceptance is key. If only this could transfer to the outside world. If we keep going, hopefully one day it will.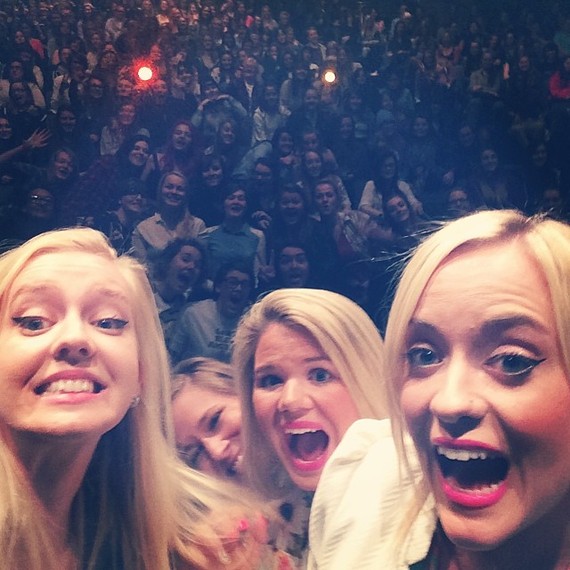 Support HuffPost
Every Voice Matters
Popular in the Community