As the world recently celebrated the 20th anniversary of the fall of the Berlin Wall and the end of the Cold War, Rotary International - a humanitarian service organization dedicated to world peace and understanding - is helping the next generation of world leaders learn the skills to prevent future war and conflict.
Rotary International believes that the deeper issues related to the root causes of conflict - such as political violence, social injustice, poverty, hunger, illiteracy, and environmental degradation - all point to the need for more sustainable forms of peace.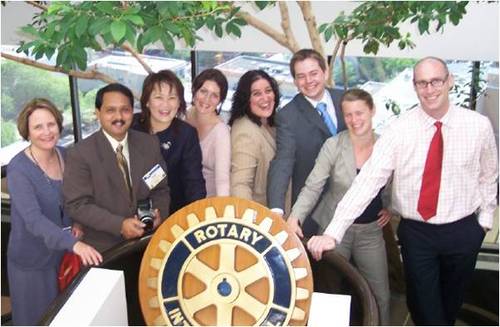 Judy Gibson (far left) who heads Rotary's World Peace Fellowship program, with Fellows.
I recently chatted with Judy Gibson who heads Rotary's World Peace Fellowship program.
Rotary clubs promote peace by initiating thousands of humanitarian projects every year that address the underlying causes of social instability and conflict -- such as hunger, poverty, disease and illiteracy.
"That's why it's so important to train the next generation of leaders to recognize the signs and symptoms of conflict in order to prevent it from happening," Glenn Estess, chair of the Rotary Foundation of Rotary International, has stated.
Belonging to a Rotary club also allows people from different cultures and nationalities to establish lifelong friendships that transcend political and cultural boundaries and tensions.
I recently chatted with Judy Gibson who heads Rotary's World Peace Fellowship program. Her question, answered in large part by this program, was "How can we, in a concrete manner, create peace?"
Spending $4 million a year in training peacemakers through dual programs: a Master's degree in Peace and Conflict Resolution at universities around the world, and a shorter, three-month course on the same topic in Bangkok, Thailand.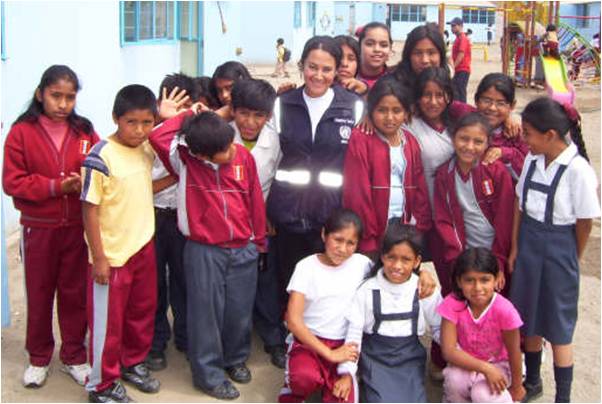 Andrea Fanta visits children while working in UNESCO field
office, where she
helped to rebuild southern Peru's educational facilities following earthquake.
Launched in 2002, these programs now have provided 400 individuals with this special Masters degree, and many more with the shorter skill set-building imitative in Thailand. See Rotary Peace Center video.
These programs provide academic and practical training to prepare scholars for leadership roles in solving conflicts around the world. Up to 100 fellows are selected every year in a globally competitive process based on personal, academic, and professional achievements.
Fellows embark on one to two years of study to earn a master's-level degree or a professional development certificate in peace and conflict studies at one of six Rotary Peace Centers at leading universities in Argentina, Australia, England, Japan, Thailand, and the U.S.
Rotary World Peace Fellows are a diverse group, representing 88 countries and an array of professional and cultural backgrounds. Their interests and areas of expertise include public health, education, international law, economic development, journalism, and social justice.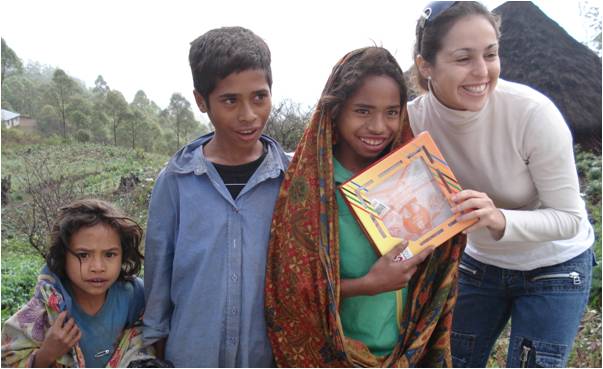 Izabela da Costa Pereira with children outside a rural village in
Timor-Leste where
she is a Democratic governance officer with U.N. Integrated Mission in Timor-Leste.

Judy is passionate about her life's work - the pursuit of global peace:
Working for peace by promoting opportunities for people to enhance their peacemaking skills is a dream job. I had long wanted to work for Rotary, knowing of its good works first when I was employed by a small non-profit organization that did community development projects in the South Pacific.

Rotary was always a good partner when trying to reach local communities in need. After 10 years as an administrator of an international program at Northwestern University, the chance to work for the Rotary Peace Centers program was an opportunity of a lifetime.

The job's greatest benefit for me has been the chance to meet and get to know many of the Fellows whom we have funded. These are extraordinary people doing extraordinary work.

Recently I have been thinking about one alumna who is risking her life to learn about the daily challenges faced by U.S. soldiers in Afghanistan and two alumnae I met recently in New York City who work with victims of abuse and violence through programs of support and restorative justice.

These examples show the breadth of the program's influence. With approximately 100 Fellows graduating each year, the multiplier effect of their work will be felt around the world.

My hope is that a Rotary Peace Fellow will soon be as well known as a Rhodes or Fulbright Scholar. That is the challenge ahead!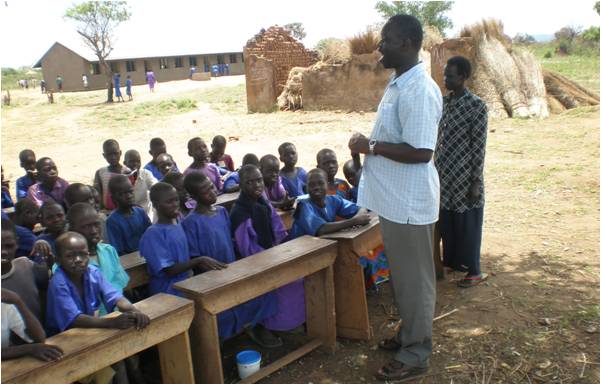 Robert Opira counsels children at Juba Road Primary School in Northern Uganda.
These children are studying under a tree that Robert studied under 24 years ago.
The new class of 40 fellows enrolling in the Rotary Peace Center at Chulalongkorn University, in Bangkok, in 2010, which offers a three-month certificate program for mid-level professionals, includes:
Ramin Shahriari, 28, Afghanistan, who grew up in a land of internal war and conflict. He is making a direct impact in peace, stability, and conflict resolution in western Afghanistan with his work in the U.N.'s New Beginning Program. Ramin is a teacher at the Institute for Leadership for Development and also volunteers as an instructor of English and literature at Herat University.

Suhail Memom a journalist, author, and peace advocate who has more than 20 years experience in human rights issues. Currently, he is a freelance journalist and columnist for the Daily Kawish newspaper, a reporter for Sindhi News Magazine, and a radio host for Radio Pakistan.

Olivera Ivanovic, 34, Serbia, an educator who has worked to help refugees from Kosovo. Currently, she teaches at a high school in Belgrade where she develops mediation and conflict resolutions courses for teachers and foster-home and special needs children.
The 50 fellows selected for the 2010-12 Masters Degree program include:
Pantea Beigi, 27, Iran, who fled her homeland at age 13 during the Iranian revolution. The loss of her home, father and best friend at an early age motivated her to devote her life to peace. Pantea has worked for the PeaceJam Foundation to address conditions of social and economic injustice faced by underprivileged young people. She also assisted Nobel Peace Laureate Shirin Ebadi, an Iranian lawyer and human rights advocate, in her work on behalf of Iranian citizens. Pantea will attend the Rotary Center, at the University of Queensland.

Peter Opata, 37, Uganda, who works as advocate for Catholic Relief Services Uganda. After his sister was diagnosed with HIV, he made it a priority to help HIV/AIDS victims by volunteering at the AIDS Support Organization (TASO) and the U.N. Population Fund. Peter will attend the Rotary Center at the University of Bradford, England.

Rosalvina Cortes, 32, Colombia, who works as an assistant law professor at the Universidad Libre and the Externado University focusing on economics and conflict in Colombia. Rosalvina has also been instrumental in public policy decisions as advisor to the president of the National Commission on Reparation and Reconciliation. She will attend the Rotary Center at the Universidad del Salvador, Buenos Aires, Argentina.
Currently, 454 Rotary Peace Center alumni are making a difference in jobs within United Nations agencies, the World Bank, and leading non-governmental organizations.
"It is this growing network of peacemakers worldwide that makes us believe that peace is possible," Judy said.
In this effort to educate tomorrow's peacemakers and ambassadors, up to 110 Rotary World Peace Fellows are sponsored each year to study at one of the eight universities for International Studies in peace and conflict resolution. Since 2002, 557 fellows from over 90 countries have participated at a cost of more than $23 million,
I know from my own work with orphans (Orphans International Worldwide) that it is imperative for organizations to collaborate towards common objectives. The peace community in North America is strong, and I reached out to several leaders for their comments on Rotary's efforts. They were most enthusiastic:
Alliance for Peacebuilding. Chic Dambach.

The Rotary Foundation was among the very first to commit to help sponsor the 2009 Global Symposium of Peaceful Nations held in Washington, D.C. in November, 2009.

The symposium was produced by the Alliance for Peacebuilding and the Fulbright Center to honor the most peaceful nations in each of nine regions worldwide, based on the Global Peace Index.

Delegates from 18 countries examined the many ways their nations had become peaceful and they explored the benefits to the citizens of safe and secure environments.

Ten students from area universities attended the event thanks to the Rotary support, and global distribution of the final report is made possible in part by the Rotary Foundation grant.

As president of the Alliance for Peacebuilding, along with Fulbright Center President Harriet Fulbright, we were invited to address the downtown Washington Rotary Club where they received a standing ovation for the value of this project.

I also addressed four Rotary Clubs in Denver with a similar response. My speech in Denver is on YouTube. Business and civic leaders at the local level are the key to building a more peaceful world.
We view this as just the beginning of a long-term partnership between the Alliance for Peacebuilding and our members and Rotary Clubs worldwide to help build a more peaceful world.

CEHGS Initiative (Connectivity to Enhance Global Human Security). Paula Gutlove.
I completely agree with Rotary that it is imperative to address the root causes of conflict in order to have sustainable peace.

Training the leaders of tomorrow to recognize the symptoms of conflict and address the root causes is crucial, and I applaud Rotary's efforts in this arena.

As Rotary notes, the root causes of conflict are complex and integrated, and reflect the range of basic human needs that must be met in order to have human security.

The U.N. Development Program addressed these needs comprehensively in 1994, when they defined Human Security as having seven dimensions: economic security; food security; health security; environmental security; personal security; community security; and political security.

The Connectivity to Enhance Global Human Security (CEGHS) initiative bridges three worldwide social movements: peacebuilding; economic and social development; and electronic connectivity.

This bridge provides unprecedented opportunities to strengthen human security. Electronic connectivity can now link millions of people through the Internet and mobile communications technology.

This connectivity is especially relevant in places that are experiencing violent conflict, such as Afghanistan and Pakistan, but where mobile technology has transformed the ability of people to communicate in spite of devastating violence.

Through the creative use of connectivity we can provide training, support, and a range of social and economic services that will address human needs and build a sustainable peace. We would like to partner with Rotary International to make this happen.

Peace Through Moderation. Paul Stevers.
Rotary is again showing leadership in building a better world. Their investment in the World Peace Fellowship program is helping to build capacity in the peacebuilding movement which is very much needed.

As competition for world's resources increase, it is more important than ever to find ways of building and maintaining peace. Rotary is helping to demonstrate how this can be done.

From my observations in the world of peacebuilding, a very big problem is lack of funding.

As a result of meeting several organizations in this area I found they have two things in common. They are very concerned by what they see happening in the world and are facing severe funding problems.

I encourage other organizations to follow Rotary's lead.

The Peace Through Moderation project is designed to help alleviate this lack of funding. It is a project of the Alliance for Peacebuilding and is designed to raise money to support voices of moderation and non-violence from individuals and organizations with significant financial exposure to terrorism.

Through events held in major financial centers around the world, starting in New York, we will encourage the people with resources who benefit from peace to support those who are working hard to create this peace.
Rotary, of course, is involved in far more than world peace. This organization is a world leader on multiple fronts: Polio Eradication
Polio Eradication. In 1985, Rotary International created PolioPlus - a program to immunize all the world's children against polio. To date, Rotary has contributed US$800 million and countless volunteer hours to the protection of more than two billion children in 122 countries.

International Education. Rotary is the world's largest privately-funded source of international scholarships. Each year, about 1,000 university students receive Rotary scholarships to study abroad. Rotary clubs also coordinate a high school-age student exchange program that has sent nearly 8,000 students abroad for three months to a year.

Humanitarian Projects. Rotary clubs initiate thousands of humanitarian service projects every year. These volunteer-driven projects address the root causes of conflict, such as hunger, poverty, disease and illiteracy.

Literacy. Rotary clubs work to improve literacy rates worldwide. A unique, Rotary-pioneered approach called the Concentrated Language Encounter (CLE) has proven very effective in resource-strapped developing countries. It was so successful in Thailand, that the Thai government adopted the program nationwide.

Water Management. Recognizing the importance of clean water, many Rotary clubs help to install wells and develop water treatment and distribution systems to increase access to fresh drinking water for communities in need, especially in developing countries.
As an on-again, off-again Rotarian due to my heavy schedule, I am incredibly proud of the role Rotary International has taken in building world peace. By working together with other efforts at international bridge builders, humanity will only become better connected.
Each and every one of us has a role to support the efforts toward addressing and ending the root causes of conflict and war. I believe Rotary is an incredible tool to help us do this.
Calling all HuffPost superfans!
Sign up for membership to become a founding member and help shape HuffPost's next chapter