I'm honestly tired of the business of not-for-profit. That being said, Rotary International is perhaps the most important nonprofit that is not business-as-usual. Ironically, many people have outdated notions of what Rotary is today.
When I discovered that Rotary had hired a new general secretary, I knew I must speak to him and find out what his intentions were in steering a 1.2 million-member global organization that has, among other things, played such an important role in the nearly total eradication of polio.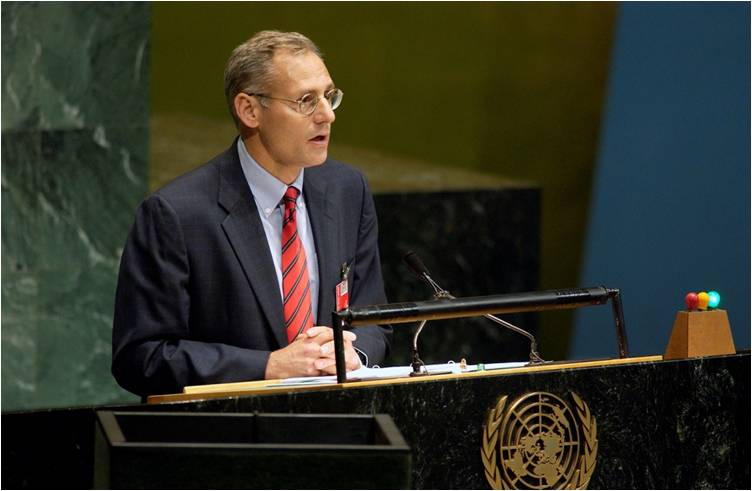 Meet Rotary International's very cool new General Secretary, attorney John Hewko.(Photo courtesy of Rotary International)
I was delighted that John Hewko, an attorney with extensive international experience in both the private and public sectors, could take time off from his extremely busy schedule to speak with me. Not only did I learn of his vision -- which complements well the organization's global humanitarian mission and philosophy -- but I also discovered that he had taken a trip in 1981, in his youth, from London to Cape Town through Dover and Algiers, somewhat parallel to my trip the same year and age from Tokyo to Berlin via the Siberian Railroad. A fellow traveler.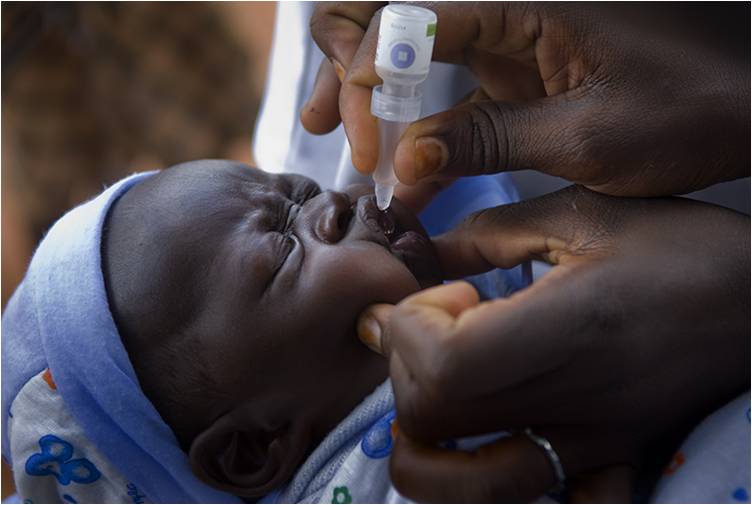 Drops of the oral polio vaccine are given to a newborn child in Uganda.(Photo courtesy of Rotary International)
John is very precise. There are three things he wants to accomplish, all of them laudable: he wants to finish Rotary's work in ending polio now (so close, but not yet finished); he wants to cooperate fully with the other large players like USAID, the Bill & Melinda Gates Foundation and the World Health Organization; and he wants to "operationalize" Rotary's two strategic plans (the first from the organization and the second from the Rotary Foundation). The foundation has $731 million in assets, giving away $180 million each year to better humanity. That gets your attention.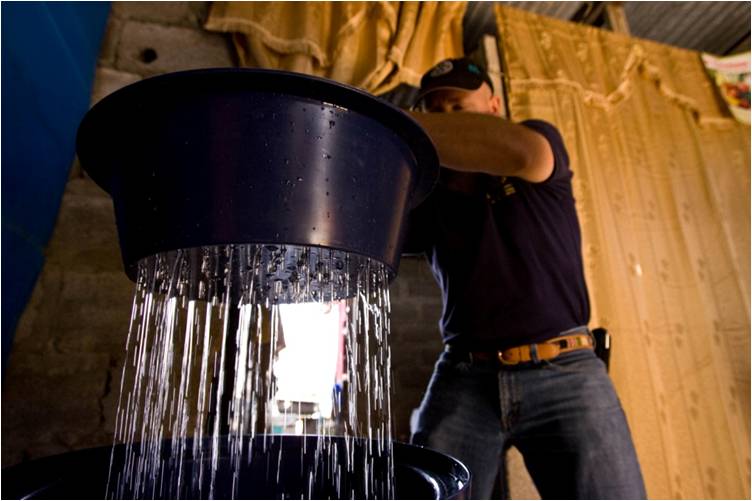 Rotarians install a bio-sand water filter in a home in theDominican Republic. (Photo courtesy of Rotary International)
John and I think a lot alike. John is convinced that without the private sector's involvement, international development is unlikely to succeed. I saw with my own eyes in Haiti, for example, that if there are no jobs for orphans to grow up into, running orphanages alone are missing the mark. I witnessed, post-tsunami, how most NGOs folded tent after one year. In Sri Lanka and Indonesia, my own organization (OIWW) lasted three years, but I really get now that development must be sustainable. John agreed and asked me: "Do you have any idea how many water pumps are littered around the developing world because the recipient villagers don't have the spare parts or expertise to maintain them?"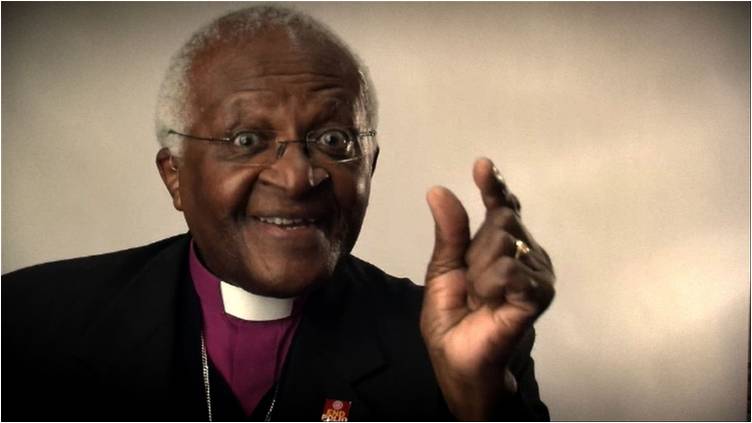 Archbishop Desmond Tutu, as strong supporter of Rotary, says we are this close to ending polio in our lifetime. (Photo courtesy of Rotary International)
John is a former partner with the international law firm of Baker & McKenzie and was vice president at the Millennium Challenge Corporation, a U.S. government agency established in 2004 to deliver U.S. foreign assistance to the world's poorest countries. Chicago-based Baker & McKenzie is the #1 global law firm, topping Skadden Arps and White & Case because of its early embrace of global commerce.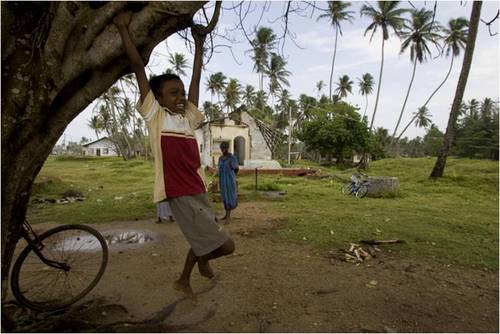 Six years after the killer Tsunami, Rotary continues to help affected communitiesrebuild, such as here in Sri Lanka. (Photo courtesy of Rotary International)
I asked John if he was daunted to take on such a large organization with a 106-year history. He's not. John will lead Rotary in its implementation of their newly-revised strategic plans that envision Rotary's expanded engagement in areas such as maternal and child health, water and sanitation, disease prevention and treatment, basic education and literacy, economic and community development, as well as peace studies and conflict prevention/resolution. I'm sure his tenure will also see the successful conclusion of Rotary's principal humanitarian initiative: its 25-year campaign to eradicate the crippling disease polio, a goal that's more than 99 percent complete.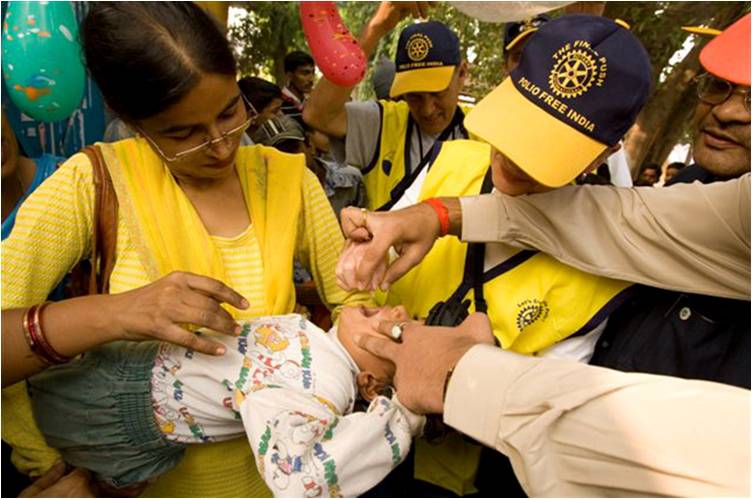 Rotary members partner together during a National Immunization Day inIndia, as they do around the globe. (Photo courtesy of Rotary International)
John knows a thing or two about the world. According to his official bio:
During his 15 years at Baker & McKenzie, he specialized in international corporate transactions in emerging markets. He participated in the establishment of the firm's Moscow office and was the managing partner of its offices in Kyiv and Prague.

While in Ukraine in the early 1990s, Hewko assisted the working group that prepared the initial draft of the new Ukrainian post-Soviet constitution and was a charter member of the first Rotary club in Kyiv.

Prior to joining Baker & McKenzie, he worked for leading Brazilian and Argentine law firms and later with Gibson, Dunn & Crutcher in Washington and New York handling Latin American and project finance transactions.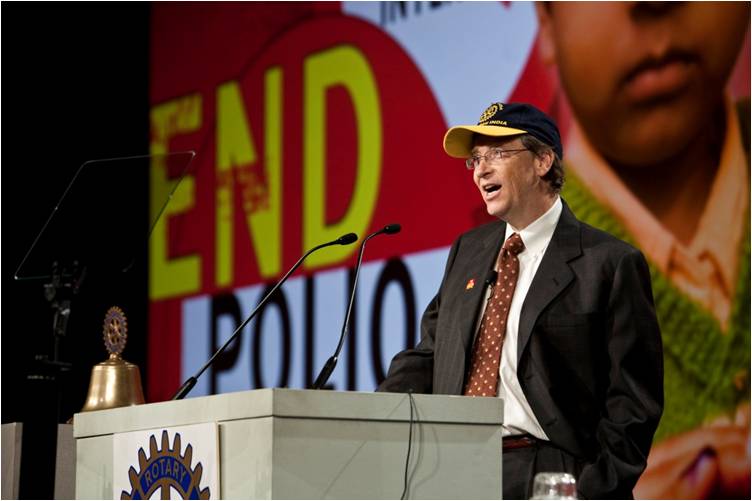 Bill Gates announces the $255 million challenge grant to Rotary, that will match withan additional $100 million to fight polio. (Photo courtesy of Rotary International)
John, a 1985 graduate of Harvard Law School, entered public service with the Millennium Challenge Corporation in 2004. As V.P. for operations and compact development, John had primary responsibility for managing MCC's relationship with its 26 partner countries in Africa, Asia, South America, the Middle East and the former Soviet Union. For the past year, he has been a non-resident senior associate at the Washington, D.C.-based foreign policy think tank, the Carnegie Endowment for International Peace (CEIP). Like Bill Clinton, John attended Oxford University, where he studied as a Marshall Scholar. He speaks six languages -- although he admits his Czech is "fairly rusty."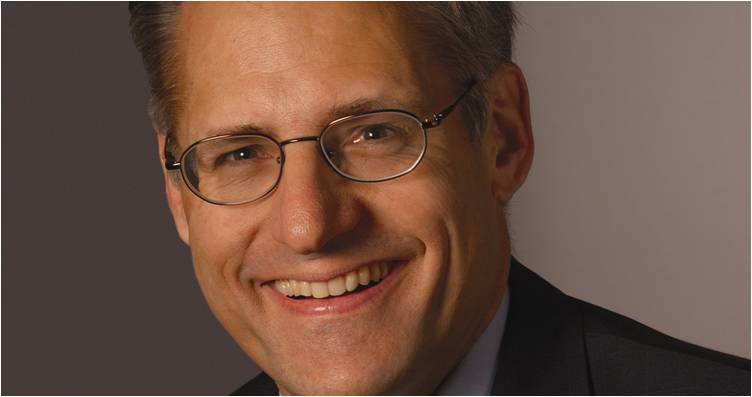 Close-up on Rotary's new General Secretary. (Photo courtesy of Rotary International)
I will be living half-time in Haiti shortly and have made a commitment to help found a Rotary chapter in Léogâne. Having spoken with John and realizing that he's a truly outstanding thought leader and global citizen, I'll be proud to do whatever I can to assist him in achieving Rotary's vision. There are 1.2 million Rotarians -- business and professional leaders -- in 34,000 Rotary clubs in more than 200 countries and geographical areas, and they couldn't have a more capable general secretary than John Hewko.