Travel from one island to another, especially as a tourist in an area of small islands.
ˈīləndˌhäp/verbgerund or present participle: island-hopping
The concept of island-hopping overwhelmed me a bit before traveling to the south of Thailand. How do I know what islands to visit? Will "Monsoon Season" ruin the weather? Should I stay in one place and take day-trips? Are ferries expensive? Are ferries frequent?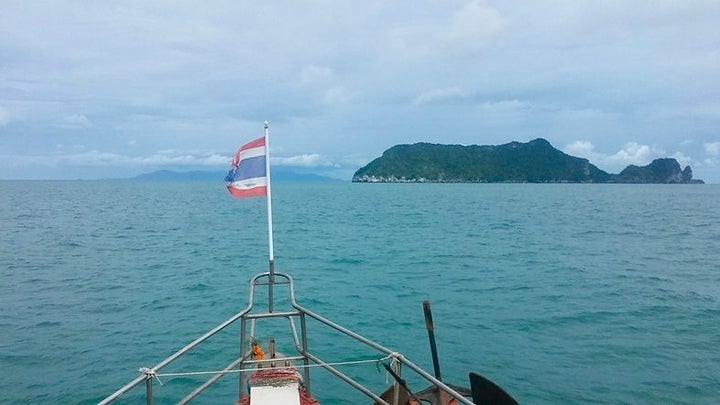 As expected, I figured out these answers quite easily in the moment, and the actuality of island-hopping turned out to be straightforward and stress-free. But to diminish some of the inevitable, pre-trip anxiety for readers, here is a quick outline of my tour in the Thai islands. I always learn the most valuable information from other travelers' personal experiences, so hopefully this rough guide may inspire others. If it doesn't inspire, hopefully it will at least entertain.
For just over two weeks, I explored islands on the east and the west of the Malay Peninsula while sticking to a backpacker budget and enjoying near perfect weather. I'll include the logistics and highlights of the islands I visited, as well as some suggestions for islands I didn't have the chance to visit. I do recommend booking all ferries and taxis between destinations on the day before a journey just to ensure they don't sell out, and every place I mention is crawling with tourist offices happy to sell any necessary tickets.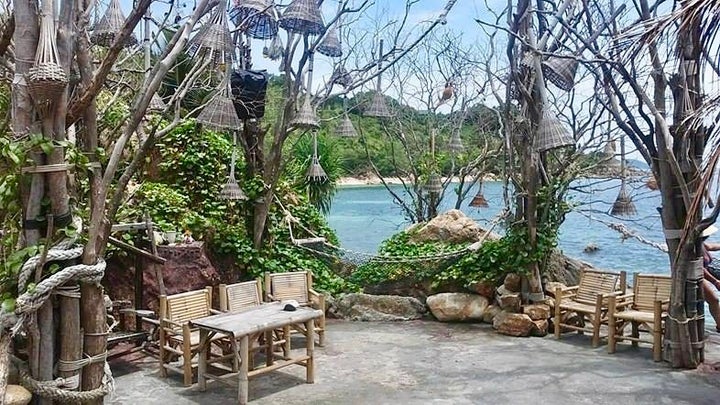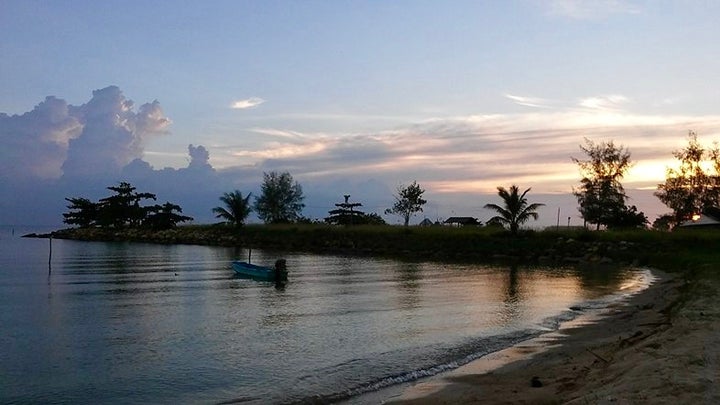 For only $23 we took a 1-hr VietJet Aviation flight from Bangkok to Phuket, the largest and the most touristy of the Thai islands. Phuket is a bit difficult to explore on a budget, as most of the attractions are spaced far apart and taxis are expensive. But we happily ventured to three different beaches on the west coast, and all were nothing less than the paradise we had pictured in our heads.
Nai Yang Beach: Located on the northwest coast of Phuket, within walking distance from our hostel and the Airport, this beach cost us nothing but a sunburn (we wore higher SPF sunscreen from this point forward). With not much else to do in this area of the island, we dedicated a whole day to walking around the almost deserted beach at low tide, enjoying the peaceful sounds of the distant sea.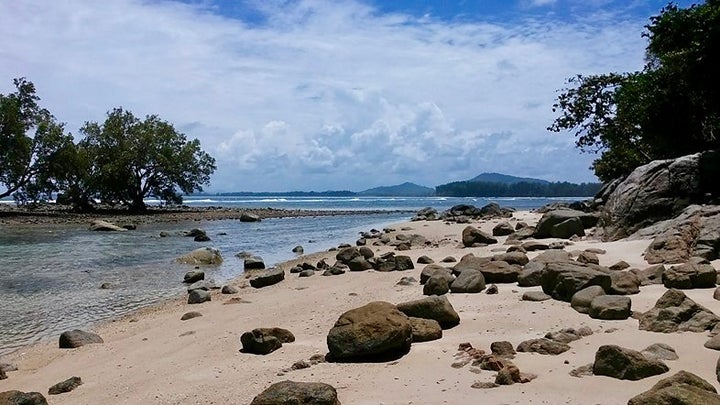 Patong Beach: For our next few days on Phuket, we stayed in the lively tourist area surrounding Patong Beach. A taxi from the north of the island to Patong Beach costs 900 baht ($27), and luckily we ran into two other people on the street to share the cab with so I only had to pay 225 baht ($7). While this fare is cheap compared to the USA, it's quite expensive for Thailand, so try to avoid taking taxis when possible. Also, never be afraid to ask other tourists to share taxis in order to save money.
Our hostel, Sea Horse Phuket, sits at a five minute walk to Bangla Road, the main shopping street, and a 10 minute walk to the beach. Though I'd heard this area of Phuket is crowded, dirty, and unappealing, I quite enjoyed the atmosphere. Yes, the streets are packed with tourists and overflowing with loud, flashy clubs. True, you can't sit on the beach for five minutes without locals pushing you to buy tours or get tattoos or have your hair braided. Restaurants are significantly more expensive here than the rest of the country, with meals costing no less than 150 baht ($4.50, I promise you this is expensive for Thailand).
But with the right attitude, Patong Beach is actually enjoyable. Despite a few pieces of trash, the sand is still soft and white, some locals are friendly if you politely decline their souvenir offers, and the beach doubles as a prime sunset-viewing spot. Bangla Road offers endless entertainment, numerous street food stalls, and some nice shops. Patong Beach is definitely touristy, but worth a trip if you want the experience.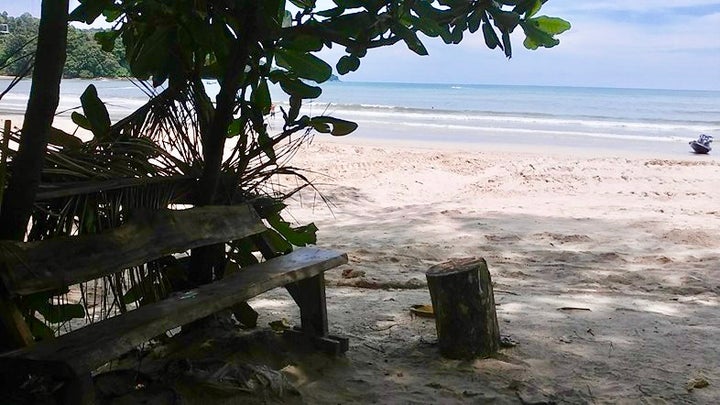 Karon Beach: In hopes of saving some money, we spent one morning walking south from our hostel in Patong down to Karon Beach. Clearly the most superior of the three beaches we visited in Phuket, Karon had the cleanest water with the best waves for swimming, and a decent supply of palm trees supplying shade for an afternoon nap. A taxi from here back to Patong beach cost 300 baht ($9).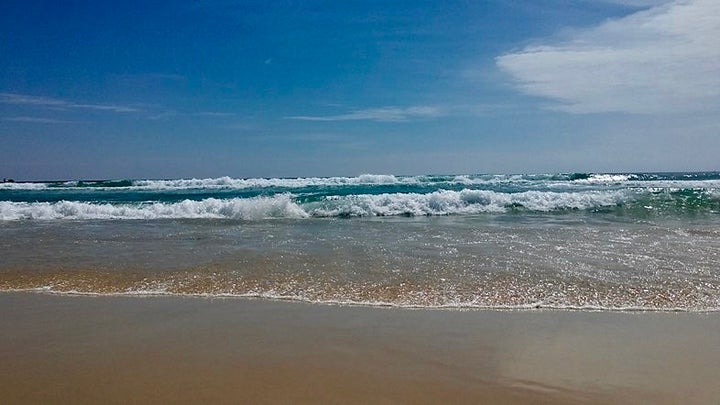 Arguably the most beautiful of Thailand's islands, Koh Phi Phi must have a place on a traveler's destination list. We booked our ferry tickets from Phuket online for $9, but still had to take a 600 baht ($18) taxi across the island to Rassada Pier. The drive should only take 30-40 minutes, but with traffic takes about an hour, and the ferry ride takes 2 hours.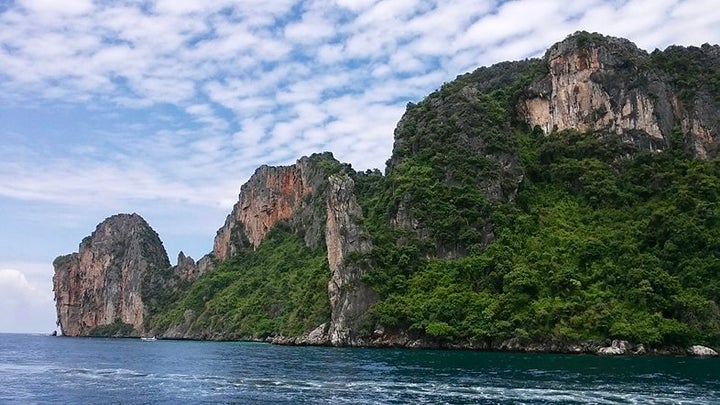 Tonsai Pier and Village: Entering Phi Phi Don, the largest and only inhabited island of the Phi Phi chain, costs 20 baht ($0.60), and the maze of streets surrounding Tonsai Pier creates a warm welcome to the island. Full of fresh fruit stands, colorful clothing shops, cheap restaurants, and an endless supply of tour operators, Tonsai Village satisfied every one of our needs during our two day stay.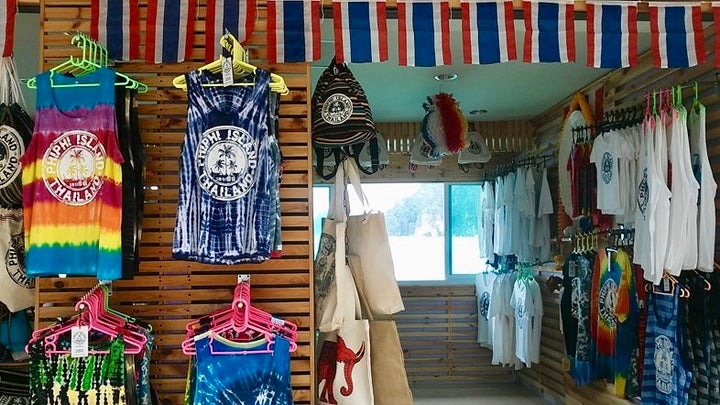 Loh Dalam Bay: With scenery rivaling a Windows wallpaper option, this small beach is only a five minute walk from the village. During high tide, the calm turquoise water leaves a small strip of white sand for sunbathing, and low tide in the afternoon creates a giant sandbar where the Longtail Boats remain motionless and tourists can walk out almost as far as the green mountains surrounding the bay.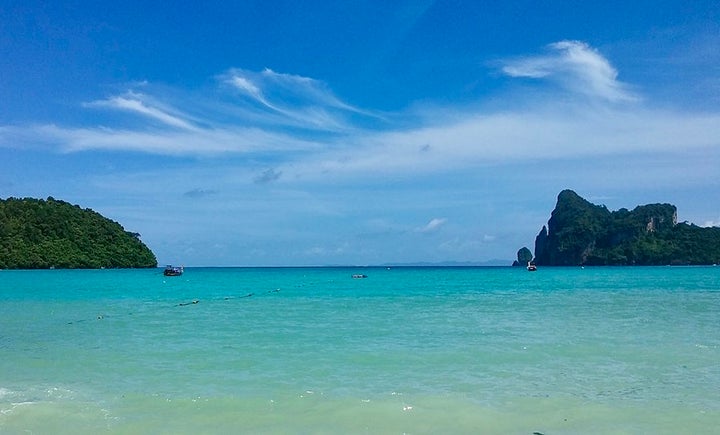 Island Tour : Maya Tours offers the cheapest half-day trip on the island, encompassing Monkey Beach, snorkeling, Maya Bay, sunset, Viking Cave, Bioluminescent Plankton, food and water for only 500 baht ($15). This is a great option for seeing the best sights around Phi Phi Ley, the uninhabited, second largest Phi Phi island. For me, this tour took an unfortunate turn when I accidentally kicked the long black spikes of a sea urchin while snorkeling and spent the rest of the day in excruciating pain. Luckily, our friendly boat guide shared with me the sacred, traditional Thai remedy for this common injury: walk it off and suck it up.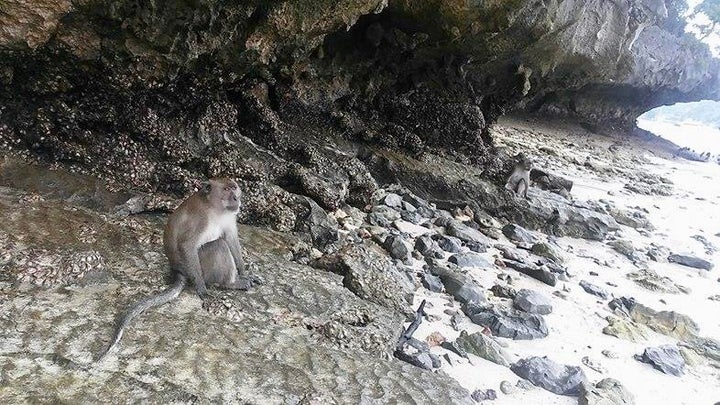 Viewpoint: Following the "Viewpoint" signs from Tonsai Village, we hiked for 30 minutes up stone stairs and dirt paths, paid the 30 baht ($1) entrance fee, and were rewarded with the most picturesque view of Koh Phi Phi. From the comfy rocks at the top of the hill, we witnessed giant cliffs, rich blue ocean waters dotted with tiny boats, strips of sandy beach, and towering palm trees all collide into one incredible scene.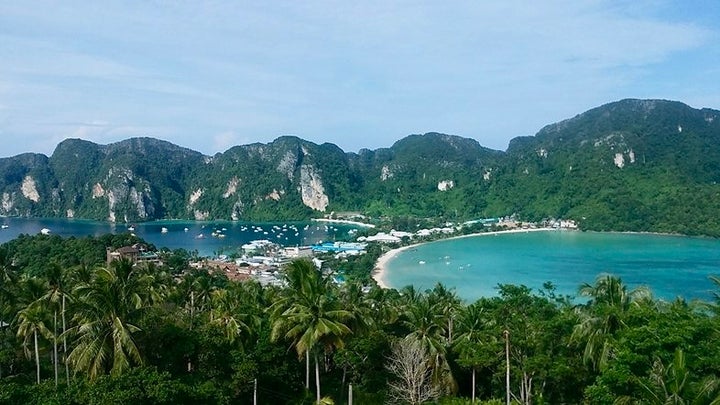 Krabi, a city and region on the west coast of the mainland, makes a great transition point between the western and eastern islands. We chose to stay two nights in Ao Nang, a small town in the Krabi Province known for its picturesque beaches. A combined ferry and bus ticket from Koh Phi Phi to Krabi to Ao Nang cost a total of 450 baht ($14). Sleeper Hostelprovided fantastic, affordable accommodation, located within walking distance to Ao Nang Beach and surrounded by endless cheap restaurants.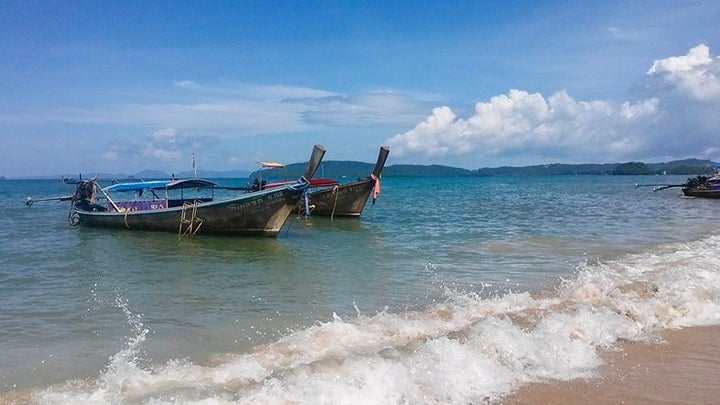 Railay Beach: For 200 baht ($6), we took a Longtail Boat from Ao Nang Beach to the infamous Railay Beach, admiring the towering limestone cliffs along the way. Railay Beach was smaller than I had imagined, with not much space to lay out on the sand considering how many people crowded the area, but the warm water made for great swimming and the dramatic scenery was nothing less than magical.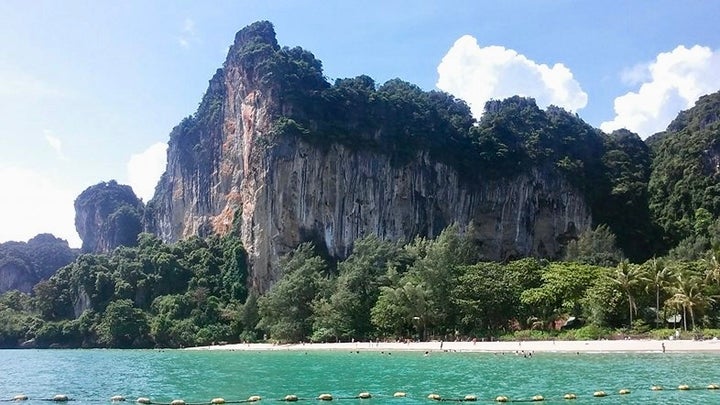 Traveling from Ao Nang to this large island in the Gulf of Thailand took a full day, but only cost 600 baht ($18). After multiple buses on the mainland, a two hour ferry, and a taxi on Koh Samui, we reached Backpackers Euro Hostel on the island's northeast peninsula. We quickly realized that Koh Samui is massive and to reach any of the best attractions we would need to take taxis everywhere. Clearly not ideal for our cheap budget.
But the little area where we stayed had a peaceful charm, so we entertained ourselves just fine. Following the main road we found a tiny tent with a few tables sitting in a front yard, where the sweetest man cooked us the most delicious pad Thai for only 60 baht ($1.80). Though I can't remember the name of this place (if there even was a name), the roadside yellow poster with a hand-written menu marked its place.
Choeng Mon Beach: Lined with fancy resorts and bustling beach bars, this quiet beach was only a five minute walk from our hostel. We spent one full day on vacation from our vacation, sleeping on the white sand and drinking some cheap cocktails. The charismatic bartenders even gave us each a free drink when the rain poured down, as if to thank us for suffering the burden of waiting under their comfy, covered bar for one whole hour during the storm.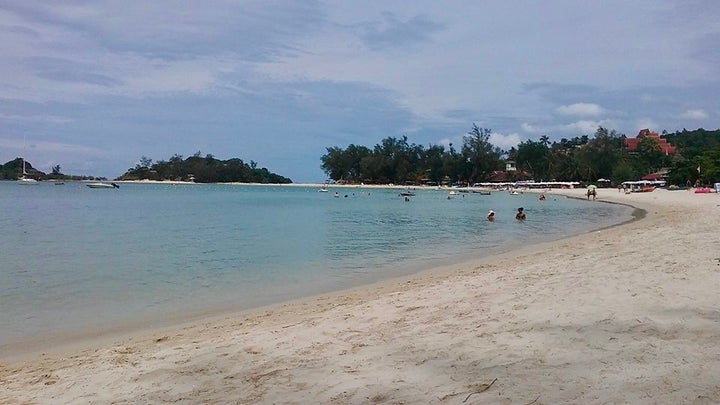 Big Buddha: Many Thai cities have their own "Big Buddha", a giant statue of the iconic Buddha usually accompanying a temple atop a hill. The Big Buddha in Koh Samui lies on a tiny island off the northeastern peninsula of the island, and was only a 30 minute walk from our hostel. After observing the towering golden religious figure, while wearing clothes that cover shoulders and knees of course, we wandered around the nearby shops and fruit stands.
Ang Thong National Marine Park: Full of diverse natural scenery and opportunities for exciting physical activities, a day trip to the stunning archipelago of islands known as Ang Thong Marine Park may have been my favorite day of the trip. We used a company called Ang Thong Sea Tour, and the 1300 baht ticket ($40) included kayaking through sea caves, climbing to visit an emerald lake, swimming and snorkeling, an ambitious hike to the island viewpoint that left me sweating uncontrollably, and all transportation and food.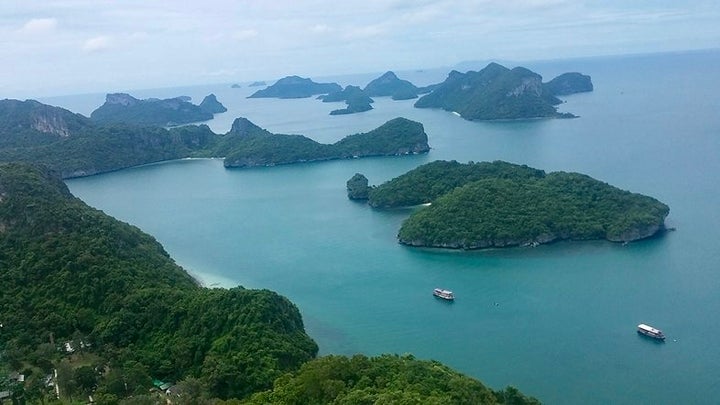 As our final island in Thailand, Koh Pha Ngan blew us away with its crazy parties and its natural beauty. The ferry from Koh Samui cost 200 baht ($6), and we chose to stay on the Ban Tai Coast on the island's southeast side. Love Station Hostel is a cozy, cheap place to stay within walking distance of the popular Half and Full Moon Festivals, and the quiet surrounding streets had some of the most delicious and affordable food in Thailand.
Half Moon Festival: Though I'm not the biggest partier myself, I still found this night of hypnotizing lights, thumping music and neon body paint insanely fun. The Half Moon Festival consists of multiple dance floors with different types of music, and is located smack in the middle of the jungle. The general admission ticket from the festival website costs $40, and aside from the one free drink included in the ticket, all food and drinks at the venue are extremely overpriced.
Crazy Mango Tour: Slumber Party Hostel, also in the Ban Tai area, offers this amazing full day adventure for 1,100 baht ($33), even to people who aren't guests at their hostel. The day included a breakfast of fresh fruit, a visit to Slip N Fly Water Park (where we watched endless dudes backflip and bellyflop off of the giant slide), a peaceful lunch and snorkeling trip at Secret Beach, mango mojitos at the hilltop Three Sixty Bar, a swim at Koh Ma sandbar, a gorgeous sunset at Amsterdam Bar, and a BBQ dinner back at the hostel. In just one day, we ventured to so much of Ko Pha Ngan that I felt infatuated with the island by sundown.
Though I feel thankful for every part of my Thailand island experience (though I could have done without the sea urchin incident), of course I missed some recommended places that I would like to mention. A short ferry away from Koh Samui and Koh Pha Ngan in the Gulf of Thailand is Koh Tao, a small oasis of natural beauty known for its incredible diving and snorkeling. In the Andaman Sea, Koh Lanta and Phang Nga National Park are two spots I wish I had time to visit.
Also, I need to mention how amazing the weather was for the month of August. After my pre-trip research, I was expecting "Rainy Season" to live up to its name and thwart some of our beach days. Aside from two quick afternoon rainstorms, the islands boasted blue skies and a glowing sun almost every day for two weeks straight. In reality, coming to Thailand in off-season was perfect because less tourists crowded the attractions and flight prices dropped a substantial amount.
I'll end by saying that Thailand's islands truly do exceed expectations. The picture-perfect scenery does not reflect in photos, but even the simplest little beaches are breathtaking. With endless outdoor activities, welcoming hostels, delicious food, straightforward transportation and best of all, incredibly cheap prices for everything, Thailand is perfect for open-minded travelers who want to save money and get a nice tan.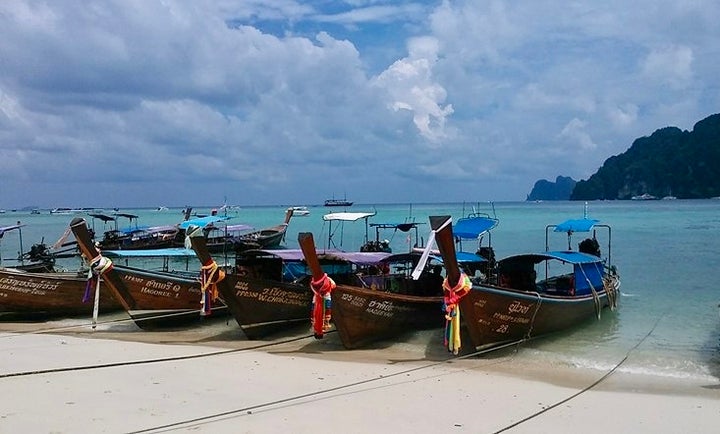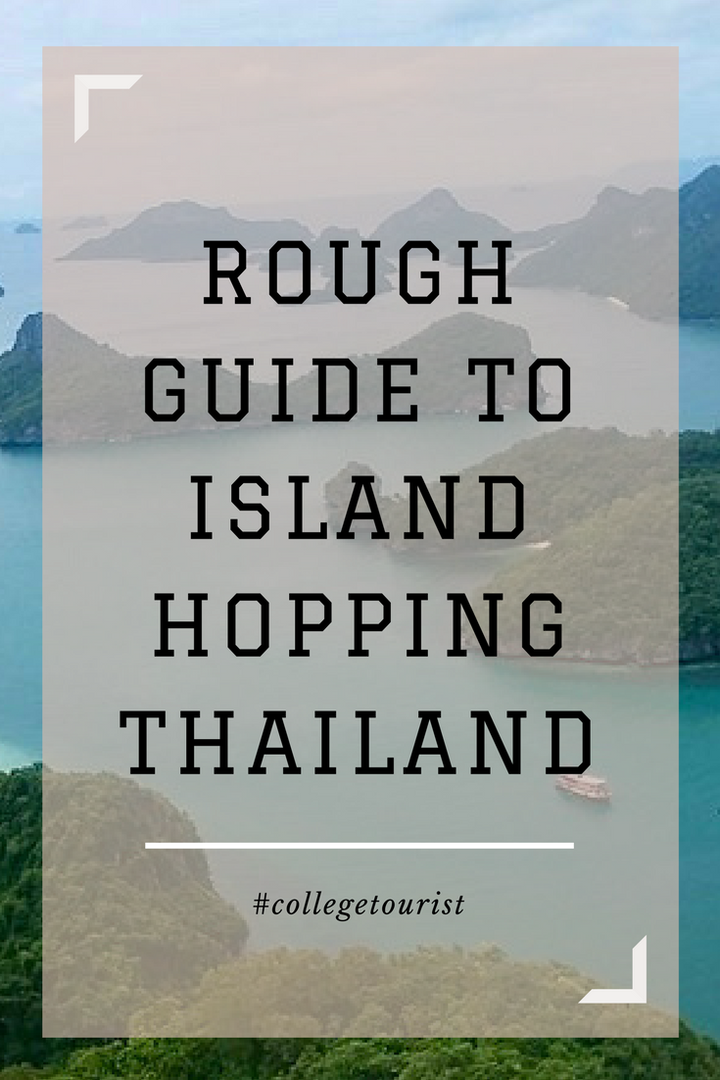 Related
Popular in the Community