Transgender awareness and its inclusion in mainstream media have been simmering on a steady boil since Jill Soloway's Transparent debuted on Amazon TV in February 2014. Of course the high profile transformation of Olympian athlete Bruce Jenner to Caitlyn Jenner created a media-frenzy in April of 2015 and opened up the eyes of Middle America. Movies such as the Danish Girl will continue to shed light on many transgender issues.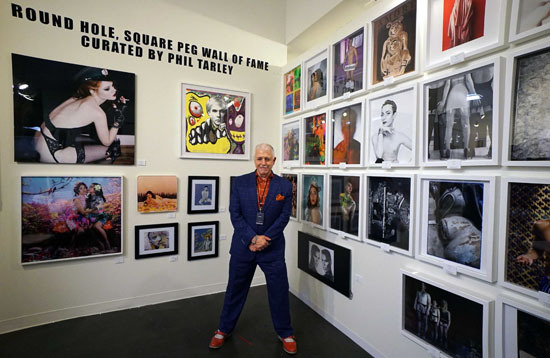 Photo by Richard Bilow; Phil Tarley at "ROUND HOLE, SQUARE PEG" debut at 2016 Photo l.a.

Arts writer/curator/filmmaker Phil Tarley has been an LGBT activist for over twenty-five years. He is a fellow of the American Film Institute, an artist member of the Los Angeles Art Association, and has hosted numerous events benefitting LGBT organizations. Tarley has curated an exceptional group show titled "ROUND HOLE, SQUARE PEG" featuring exclusive artworks for auction to benefit the Trevor Project (a national crisis intervention and suicide prevention organization providing services to LGBTQ young people).

"ROUND HOLE, SQUARE PEG" presented by Artists Corner Gallery and World of Wonder Productions (producer of RuPaul's television show, Drag Race) enjoyed a successful debut at the recent 2016 photo l.a. at the LA Mart on January 22-24. The exhibition moves to the Artists Corner Gallery with an opening art party on Saturday, February 6, from 7-11pm. The exhibition features groundbreaking visual archetypes for the new millennium to embrace.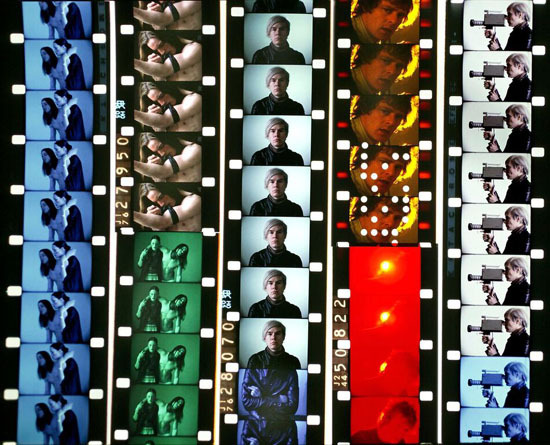 Courtesy of the Artist, Photo by Douglas Kirkland, Andy Warhol's TRASH 16 mm Filmstrip 1970, 16 x 20 C-Print Edition of 10, signed and framed in white wood

"When I was a kid, I was literally a Round Hole in a Square Peg," explained Tarley. "I was this weird, literate, very queer child. I got bullied all the time. I hurt a lot, I was on the edge many times and I would have wished for someone to talk to...so I really vibe with the Trevor Project. They save kids' lives. Trevor reaches out to young people and tries to soften up all that pain. That's why I am thrilled to put the art I love in an auction benefit for Trevor." https://www.handbid.com/auctions/trevor-project-artists-corner/?initial-category=5047

Tarley insisted that he is proud to have been an arty gay activist his entire life...from his bad boy days partying at the Mudd Club through his killer-angry Queer Nation and Act UP years making protest art, provocative outsider art has always fired him up. "I love beauty, but pretty pictures without subtext have no meaning for me. Important art has to shred the world's balls. Art has to make us think about who we are in wildly fresh, insightful ways. Queer art has always done that and more, but transsexual art, wow, now that's a whole new wonderment. Round Hole 2016 thrust me up against some stunning, gender-fluid artwork that is sexual, spiritual, loving, and fierce and totally fucking incendiary!"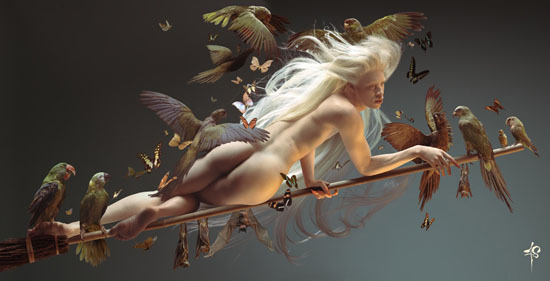 Courtesy of Artists Corner Gallery, Photo by Franz Szony, FAMILIARS, 48 x 96 inches, C-Print, Edition of 5, face mounted to plexiglass framed in white wood

The event emceed by James St. James (World of Wonder) will feature colorful surprise guest appearances along with a live auction, hosted bar, performance art, film and music by DJ Paul V (Dragstrip 66 / Born This Way Blog). The official premier host is Mia Dinelly (publisher of West Hollywood Lifestyle Magazine) with special guest Eastside goddess divine, Lenora Claire. Performance artist Cassils will present a live introduction of the self-portrait artwork, which she will be donating for the auction. Art in the auction includes work by Andy Moses, Tom of Finland, Arthur Tress, Clive Barker and many talented artists.

Finally Tarley added, "In some ways, Andy Warhol feels like the great queer loving father of us all. He is my gay art angel, and I put two images of him in our Trevor Project auction. One is Chris Brown's hand embellished photo of Andy, shot by Karen Bystedt in the 80s, and the other is an amazing photo, shot and donated by Douglas Kirkland, called Andy Warhol's TRASH 16 mm Filmstrip 1970, with Andy, Joe Dallesandro, Jane Furth, and Paul Morrissey. We are thrilled to have Andy's sexy superstar, Joe Dallesandro, as guest of honor at our art party benefit event."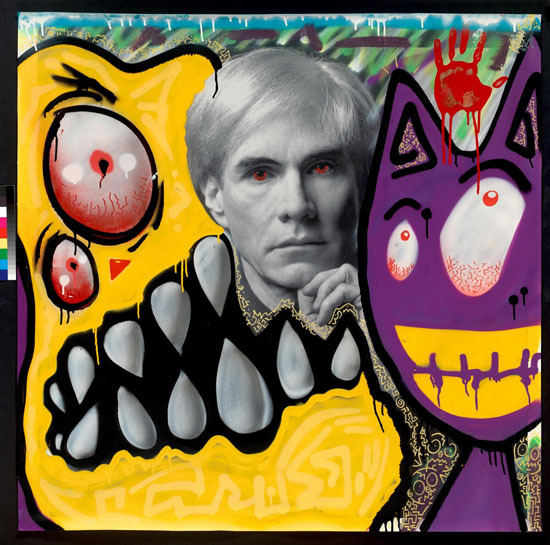 Courtesy of Artists Corner Gallery, Hand Embellished Andy Serigraph 2014 (Unique), Chris Brown and Karen Bystedt, 27" x 27" floated in a white wood frame

Tickets are $40 (plus fee) and will automatically enter each ticket holder into a live raffle to win "Little Joe" Dallesandro autographed photos and/or memorabilia. Purchase tickets here: http://bit.ly/TrevorProjectBenefit For more information about the exhibition, visit the Artist Corner Galler website at http://www.artistscorner.us/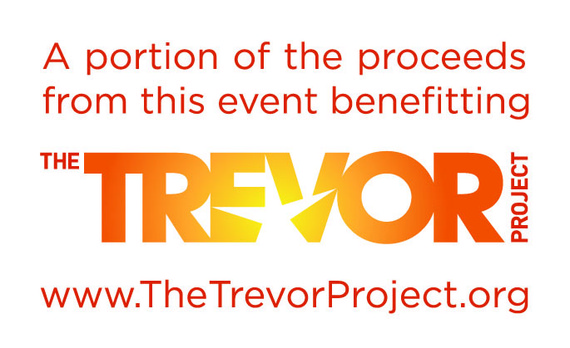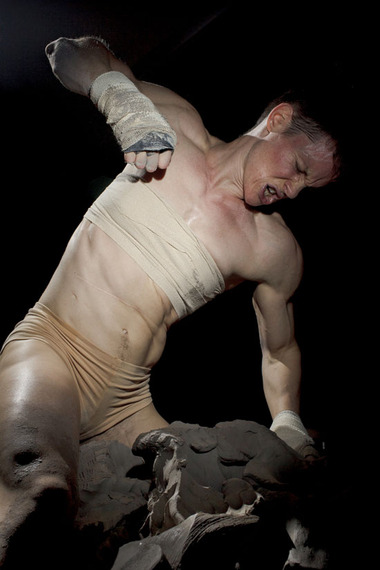 Photo by: Cassils with Eric Charles; Courtesy of Ronald Feldman Fine Arts, New York, Cassils Becoming An Image Performance Still No. 1 (ONE National Archives, Transactivations, Los Angeles), 2012, 45 x 30 inch C-print face mounted to plexiglass

Calling all HuffPost superfans!
Sign up for membership to become a founding member and help shape HuffPost's next chapter