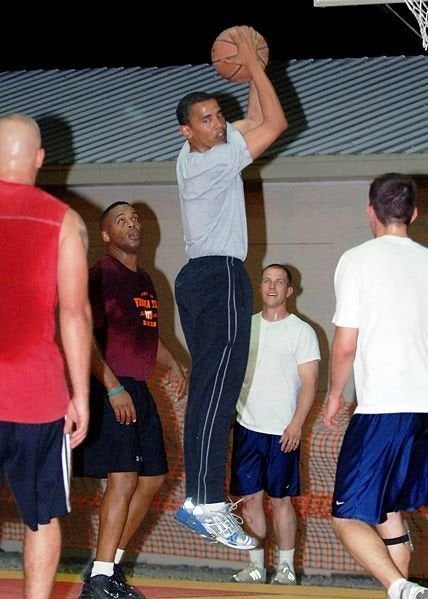 When President-elect Obama is sworn in this January, yet another change will arrive: "fore" is likely to be replaced by five. Or, more accurately, five on five.
Our next President has signaled that he intends to bring his part-ritual, part-superstition Election Day basketball game to the 1600 Pennsylvania Ave. No modern sitting president has been a regular participant in a team game. (Touch football on the shores of Hyannis Port does not count.) According to John Watterson, author of Games Presidents Play, President Hoover was the last to do so beginning in1928. Every morning on the south lawn of the White House, Hoover and up to three others played a hybrid of tennis and volleyball using a six-pound medicine ball.
While sitting presidents have played many sports, golf has historically been the unofficial recreation of the commander in chief. President Bush is an avid mountain biker, and, like President Clinton, also a runner. There have been many who were superior athletes. Teddy Roosevelt was a great outdoorsman. Gerald Ford was a college football star who helped the University of Michigan win two national football titles, but didn't don the pads in office. Ronald Reagan, famous as Notre Dame's "Gipper," at least on film, who also played pigskin at Eureka College.
But Obama is different. For reasons both practical and allegorical basketball is perfectly presidential. It doesn't pose the logistical challenges of, say, baseball, football, soccer or hockey. More than that though it's accessible and democratic.
Whether in the Hoosier state or in Harlem, Americans have access to public basketball courts -- it's part of our culture. Most important, on the court all players have plenty of opportunities to participate in the up-and-down rhythm of the game. So, while baseball may be our "national pastime," basketball is probably a better representation of our county's democratic values.
Basketball is a perfect analogue for both politics and politicians. It's fluid and requires lots of teamwork and rotations between offense and defense in short periods of time. The debate can be heated, especially over the many disputed fouls. However, unlike the checks and balances in our three branches of government, there may be a unitary executive who rules on the court. Hopefully that power won't extend beyond the province of hardwood.
I have some advice for those who played with then-candidate Obama: the game will change once the oath of office is administered. Playing with a U.S. Senator who may become president, or President-elect, is different than playing with the president. I know because I was the center on New York Governor Mario Cuomo's team during his last two years in office.
Governor Cuomo famously told the New York Times in 1993: "I'm the most formidable figure on the court because I own the league. They all work for me and I am notoriously ungrateful to people who make me look bad." He was probably joking by half, the Governor's intensity led him to draw up plays, send memos to his team and make early-morning calls to opposing managers inquiring about lineups.
The Governor's true nature revealed itself on the court: he was fiercely competitive and a brilliant tactician. He hated to lose, but didn't often call for a "do-over" -- unlike President Clinton, known as the golf "king of the mulligan."
Based on my service in the "Cuomo league," there are three rules for playing with a chief executive. First, you play to win. Second, as ESPN college basketball writer Andy Katz found out on November 4, don't set a pick on Reggie Love, the future president's aide, known as the body man. He played basketball and football at Duke University and you probably didn't. Last, and most important, don't put the boss on his rear.
I recall one occasion playing against Governor Cuomo in Albany. I had the ball, with only one man between the basket and me. Unfortunately, the defender was none other than Governor Cuomo -- whom I plowed into at full speed.
After the collision, I apologized profusely. The Governor, with sense of humor intact, took to calling me "an errant locomotive." Two of his body men in the league, neither of whom played football, took me aside and warned me never to do that again. We were in a reelection fight and could not afford an injured candidate. Shortly after, I was "traded" to the Governor's team. On one hand I was nervous playing for the boss, on the other I could plow into anybody I cared to.
We know from Andy Katz's report on the Election Day game that President-elect Obama is an aggressive point guard who takes the ball to the basket. Defenders in the box beware! And for those "errant locomotives," the last rule could be put into familiar tangled syntax: Knock President Obama down once, shame on you; don't do it again.
Andrew Stengel, director of National Election Advocacy at the Brennan Center for Justice at NYU School of Law, was a confidential assistant in Governor Cuomo's administration from 1993-1994.

Popular in the Community