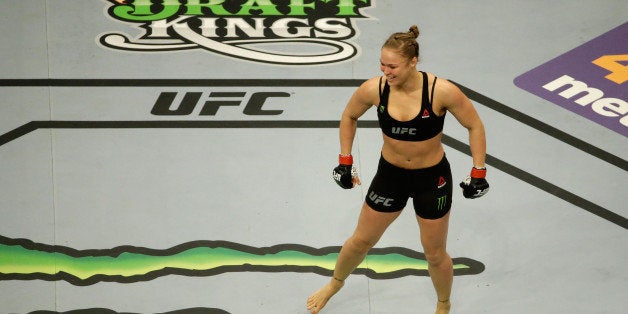 It's only fitting, that on women's MMA's biggest day, UFC bantamweight champion Ronda Rousey delivered the finest performance of her career.
Needing all of 14 seconds to finish Cat Zingano in the UFC 184 main event, Rousey bested her own personal stoppage record by two full seconds, breaking the promotional mark for fastest finish in a title fight in the process.
With Zingano rushing forward at the opening bell, Rousey thwarted the challenger's initial advance. And following a quick scramble, Rousey emerged victorious, hyperextending Zingano's arm to force the tapout.
"I thought that because she'd been hearing so much about being a slow starter in the media buildup, I thought that it was very possible that she'd try to do the exact opposite of that," offered Rousey. "I studied my own footage a lot and thought that nobody's come at me right away before and so one of the possibilities I was thinking could come up was that she would come at me straight away. And I didn't plan exactly how it went down, but I was expecting that it could happen."
The win was Rousey's fifth consecutive title defense and earned her a Performance of the Night bonus.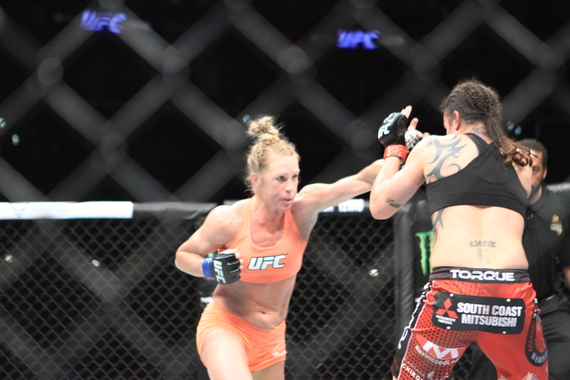 Women's bantamweight newcomer Holly Holm made her long-awaited UFC debut in the UFC 184 co-main event, outlasting Raquel Pennington en route to a split decision win.
Starting strong, Holm, a world-champion boxer, threw impressive punch and kick combos early on. But with Holm unable to do any major damage with her jabs and head kicks, Pennington lasted to see the third round, when she turned up the heat.
Pennington looked stronger as the fight went on, even knocking Holm down midway through the third. But Holm's footwork was too much, as she was able to move around the cage with ease, floating in and out of the pocket to land punches and a series of sidekicks.
"I'm never completely satisfied with any fight I've ever had ... we worked a lot on takedown defense and clinch work and I felt fine in those areas tonight," commented Holm. "But some of the stuff I want to do better; I didn't really sit down on my punches like I wanted to tonight. There's a lot of things I want to do better and I know I'm capable of more."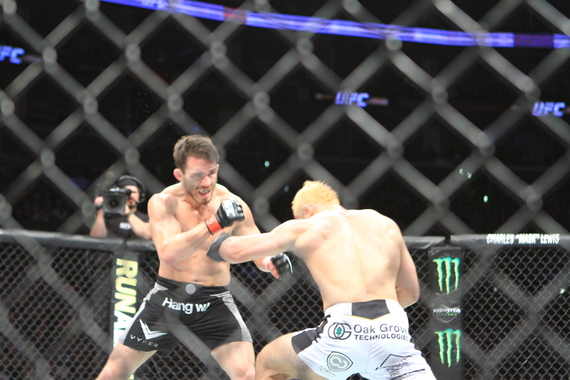 In the evening's featured bout, welterweight stalwart Jake Ellenberger returned to the win column with a Performance of the Night, breaking a three-fight losing skid by choking out veteran Josh Koscheck with a north-south choke at 4:20 of the second round.
Known as a slow starter, Ellenberger looked timid early in the contest, being briefly taken down by Koscheck. But after landing a series of right hands, Ellenberger gained steam, stalking Koscheck around the cage for the remainder of the first.
To start the second frame, Koscheck immediately went for a takedown, but was unable to bring Ellenberger to the ground. And after referee Jerin Valel called for a break in the action, Ellenberger continued to throw and land jabs and hooks. In a last-ditch effort, Koscheck went for yet another takedown, but Ellenberger seized his opening, sinking in the choke, eliciting the tapout.
"The way I fight has changed. I don't go out there to win rounds or outpoint a guy, I come to finish fights," commented Ellenberger. "That fight was a step in the right direction."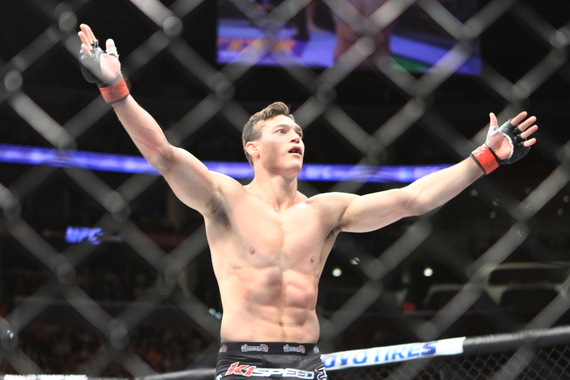 Also in the welterweight division, rising prospect Alan Jouban made quick work of Australian Richard Walsh, landing a picturesque elbow to Walsh's temple, before attacking with punches that sent Walsh crumpling to the canvas. With Walsh out, referee John McCarthy stepped in the wave off the contest at 2:19 of the first round.
"I hurt my left elbow in training camp and that's the first time I've thrown it in three months," offered Jouban after the win. "I couldn't be happier with the way the fight went."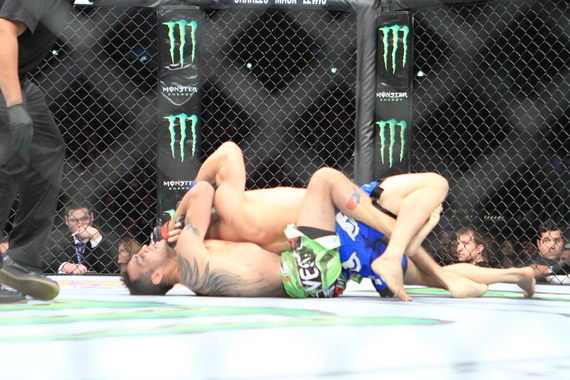 Kicking off the UFC 184 main card, lightweight Tony Ferguson made quick work of opponent Gleison Tibau, taking the contest via rear naked choke at 2:37 of the first round.
Storming out the gates with low kicks, Ferguson stalked Tibau around the cage, eventually landing a game-changing right to the side of Tibau's head. And with Tibau stunned and dazed, Ferguson took the contest to the mat, first looking for his trademark darce submission, later taking Tibau's back and sinking in the choke.
"In the first round I had a hard time closing the distance, he's a rangy guy but once I landed that head kick I had the distance down and it was easy going from there," commented Ferguson. "As soon as his hands hit the mat his neck was available, so I needed to make sure I flattened him out and kept him off my back. I got his neck, that was it, it was over and I got the win."
Ferguson was also awarded a Performance of the Night bonus.
UFC 184 Results
Ronda Rousey def. Cat Zingano via tapout (straight armlock) Rd. 1, 0:14
Holly Holm def. Raquel Pennington via split decision (29-28, 28-29, 30-27)
Jake Ellenberger def. Josh Koscheck via tapout (north-south choke) Rd. 2, 4:20
Alan Jouban def. Richard Walsh via KO (elbow and punches) Rd. 1, 2:19
Tony Ferguson def. Gleison Tibau via tapout (rear-naked choke) Rd. 1, 2:37
Roan Carneiro def. Mark Munoz via technical submission (rear-naked choke) Rd. 1, 1:40
Kid Yamamoto vs. Roman Salazar Declared No Contest (accidental eye pokes)
Tim Means def. Dhiego Lima via TKO (strikes) Rd. 1, 2:17
Derrick Lewis def. Ruan Potts via TKO (strikes) Rd. 2, 3:18
Valmir Lazaro def. Krause via split decision (29-28, 28-29, 29-28)
Masio Fullen def. Alex Torres via split decision (29-28, 28-29, 29-28)
Calling all HuffPost superfans!
Sign up for membership to become a founding member and help shape HuffPost's next chapter