Tuesday September 9, 2014 -- from Joplin, Missouri to Oklahoma City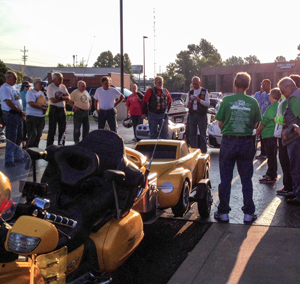 I am dedicating today's journey to my dear friend Claudia Ainsley who passed away yesterday. When we gather each morning for our meeting, Norm, our "resident" pastor reads dedications that people have given him for those who have been taken by cancer or are currently challenged by it. This morning we all bowed our heads for a moment of silence in Claudia's honor. I am deeply touched by the heart of this group. Claudia is now my angel and will ride with me all the way to California. Fly in peace my dear friend.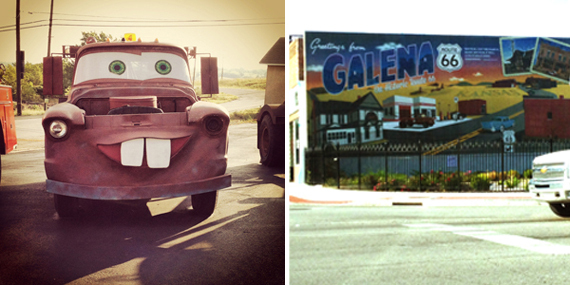 We had been forewarned that it was going to be a very hot day today, so everyone planned accordingly. Our first stop was just across the border in Galena, Kansas. What a funny little one-horse town! As we rounded the corner just off the Route 66 Viaduct (a very worn, strange looking overpass with crumbling chunks of cement and shabby guard rails) we were accosted and rounded up by a woman barking loud orders at us about where to park. It turns out she is the maven of this corner and has created a great little Route 66 business for herself with the tow truck that was supposedly the inspiration for "Mater" in the movie Cars! She has single-handedly turned what once was just a blip on the map in this tiny Kansas corner of Route 66 into quite a popular stop for all travelers on Mother Road tours!!! BTW -- I'm beginning to learn that the Disney movie Cars has a huge appeal to all the folks who have chosen to keep Route 66 alive -- so using any tie in to the film is a real bonus! (And hey -- why not?! -- God Bless 'em".)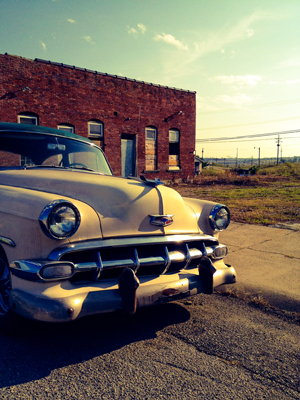 The rest of the morning, we were present to how different the landscape was beginning to look from yesterday. As we're coming into the plains states, things are beginning to flatten out and the colors of the landscape are becoming more faded and less green. Soon we'll be in the desert -- for quite a long time -- so I'm enjoying what I sense maybe the last bit of green we're going to see for quite a long time.
I'm also aware that no matter how much research I might have done before this trip to prepare for what I wanted to see (I bought guide books to catch all the most important sights along the way) at a certain point, all I or anyone can do is experience whatever I can within my given time frame. And the truth of the matter is, on one trip -- that time frame is much too small. I'm seeing now that to truly do this great road justice, I will need to come back and spend much more time exploring it. The state of Oklahoma was in many ways the birthplace of Route 66 and these small towns have much to share in their rich histories. It's just sad not to have the time to get to know the people! So now I know -- I HAVE to come back!
You can read in many Route 66 books about the demise of the great road in the major cities of Tulsa and OKC and how the politicians and folks in power did not support preservation of the route. However when you get out of the metropolitan areas you discover that the people who have lived here forever and care about the place they call home, want to keep this road alive. And then there are those who just happened by one day and fell in love. That would be the story of Dawn Welch and The Rock Cafe in Stroud, Oklahoma.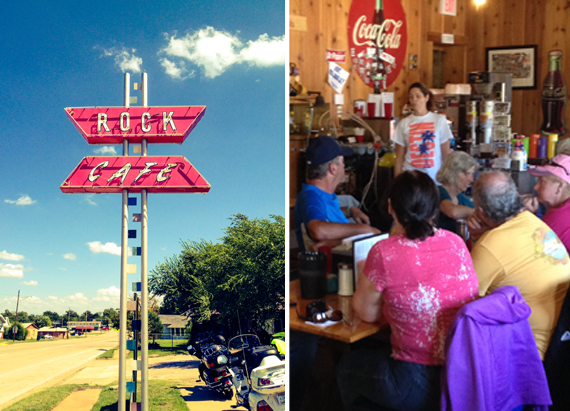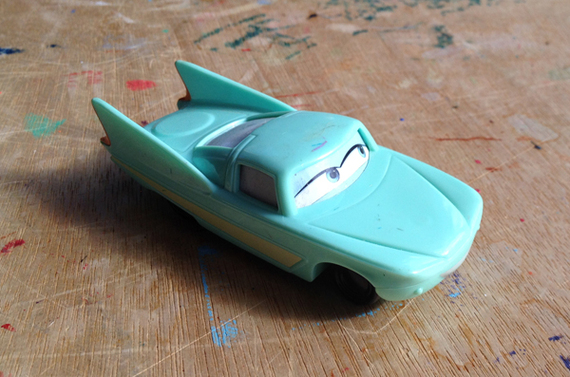 Rodger planned a beautiful lunch stop here, a place for us all to meet -- and believe me we took up the entire cafe. Dawn, herself, told us the heartwarming story about how she fell into running this business despite all her other plans for her young life, and how eventually after many fits and starts (even the building burning down and she heroically rebuilding it) she was "discovered" by the folks at Disney -- and they used her as the inspiration for the story of the movie Cars! Wow. So interesting that on the first day of the ride I picked up this wonderful little replica of a car from Cars and we've had it on our dashboard throughout the ride as our talisman! And come to find out today, my own little car is actually "Sally" from the movie and Dawn (who owns this cafe) is indeed Sally!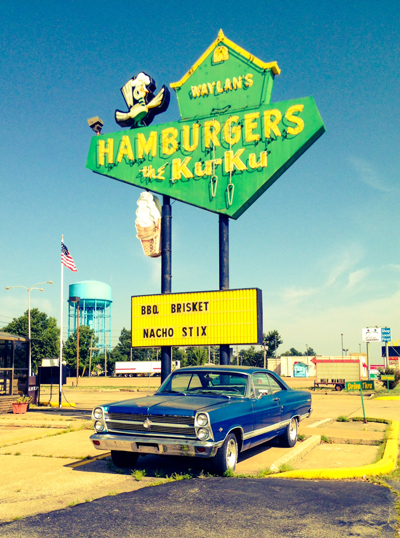 How can I encapsulate so much richness along the road today without filling volumes? All I can say is, I hope you enjoy these photos from the many small towns that dotted the route today from Joplin to OKC.
Waylan's Ku Ku Hamburgers, Miami, Oklahoma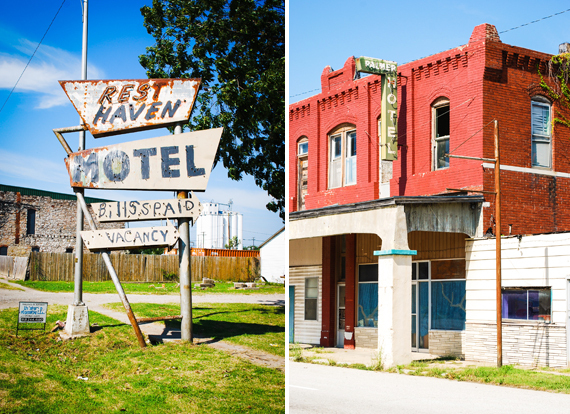 Rest Haven Motel (abandoned) and The Palmer Hotel, Afton, Oklahoma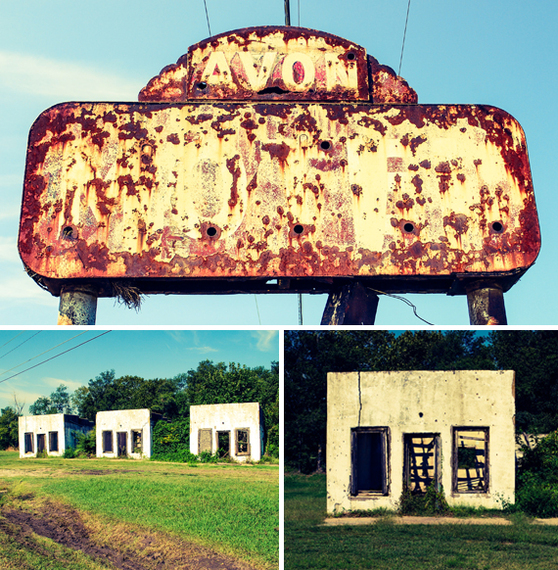 Wish I knew more about the story of this place - only three units, just past Afton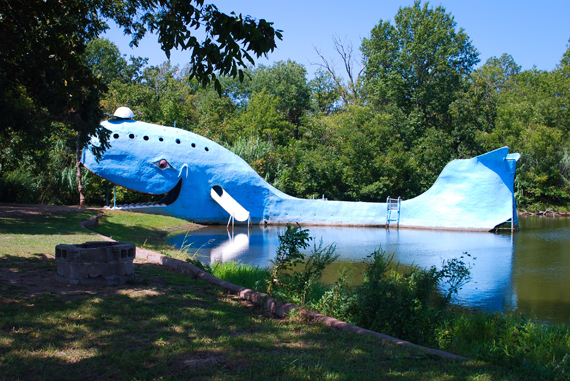 The Blue Whale, Catoosa, Oklahoma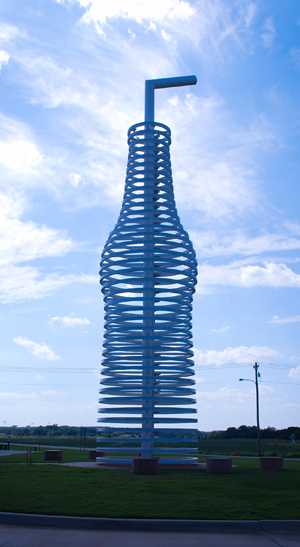 Pop's in Arcadia, Oklahoma. This place is truly inspired! Someone very creative with lots of money created a brilliant, new roadside attraction on Route 66 just outside of Oklahoma City called "Pops". This 66′ high LED bottle lights up at night (sure with I could have seen it!) in all sorts of great colors. The building and gas station are also futuristic in design and feature over 500 different bottles of chilled sodas -- all lined up according to colors! They also have a soda fountain, diner, gas station and of course a souvenir shop. Very impressive.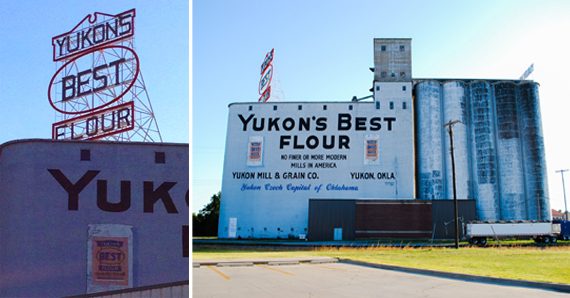 It was a long day as were approaching our hotel for the night in Yukon, OK - a suburb of Oklahoma City. We passed this huge grain elevator / factory and I had to stop and take some shots. It seemed abandoned, but can't be sure of it. Wish I could have come back to see if the neon sign was illuminated -- it appears to be in excellent condition.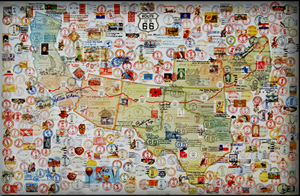 Before the night was complete, we were honored to meet a real veteran of Route 66, Ken "the Landrunner" Turmel -- an amazing man who was a former postal worker and a passionate advocate for the preservation and history of the great road. He lives in OKC and has created a beautiful piece of art that took over two years to complete. He personally took the original map/piece of artwork of Route 66 around to every post office on the highway from Chicago to LA and got their postmark, along with signatures of important #66 celebrities. He created 2,448 archival prints of this (the number of miles on #66) and is currently selling the last 500. You can find out more at his website http://www.postmarkart.com/66more.htm.
Tomorrow is another exciting day where we will travel close to 400 miles and spend the night in Amarillo, Texas -- that does seem far away! So glad to have you along for the ride, thanks for all your support.