What every person needs to know about routines
The focus on studying and standardizing work processes is been central to efficiency and productivity. When you stop to examine how you do things, you can spot simple ways to make the process more efficient. For instance, when you're trying to get out of the house in the morning, it makes sense to start the coffeemaker as soon as possible. As the water drips through, you can take care of other things, and you won't be waiting for the coffee when it's time to head out the door.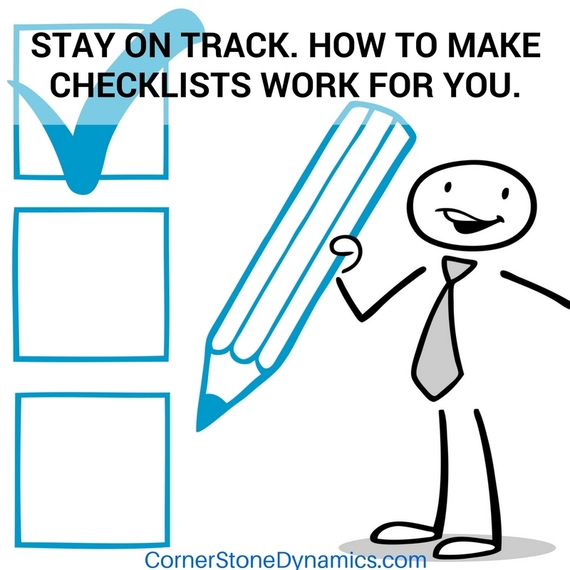 When you've identified an efficient routine, you must pass it along to everyone who is part of the process. Standardized checklists are a great tool, whether the task at hand is cleaning and closing up a restaurant for the evening, or wrangling children out the door to catch the school bus. For the workplace, this type of document is likely to be in text form (although it might exist as a posting on a bulletin board, a page in an employee orientation handbook, or an interactive electronic document in the cloud). For families, a checklist might be a simple picture chart or a set of magnets on the door of the fridge.
Event preparation is made much easier when you create checklists and even pre-packed, reusable kits. For instance, I suggest that meeting facilitators should prepare a toolbox that holds physical items, like flip charts, markers, tape, sticky notes and large index cards, as well as a memory stick with any essential templates or files. A similar kit could be assembled for use at trade show booths or conference presentations.
On the home front, it's useful to have a travel kit ready to go at all times, with travel-sized duplicates of all the cosmetics or shaving supplies you normally use, in a handy little soft-sided pouch. You can take it a step further by creating packing checklists for each member of the family, which cover everything from basic clothes to bathing suits or ski equipment, medicines, reading material and those essential favorite toys.
Tailored checklists can be helpful for weekly activities, like the dance class or hockey practice. Again, if you have a list posted in an accessible spot, a child can help to get his or her own backpack ready the night before.
Related
Popular in the Community