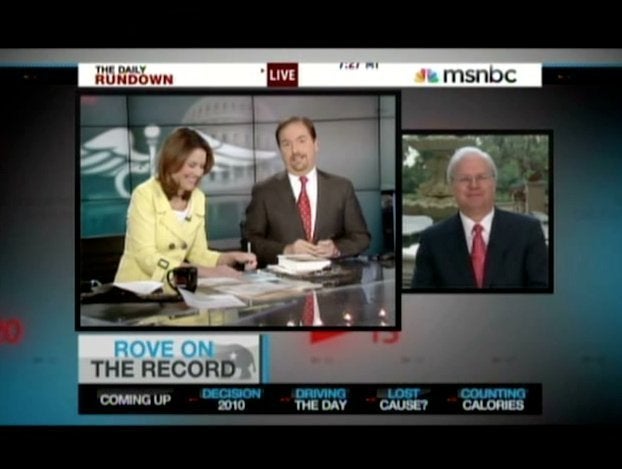 At the end of an interview with MSNBC's Chuck Todd and Savannah Guthrie, Karl Rove took a little extra time to point out that he does not think Todd is a handsome man. Rove compared Todd to himself, telling him they both have "a face for radio."
Todd took the joke in stride, light-heartedly remarking that he uses his goatee to "cover up [his] second chin." Still, we imagine he was thinking, 'speak for yourself.'
WATCH: (Full video underneath the first clip)
KARL ROVE: I want to compliment you Todd, you and I share something in common: we've got a face for radio.

CHUCK TODD: Oh, there you go.

ROVE: And you do better than I do cause you've got the facial hair thing going. And then you did the marvelous thing of having yourself paired with a fantastic co-anchor, which really sort of covers up all the problems you and I might have otherwise appearing on television.

TODD: The reason for the facial hair, you know, it covers up that second chin. I recommend it.

SAVANNA GUTHERIE: Oh my god.