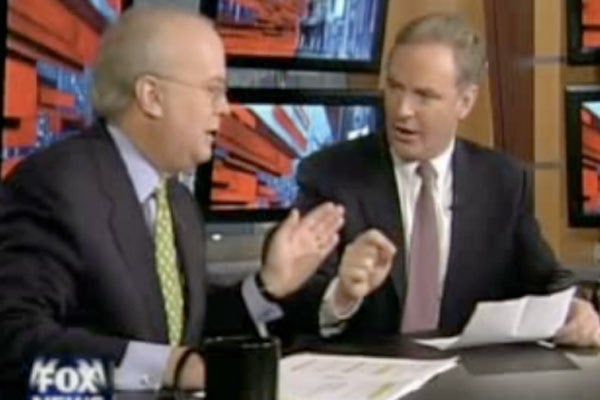 This morning on Fox News Sunday, Rep. Chris Van Hollen called out Karl Rove for his false claim that Congress, not President Bush, had pushed for a speedy vote on the 2002 Iraq war resolution.
"Clearly things have not gone right in Iraq and you've tried to revise history," Van Hollen told Rove, demanding he "retract the outrageous statements you made."
Rove refused to back down, instead reading off a series of quotes by then-Senate Majority Leader Tom Daschle (D-SD) that Rove claimed backed up his point. But as ThinkProgress documents, "None of the quotes that Rove used suggested Daschle was desperately trying to force a war authorization vote."
Van Hollen then laid down his trump card: a quote by former Bush press secretary Ari Fleischer in today's Washington Post: "It was definitely the Bush administration that set it in motion and determined the timing, not the Congress. I think Karl in this instance just has his facts wrong."
"I disagree with my colleague," Rove responded, suggesting that Fleischer wasn't in the position to know the truth about the issue. "I suspect Ari is not aware of and was not privileged to these conversations and was not aware of these quotes. I was in the middle of the White House and I saw these comments..." But the fact that Rove was "in the middle of the White House" is irrelevant, since his argument is based on a series of quotes from Democrats that are in the public record.
Watch the video from Fox News Sunday:
Popular in the Community