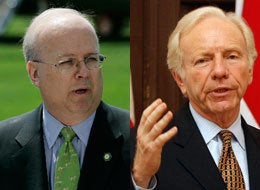 Politico reports that Karl Rove tried to pressure Joe Lieberman into withdrawing his name from consideration as John McCain's running mate:
Republican strategist Karl Rove called Sen. Joseph I. Lieberman (I-Conn.) late last week and urged him to contact Sen. John McCain (R-Ariz.) to withdraw his name from vice presidential consideration, according to three sources familiar with the conversation.

Lieberman dismissed the request, these sources agreed.

Lieberman "laughed at the suggestion and certainly did not call [McCain] on it," said one source familiar with the details.

"Rove called Lieberman," recounted a second source. "Lieberman told him he would not make that call."
The New York Times reports that McCain has decided who his running mate will be and will announce the decision on Friday.
Popular in the Community