A Texas teen lost his leg and may never see again following an accident with a homemade firecracker over the July Fourth weekend.
Rowdy Radford, 15, was seriously injured on Saturday when he lit a sparkler bomb -- 180 sparklers wrapped tightly with electrical tape -- that quickly ignited and exploded in his face, CBS affiliate WWL-TV reports.
The teen's family said the explosion left a 4-foot hole in the ground and could be heard 4 miles away, according to the station.
Radford and his best friend, who suffered minor injuries, were at his aunt's home in Sargent, Texas, at the time of the incident.
The teen received treatment at Children's Memorial Hermann Hospital. Doctors amputated his left leg and said that several of his fingers had blown off, NBC affiliate KPRC-TV reports. Metal shards from the explosive also hit his face.
A friend of the Radford family organized a GoFundMe campaign to raise money for the teen's medical expenses.
Radford's mother, Wendy Smith, said that it was a tradition for the teen to set off fireworks -- something she now cautions against.
"It hurts because I want to see my kid talk to me and he's not because he can't. It's really rough."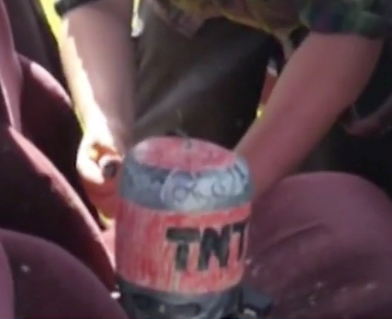 Popular in the Community