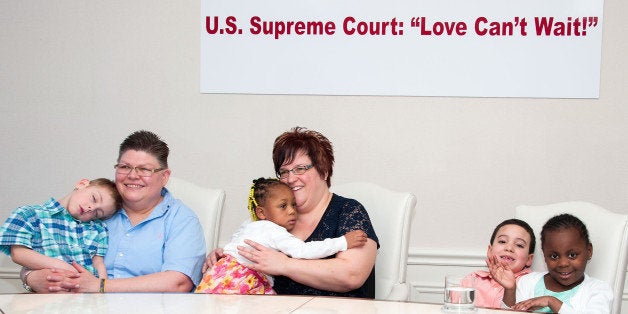 DETROIT -- On a Monday last month, Michigan couple Jayne Rowse and April DeBoer were camped out at their kitchen table, using one of the few afternoons they both had off work to deal with family business. DeBoer was on the phone, sorting out a health care issue for one of their kids. She and Rowse were also chatting and joking with Dana Nessel, sounding more like old friends than an attorney and her clients preparing for a U.S. Supreme Court case.
Rowse and DeBoer first met Nessel in 2011 to file what they assumed would be simple paperwork. After facing a driving scare when a truck nearly collided with their van head-on, they felt new urgency about drawing up plans for what should happen to their children if one or both of the women were to die.
But they quickly learned that, as lesbian parents of adopted children, standard estate planning wouldn't be simple. There was no legal assurance that their kids, each adopted by only one parent, would be allowed to stay with the other if the official parent died, Nessel explained. This set off the chain of events that will take Rowse and DeBoer to the Supreme Court this month for a landmark marriage equality case.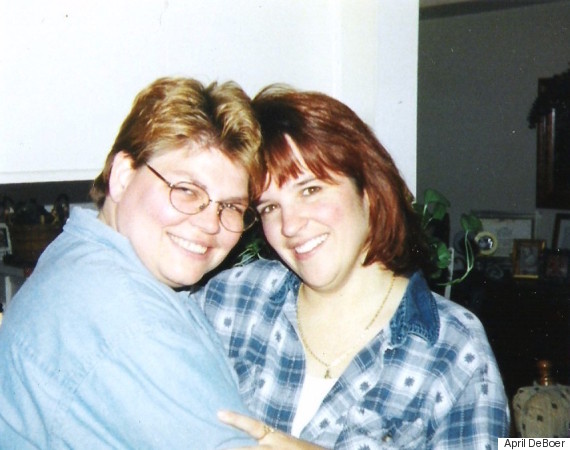 Jayne Rowse and April DeBoer shortly after they first met.
Unlike many states, Michigan's adoption code doesn't allow for joint or second-parent adoption, which also affects heterosexual unmarried couples. Some lawmakers have attempted to change the restrictions over the years, with no success.
Rowse and DeBoer never imagined their case would reach the highest court, and were initially reluctant plaintiffs -- Nessel was the one who encouraged the couple to take the approach of suing the state, and their 2012 lawsuit was only intended to address adoption, not marriage.
"It's been a journey, an accidental journey. We're accidental activists," DeBoer told The Huffington Post. "We're just an ordinary family who would do anything to protect our kids."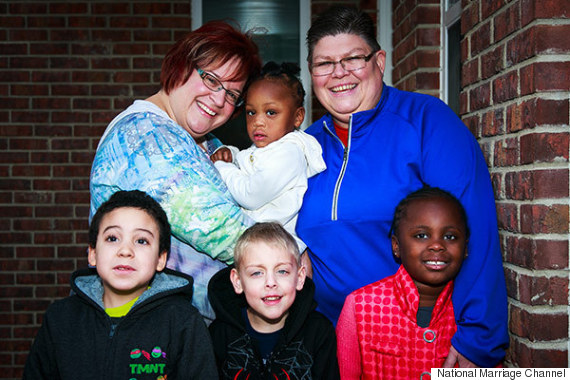 Jayne Rowse, April DeBoer and their four children.
The DeBoer-Rowse family lives in a modest home in Hazel Park, a Detroit suburb. The nurses work at two different hospitals on midnight shifts; DeBoer's mother, Wendy, helps out with the childcare.
When Wendy DeBoer arrived at the home, grandkids in tow, cheerful chaos interrupted the grownup business. Nolan, 6, was asked to produce a folder from his backpack. "Bribery snacks" were evenly distributed. Rylee, 2, clung to April DeBoer, but was persuaded with a hug and a warning countdown to play in the other room with 6-year-old Jacob and 5-year-old Ryanne. A rescue bulldog is the final member of the DeBoer-Rowse clan.
Rowse is the legal parent of the boys, and April DeBoer is the legal parent of the girls. They adopted their first child in 2009, 10 years after they met. They kept their relationship friendly for several years while they each attended nursing school, but started dating seriously in 2005 and then fell in love. They held a commitment ceremony in 2008 that they consider as serious as a marriage.
"It's been that long?" DeBoer asked Rowse, the one who keeps track of meaningful dates. "Time flies when you're having lots of kids," Rowse replied.
Adopting their third child, Jacob, after two years as his foster parent, was one of the moments DeBoer regards as pivotal to her decision to take an active role in the fight for LGBT rights.
"The night before we adopted him, I sat in my room and I cried," she said. "Although he would be ours, I would lose all legal rights to him at that point. So what should have been the happiest day of our lives -- which it was -- [also had] a sad undertone."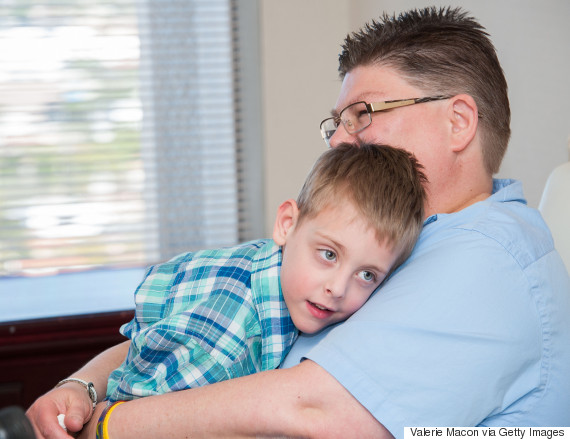 Jayne Rowse and son Jacob attend a news conference on March 6 in Los Angeles. (Photo by Valerie Macon/Getty Images)
The legal relationship is important for a variety of things most parents would take for granted, and not having it could prevent a parent from things like putting their child on their health insurance, making medical decisions or signing a school permission slip.
Nessel said it's a "bizarre irony" that adoption restrictions coexist with laws that allow her clients to jointly foster, and with a state agency that often asks for their help when foster children require special care.
DeBoer and Rowse have fostered children who require special care, and two of their children have developmental disabilities. Rylee, who spent less than an hour playing with her siblings that Monday before she crawled back into DeBoer's lap, has some difficulties hearing and is still learning to talk, though her parents have seen improvement each month since they adopted her in the fall.
"These are people who just can't say no to a child in need," Nessel said. "If these women jointly are good enough to be foster care parents to these children, why are they not both good enough to be adoptive parents?"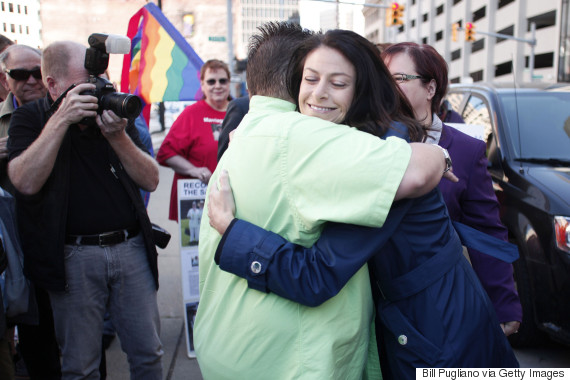 Jayne Rowse gets a hug from her attorney Dana Nessel while attending a rally on Oct. 16, 2013, in Detroit.

DeBoer and Rowse are hopeful about the outcome of their case, but careful not to get overeager after experiencing a series of unwelcome surprises from the courts.
"We felt that [U.S. District Court Judge Bernard Friedman] ... would just see our way and abolish it and be done, and we would walk out all happy and go about our merry lives," Rowse said.
Friedman instead suggested their case actually hinged on same-sex marriage, and invited them to amend their complaint to challenge the ban voters enshrined in the state constitution in 2004.
Jay Kaplan, staff attorney for the American Civil Liberties Union of Michigan's LGBT Project, said his organization was also caught off guard by Friedman's move. At the time, national marriage equality advocates didn't consider Michigan a viable place for a lawsuit, Kaplan said, in part because of the conservative-leaning appeals court. Those factors made some worry about what precedent would be set for future case if the court ruled against DeBoer and Rowse.
"It was something new, and it was hard to predict what might happen," Kaplan said. "It was great to see a judge wanted to address the issue of marriage equality, but it was also scary."
DeBoer, Rowse and their attorneys -- a small team working pro bono -- felt they had little choice but to do as Friedman said, and the lawsuit went to trial last year. For several days, the plaintiffs sat quietly in court as experts for the state explained research that implied their children would be better off with heterosexual parents. Friedman ultimately decided in the plaintiffs' favor, refuting much of the state's expert testimony and the argument that the gay marriage ban was enacted by voters and therefore shouldn't be decided in the courts.
"In attempting to define this case as a challenge to 'the will of the people,' state defendants lost sight of what this case is truly about: people," Friedman wrote in his decision.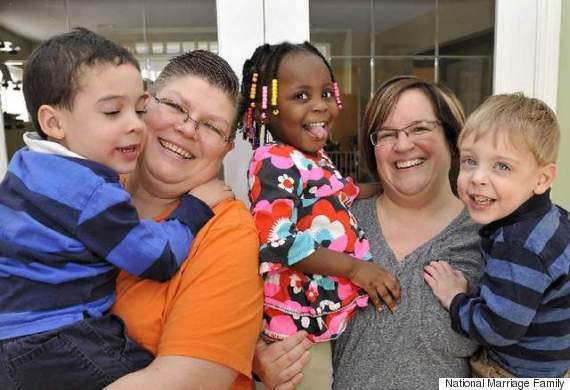 Photo of Jayne Rowse, April DeBoer and three of their children.
Same-sex couples had a brief window to legally marry before the case was appealed the following day. Several county clerks performed more than 300 weddings on a Saturday. Those newlyweds marked their one-year anniversary last month.
DeBoer, Rowse and Nessel can't hide their disappointment about having spent years on a case that has yet to change to their situation or change the law that won't let them jointly adopt. The couples who married last year, however, are a tangible reminder of why their effort has been worthwhile.
"The driving thing is the people who say, 'Thank you for allowing us to get married on that one day, to show the world our 27 and a half years counted,'" Rowse said.
She, DeBoer and their children will all go to Washington to hear oral arguments in the Supreme Court case.
"The closer we get to the arguments and the decision, the more emotional it gets for both of us," DeBoer said. "Jayne usually keeps me grounded. I'm known to be the one who cries. … To get her to cry is very, very unusual, and we have succeeded twice in the last couple weeks."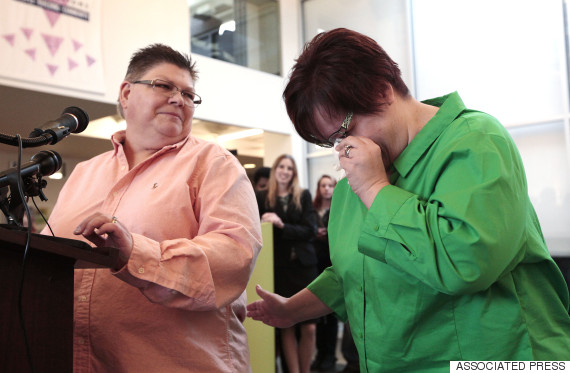 Jayne Rowse looks at April DeBoer as she reacts during a news conference in Ferndale, Michigan, after a federal judge struck down the state's ban on gay marriage on March 21, 2014.
The kids are too young to understand exactly what's at stake, but they know enough to be filled with anticipation for the day when, as they think of it, the whole family will get married -- preferably at a big party with clowns and balloon animals.
"Every time we leave the house dressed up, Ryanne asks, 'Is today the day? Are we going to get married today?'" DeBoer said. "We're like, 'No, we're just going to a meeting,' and she's like, 'Well, when is that day?'"
"Now we get to tell her, 'Hopefully in June.'"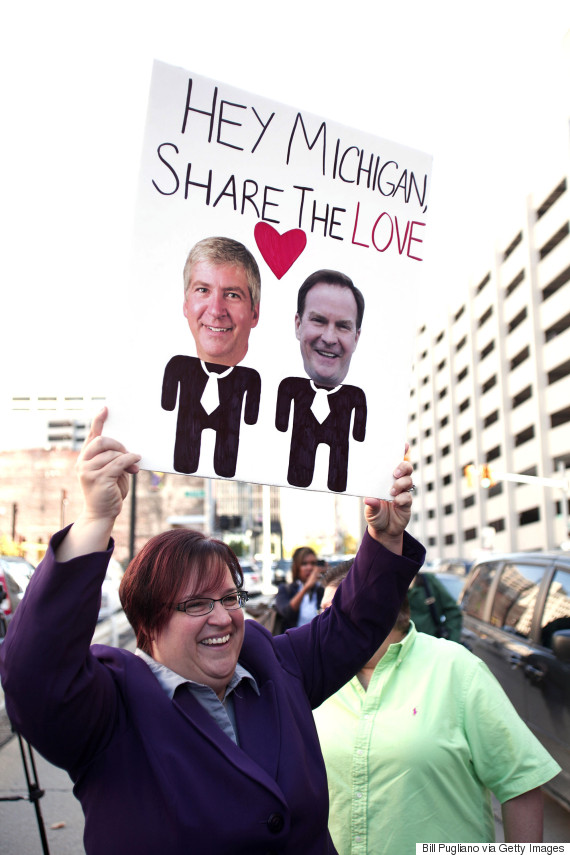 April DeBoer holds up a sign in Detroit as she and her partner Jayne Rowse attend a rally in favor of same-sex marriage on October 16, 2013.
REAL LIFE. REAL NEWS. REAL VOICES.
Help us tell more of the stories that matter from voices that too often remain unheard.
BEFORE YOU GO
PHOTO GALLERY
U.S. State Capitol Buildings