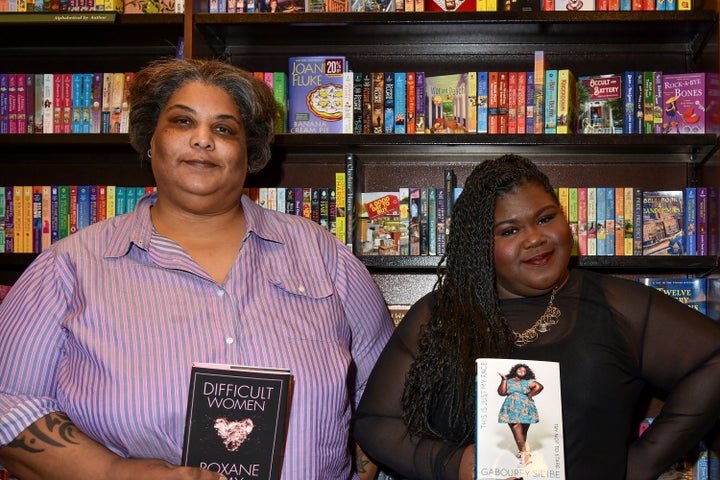 Roxane Gay, the author of several critically acclaimed books including Bad Feminist, Difficult Women and the just-released Hunger: A Memoir of (My) Body, endured what she's appropriately described as "cruel and humiliating" treatment at the hands of Australia's self-described "largest independent women's website."
Anyone who follows the feminist author on Twitter knows that Gay has been making the interview rounds ahead of Hunger's debut, a book that details Gay's experience "learning how to feed your hunger while taking care of yourself."
Australian site Mamamia was afforded the opportunity to speak with her back in May, and as an "appalled" Gay said, the experience has been "a shit show."
In an attempt to introduce the podcast interview with Gay, Mamamia appears to have disclosed a list of the author's personal requests, breaching confidentiality. A description featured on the site's No Filter podcast on Monday (and captured in screenshots since it was deleted) disclosed a litany of preparations the website underwent in order to interview Gay.
"A lot of planning has to go into a visit from [the] best-selling author," the description read, listing a series of questions: "Will she fit into the office lift? How many steps will she have to take to get to the interview? Is there a comfortable chair that will accommodate her six-foot-three, 'super-morbidly obese' frame?"
"Her size is imposing and also a logistical nightmare for her," Freedman wrote. "The requirements back and forth with her publishers who had brought her out to Australia to promote her books were extremely detailed." 
Reiterating the above questions, she also claimed "[t]here was also a lot of talk about chairs ― making sure we had one sturdy enough to both hold her weight and make sure she was comfortable."
Justifying the confidentiality breach, Freedman said the details were "a fundamental part of the story."
"You see, Roxane Gay is ... I'm searching for the right word to use here. I don't want to say fat so I'm going to use the official medical term: super morbidly obese."
Many, many of Gay's readers have pointed out Mamamia's treatment of Gay completely misses the point of Hunger itself. In an interview with Trevor Noah, Gay explained the motivations for writing the book.
"I wanted to tell the story of my body, because when you're fat in the world, people have assumptions," she said. "They assume you're stupid. ... I think it's important to show what it's actually like to live in this world in a fat body."
In no way did Mamamia ever intend to make Roxane Gay feel disrespected and we apologise unequivocally that that was the unintended consequence, including to her publishing team who organised the visit and made the requests in good faith. We are mortified to think she would ever believe this to be the case or that we have upset someone we so deeply admire and respect.

As soon as we became aware of her feelings about it, we took down the written post, edited the podcast intro and changed the podcast description to remove all references to the questions asked by her publishers and about details she said she found upsetting.
"As a publisher that's championed body diversity and representation in the media we're deeply apologetic that in this instance we've missed the mark in contributing to this discussion," Mamamia admitted. "We believe the conversations sparked by Roxane's book are vitally important for women to have, and are disappointed our execution hasn't contributed in the way we intended."
Calling all HuffPost superfans!
Sign up for membership to become a founding member and help shape HuffPost's next chapter
BEFORE YOU GO