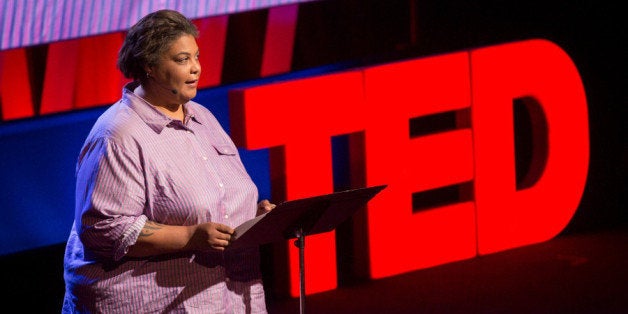 Roxane Gay has become known as a 'bad feminist.'
The label comes from her August 2014 book's title, a collection of essays which challenged how we define and interact with feminism. In it, Gay discusses why she doesn't live up to the label, all the ways she's a contradiction and how feminism, in many ways, is broken.
She took the stage Thursday at TED Women in Monterey, Calif. to break down how identifying as a "bad feminist" -- originally an inside joke she had with herself -- became a thing. In her 11-minute talk, she was funny, self-deprecating and painfully honest. That raw honesty awarded her a standing ovation.
However, it was her moving story of how feminism saved her that brought the auditorium to a hush.
The last line of her book is: "I would rather be a bad feminist than no feminist at all." She told the audience at TED that this statement is true for many reasons, but most profoundly because of one.
"Once upon a time, my voice was stolen from me and feminism helped me get it back. There was an incident. I call it an incident so I can carry the burden of what happened," she said.
"Some boys broke me when I was so young I did not know what boys can do to break a girl. They treated me like I was nothing. I began to believe that I was nothing. They stole my voice and after I did not dare to believe that anything I could say would matter."
But Gay said she discovered writing as an outlet and began to read about feminism, which opened up a whole new world for her. She explained that she wrote herself back together.
"I wrote myself toward a stronger version of myself. I read the words of women who might understand stories like mine and who looked like me and who understand what it was like to move through the world with brown skin," she said. "I read the words of women who showed me I was not nothing. I learned to write like them and then I learned to write as myself."
Writing and feminism did not just give Gay her voice back -- they taught her that she was full of power. "I found that if I was a little bit brave, another woman might hear me and see me and recognize that none of us are the nothing that the world tries to tell us we are."
This resolve was not always so easy to articulate. When Gay was young, feminism meant something very different to her. She believed feminists were "hairy, angry, man-hating, sex-hating women. As if those are bad things!"
But today feminism, even "bad feminism," means being accountable, Gay explained.
She admitted that she loves listening to "thuggish rap," specifically The Ying Yang Twins' song "Salt Shaker," at loud volumes -- even though the lyrics are degrading to women.
"If I listen to degrading music, I am creating a demand for which artists are more than happy to contribute a limitless supply," she said. "Artists are not going to change how they talk about women in their songs until we demand that change by affecting their bottom line. It is difficult -- why must it be so catchy? I'm looking at you, Robin Thicke."
Gay said it is hard to make the better choice, especially when it's easier to justify the lesser one. "But when I justify bad choices, I make it harder for women to achieve the equality that we all deserve -- and I need to own that."
Instead she urged putting our money where our mouths are. We can change the radio station, the television channel and the movies we choose to spend our dollars on.
And then begged that we stop making it so hard for women to identify as feminists.
Beyonce, who has emerged as a visible and proud feminist in pop culture, is the perfect example.
Gay made the point that after Beyonce's MTV performance where she projected the word in giant letters behind her, "cultural critics began endlessly debating whether or not Beyonce was indeed a feminist. They graded her feminism instead of taking a grown, accomplished woman at her word," Gay said.
She admitted to the audience that she feels a lot of pressure as a feminist. "We put feminists on a pedestal and expect them to pose perfectly. When they disappoint us, we gleefully knock them from the very pedestal we put them on," she said.
"We demand perfection from feminists because we are still fighting for so much. We go far beyond reasonable constructive criticism to dissecting any woman's feminism and tearing it apart until there's nothing left. We do not need to do that."

Calling all HuffPost superfans!
Sign up for membership to become a founding member and help shape HuffPost's next chapter
BEFORE YOU GO
PHOTO GALLERY
10 Women On Why Feminism Still Matters