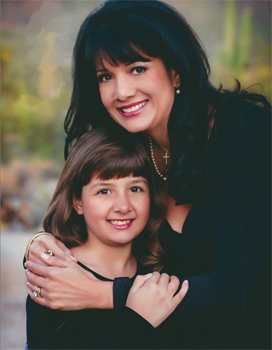 Roxanna Green never imagined a life in the public eye but when her 9-year-old daughter, Christina-Taylor, was killed on that fateful day in Tucson, Arizona, she became a voice for gun control. She recently returned from Washington, D. C., disappointed, disgusted but not surprised when the Senate rejected expanded background checks. Her response to that vote is a renewed determination to continue the fight for common sense regulation.
This mother was thrust into the spotlight after the horrific shootings that left six people dead and 13 wounded including Representative Gabby Giffords. Her book, As Good As She Imagined, celebrates her daughter, now known to many as the "Angel of Tucson."
"We were robbed of her life. It's very hard but forming the Christina-Taylor Green Foundation, writing the book and just giving back has helped tremendously." Roxanna Green
Roxanna has found the courage to move forward, and she joined me from Tucson to talk about her daughter's life and legacy on The Women's Eye Radio Show. Here is an excerpt from that interview...
STACEY: It's been over two years now, and I'm sure people are constantly reminding you of that terrible incident. In your book you say, "I wanted to do what Christina-Taylor would have wanted me to do and make her proud and happy." Do you think you have achieved that?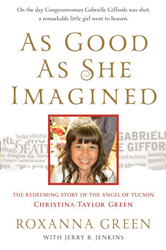 ROXANNA: I certainly hope so. I've gotten positive comments from those who have read my book. My goal was to make it inspirational, something that people of any age could read and find a sense of hope whether they've lost a child, a job, a home or gotten a divorce.
I want them to know this isn't the end and that the best is yet to come. Use your faith, family and friends and find strength with those people. My advice is to carry on and do something good.
STACEY: How are you feeling about where you have come in such a short amount of time?
ROXANNA: I have good days and bad. Losing a child is the worst thing that could ever happen to you, especially in the way we lost Christina. I'm going to make sure her legacy lasts forever and that her dreams will come true through giving and through the foundation. It's only been up and running a little over a year, and we've given away over half a million dollars to programs for youth here in southern Arizona.
STACEY: Do the memories of her sustain you?
ROXANNA: The nine years she was on this earth with us were precious and wonderful. She was always happy. Obviously we wish she was still here with us and living a full and meaningful life. Whenever I'm down, I'm grateful that I had such a wonderful daughter and that she did so much good.
STACEY: You say in the book that she always wanted to make a difference.
ROXANNA: She liked to go to soup kitchens and orphanages; she liked to collect toys and clothing for the Salvation Army. At that age, that's something you have to encourage your children to do, but that was the kind of person she was. She was just very mature for her age.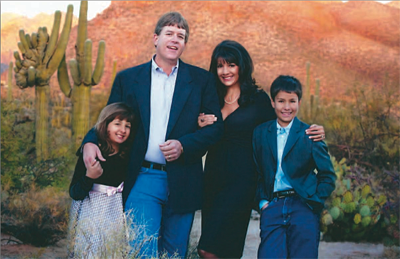 Christina-Taylor, John, Roxanna, and Dallas Green, 2010
STACEY: The title of your book was actually from President Obama's speech when he spoke at the State of the Union very shortly after the shootings. He said he wanted the world to be what Christina-Taylor imagined it was.
ROXANNA: I thought it would be a great title with the message of hope that we can just all come together and make it the best. We all want common things: peace, love, and for our children to be safe...that would be for everybody as good as he or she imagined.
"Whenever we are having a hard time, we just pray. That works for us. I'm so

fortunate and grateful that we had this faith prior to the tragedy."

STACEY: How does one maintain faith when going through something like this? It seems like one would lose it when their child is taken this way.
ROXANNA: I can only speak for myself and my family. We've always had a strong faith. We lost my mother unexpectedly the year before. We relied on our faith, church, friends and family. Whenever we are having a hard time, we just pray. That works for us. I'm so fortunate and grateful that we had this faith prior to the tragedy.
STACEY: Your role now is about helping people who are suffering just like you. Unfortunately after Newtown, so many families are in dire need of support. When was the first time you went there?
ROXANNA: It was three or four days after the tragedy at Sandy Hook. Then I went again at the beginning of this year with Pam Simon, who was a survivor of January 8. We went to give an angel to all the families and first responders and teachers who were affected.
We just wanted to tell them that we loved and supported them, and that we prayed for them every day. We told them that it will get better with time, but you'll always have a hole in your heart. We wanted this little angel to be with them so that they could remember their loved one forever.
"It's not going to happen with just the survivors shouting from their soapboxes.

Everyone has to get involved because it could happen to anyone."
STACEY: You did a public service announcement for the Demand A Plan organization. What is the focus for that advocacy work?
ROXANNA: We support universal background checks, making gun trafficking a federal crime, and doing something to help our flawed mental healthcare system. We don't want to take guns away. We are gun owners. We just want sensible gun control so we can save lives. It should be bipartisan.
We should be able to reach some kind of compromise because what we're doing right now is not working. I don't want to see another family go to the State of the Union with a ribbon and sit next to Michelle Obama because they lost a daughter.
STACEY: Do you feel that you are finding some kind of peace now?
ROXANNA: I feel that through her foundation and all the wonderful people I've met, I find healing and peace. If we can save one life, then all the work we have done will be worth it so that Christina and the Newtown children and all the others will not have died in vain.
It's not going to happen with just the survivors shouting from their soapboxes. Everyone has to get involved because it could happen to anyone. Christina-Taylor was a fighter.
STACEY: She certainly was and so are you. Thank you so much. Continued success in all you do, Roxanna.
Lead and family photo taken by Jon Wolf, 2010
Calling all HuffPost superfans!
Sign up for membership to become a founding member and help shape HuffPost's next chapter