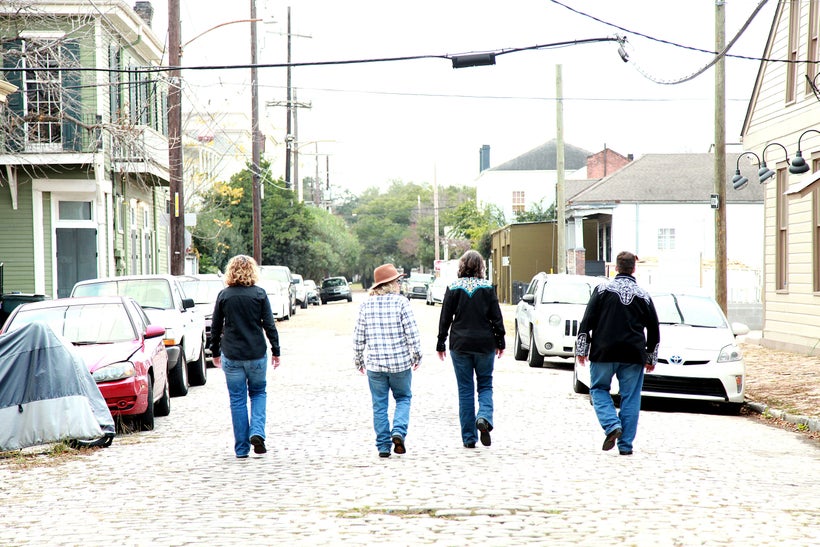 Over six years ago I wrote about a stage in Blue Ridge GA morphing into a back porch with angelic harmonies and boot tapping rhythms from the Roxie Watson band. A mostly southern audience more than enthusiastically embraced their creative mix of "alterna-grass" bluegrass and country. Some things have changed. Reviews must be condensed into 600 words for mobile devices, and the five-piece has become four with the departure of Sonia Tetlow (Cowboy Mouth) as she pursues a solo career. Call it destiny powered by raw talent, this band is just plain fun and deserves the recognition it has gained along the way from Georgia Music and others. Read Bret Love's view from the audience here. The band has matured and the future is theirs.
On August 19, Roxie Watson releases their latest full-length, Try a Little Kindness, at Atlanta's Buckhead Theatre.
With roots stretching from sea to shining sea through Washington State and Maine, master electrician Lenny Lasater, session drummer Linda Bolley (she has a Grammy nomination), Mom and lamp repairs guru Becky Shaw ("lighting up Decatur one lamp at a time"), and Georgia film industry worker Beth Wheeler bonded over music in their home base of Decatur Georgia. They are the only all gay bluegrass band I know of, and a staple on the Georgia music scene. I offer that because times have changed and it does not make one particle of difference as far as audiences and fans are concerned, despite one reviewer's comment that it was somewhat of an "elephant in the room."
Becky Shaw put that to rest in an email exchange. The band refuses to be put into a box—whether it is political or social. "Labels can shut people out, or keep audience members at arm's length - our music appeals to people just by virtue of the music, and I think also because of the authenticity of where we're coming from as individuals and as a group of friends," Shaw writes. Paraphrasing the rest, whether you are gay or straight, everyone is invited to Roxie Watson's back porch.
Roxie Watson is not a political band and you will not hear politics discussed on that virtual back porch. Maybe what we need is more great music and less arguing. They are a favorite in their backyard of Atlanta/Decatur, as well as North Georgia, Asheville, Chattanooga, Birmingham, and New Orleans. Top it off with callbacks from the Bluebird Café in Nashville and you know they must be as good as it gets.
An original written by Becky Shaw (BMI) is an invitation to appreciate the little things that really matter most in our diverse country. It features Becky Shaw on lead vocal, acoustic guitar; Linda Bolley on harmony vocal, electric guitar; Beth Wheeler on mandolin; and Lenny Lasater on harmony vocal, bass guitar. Like the song suggests, America needs a back porch where the whiskey drinkers and teetotalers can hang out and appreciate shared values.
For that reason, "Simple American Life" is one of my favorite cuts.
Reviews are nothing more than punditry by listeners with a virtual pen and access to a platform. I usually avoid writing them unless I feel it is important to do so. I keep falling back on a quote from Patti Smith in her book, Just Kids. She wrote that as a reviewer she centered on "obscure" musicians and wasn't so much interested in criticizing as she was in alerting her readers to important artists that were overlooked. What really matters for the artist, and the members of Roxie Watson are passionate artists, is how the music evolves and how it resonates with an audience.
Bassist Lenny Lasater puts it this way. "With the release of our fourth album I see the band getting much tighter, more comfortable on stage and improving as writers, musicians and arrangers." She adds, "Our audiences are hungry for great stories, harmonies and musicianship. From the beginning with our first CD, folks came up to us at shows to share that they heard their own stories in our songs."
As far as the departure of Tetlow is concerned, the band wishes her well. Linda Bolley says, "The departure of Sonia allowed us to go deeper into a country feel, which is our natural place, just as rock/punk/ and a little New Orleans is Sonia's natural place." Yes, the band is taking change and growth day by day. It was an amicable split, and the women are all still friends.
Every story leads to another interesting backstory. Mandolin player Beth Wheeler, while providing some of the sweetest sounds Roxie Watson has to offer, is the quiet one. You have to pry the comments and stories out of her. Wheeler the Wielder might be a good moniker. Truly, Wheeler wields that mandolin like Joan of Arc's sword.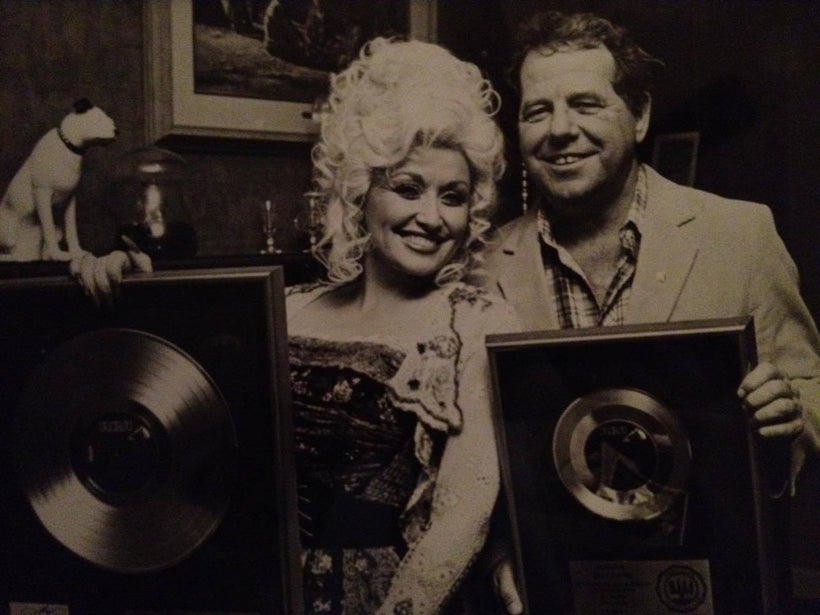 She has "one if not both of those gold records" her father and Dolly are seen holding. That pic (circa 1979 or 80) was taken in her father's office at RCA on music row in Nashville.
Musical roots run deep. Her father, Dave Wheeler, was a record executive at RCA records in Nashville in the 70's and 80's. Chet Atkins was his boss he was president of sales and marketing until he retired. The elder Wheeler got to hang out with some interesting folks back in the day.
"Try a Little Kindness" was recorded in New Orleans at the Music Shed Studios. You can purchase or download at Amazon, CDBaby, iTunes and Google Play.
REAL LIFE. REAL NEWS. REAL VOICES.
Help us tell more of the stories that matter from voices that too often remain unheard.
This post was published on the now-closed HuffPost Contributor platform. Contributors control their own work and posted freely to our site. If you need to flag this entry as abusive,
send us an email
.