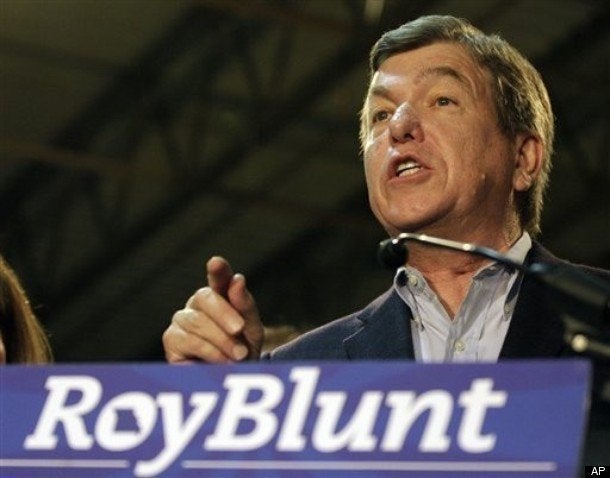 The debate over debating is heating up in Missouri's Senate race, with Democrat Robin Carnahan accusing her opponent, Rep. Roy Blunt (R-Mo.) of backing out on a package of debates that he originally proposed.
"Just like on the campaign trail, Congressman Blunt wants to talk as little as possible about his 14 year Washington record of wasteful spending, corruption and sticking it to the middle class," said Carnahan campaign spokesman Linden Zakula. "This refusal to agree to additional debates over the smallest of issues is a clear sign that Congressman Blunt consistently says one thing, but does another and he simply can't be trusted."
Last month, Blunt wrote a letter to Carnahan and formally invited her to participate in six debates before November: Springfield, sponsored by Ozarks Public Television; a live in-studio radio debate in St. Louis on KMOX; the Missouri Press Association's debate in Lake Ozark in October; and a televised debate in Kansas City. Blunt's press release also said that the congressman had "accepted debate requests from FOX News Sunday and NBC's Meet the Press for nationally televised debates."
Now, however, Blunt has backed out of all but two of those six debates that he put forward. In a press release issued on Wednesday, Blunt announced he will be doing a KCPT Kansas City Public Television debate on Oct. 14 and the Missouri Press Association debate in Lake Ozark on Oct. 15. In the statement, Blunt made no mention of the fact that he will be participating in only a third of the forums he initially called for.
The Carnahan campaign asserts that it had agreed to every single one of the debates put forward by the Blunt campaign -- including the one with "Fox News Sunday", despite the fact that Fox News is suing the Carnahan campaign for using network footage in a campaign ad without permission.
On Sunday, the Joplin Globe in Missouri expressed disappointment and confusion with the Blunt campaign over its refusal to accept its invitation for a debate. "[Carnahan campaign spokesman Tony] Wyche, after we assured him of television coverage out of Joplin and Springfield, said that Carnahan would accept," read the editorial. "Rich Chrismer, with Blunt's campaign, did not decline our invitation. In fact he told me that Blunt had not declined any of the invitations. But, I didn't get the yes I needed to move forward."
*************************
What's happening in your district? The Huffington Post wants to know about all the campaign ads, debates, town halls, mailings, shenanigans, and other interesting campaign news happening by you. E-mail us any tips, videos, audio files, and photos to election@huffingtonpost.com.