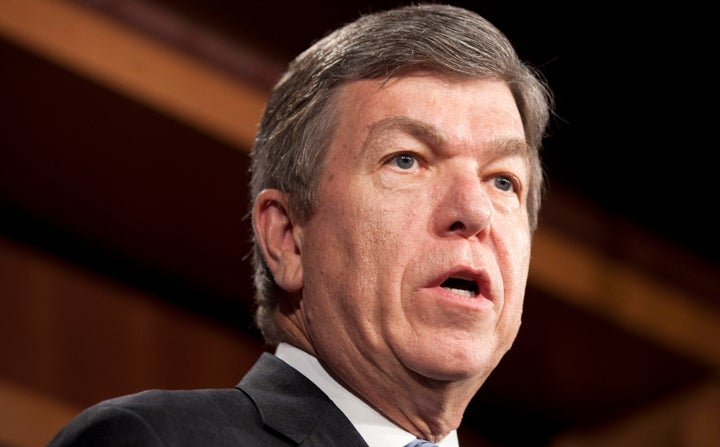 WASHINGTON -- In his inevitable rise through Senate leadership, Roy Blunt took the first significant step on Tuesday, when he surprised some observers by besting a Tea Party-backed candidate for a low-level Republican leadership position.
The Missouri senator and former top House leader knocked off Wisconsin's Ron Johnson, a businessman who married into wealth and upset incumbent Sen. Russ Feingold (D) in the 2010 midterm elections. Blunt topped Johnson 25-22.
People who have known and worked with Blunt for years were far less surprised to see him pull out the victory. Considered a pragmatic and collegial legislator, Blunt telegraphed his leadership designs earlier this year by pulling out an old move from his own playbook. In 1999, then-Rep. Blunt jumped out in front of his House colleagues to become Texas Gov. George W. Bush's liaison in Congress. When Bush prevailed in the next year's presidential election, Blunt had a leg up in the House. He leveraged his new relationship and wound up House majority whip.
This year, Sen. Blunt quickly became Mitt Romney's congressional liaison.
"If Mitt loses, I don't think it hurts him. It's not like there's a million Gingrich supporters in the Senate," said a former Blunt aide. "He wanted to be speaker of the House. That didn't work. Now he's doing this."
Blunt's victory infuriated elements of the GOP base. "Roy Blunt Wins: Senate GOP Shuns Tea Party, Embraces K Street," headlined Erick Erickson at RedState.com.
Of course, it's not quite that simple. Johnson's chief of staff, Don Kent, was himself a lobbyist before going to work for Johnson.
Blunt's rise through the House leadership was halted by John Boehner (R-Ohio), who surprised the party by knocking off Blunt in a race for House majority leader in 2005. Blunt remained in the whip's spot, but then stepped down when Democrats took the House two years later. Had he managed to defeat Boehner for the majority leader spot, Blunt undoubtedly would've been tossed out by a party angry at losing the House. Boehner was able to stay because he was new to the position.
"He got his ass kicked by Boehner. Had he not lost to Boehner, he would've lost reelection to minority leader," said a former Blunt aide.
Looking at Blunt's career so far, a former House GOP leadership aide said, "He always had the good fortune of quietly being at the right place at the right time. You don't stumble into those rooms. He's been pretty strategic about it."
The Senate bid was equally strategic and lucky. Blunt made the decision to run in early 2009, when magazine articles were pondering the end of the Republican Party. "He told staff, 'There's nobody else who could run and raise the money I can, so I'm gonna do it.' He had a vision and he saw it," said the former House GOP leadership aide. As the national mood shifted, he fairly easily beat Democrat Robin Carnahan, who hails from a rival Missouri clan that's been battling the Blunts for decades.
With Sen. Lamar Alexander (R-Tenn.) stepping down from the leadership and Sen. Jon Kyl (R-Ariz.) retiring, the brass currently consists of Sens. Mitch McConnell (R-Ky.), John Cornyn (R-Texas), John Thune (R-S.D.) and John Barrasso (R-Wyo.).
Blunt's people skills make him an adept player in the Senate, where personalities can often trump politics. And while RedState may have overlooked Johnson's K Street connection in its critique of Blunt, the equation Erickson noted is an accurate one: The more Blunt rises in the Senate, the less influence the insurrectionist Tea Party wing can be presumed to hold.
The Tea Partiers are up against a formidable opponent. "He's incredibly patient, never makes unforced errors, and he's generally the smartest guy in the room, but he doesn't wear it on his sleeve," said a former aide. "He generally makes more sense than anybody else."

Popular in the Community