Another woman has come forward to say that Alabama Republican Roy Moore sexually abused her when she was a teen and he was more than a decade older.
Beverly Young Nelson, who is represented by attorney Gloria Allred, told her story at a New York press conference on Monday.
Nelson, who met Moore through her job as a waitress, recalled an incident in which Moore offered to give her a ride home one night in 1977. But instead of taking her home, she said, he drove around the restaurant to a deserted area and assaulted her.
"I thought that he was going to rape me," Nelson said. At the time, she was 16 and he was in his 30s.
After a struggle, Nelson said, Moore let her go with a threat.
"He looked at me, and he told me, 'You're just a child.' And he said, 'I am the district attorney of Etowah County, and if you tell anyone about this, no one will ever believe you,'" she added.
"The passenger door was still open as he burned rubber pulling away, leaving me laying there on the cold concrete in the dark."
Nelson described how Moore groped her breasts and grabbed her neck, leaving it "black and blue and purple," as he tried to force her head toward his crotch.
"I was begging him to stop," she said. "I had tears running down my face."
Nelson said she eventually either fell or was pushed out of the vehicle. "The passenger door was still open as he burned rubber pulling away leaving me laying there on the cold concrete in the dark," she said.
Moore had been a regular customer at the restaurant where Nelson worked, she said, and used to sit in the same seat "night after night" until the establishment closed ― occasionally remarking on her appearance. One week prior to the incident, Nelson said, Moore left a note in a high school yearbook she had left on the counter.
"To a sweeter, more beautiful girl, I could not say 'Merry Christmas,'" read the note, which Moore had signed, "Love, Roy Moore D.A."
A representative for Moore responded to news of the press conference with a personal attack against Allred, calling her a "sensationalist leading a witch hunt" in a statement that also referenced the attorney's role in abortion policy.
"Judge Moore is an innocent man and has never had any sexual misconduct with anyone," the statement read. "This is a witch hunt against a man who has had an impeccable career for over 30 years and has always been known as a man of high character."
Moore also denied the allegations during a brief press conference Monday evening.
"This is absolutely false, I never did what she said I did. I don't even know the woman, I don't know anything about her, I don't know where the restaurant is or was," Moore said. "This is a political maneuver and has nothing to do with reality, it's all about politics."
Moore declined to answer reporters' questions following his statement.
Allred stated that her firm corroborated Nelson's story with her mother, her sister and her husband. The attorney, known for defending feminist causes in high-profile cases, called on the U.S. Senate Judiciary Committee to hold a public hearing to address the allegations against Moore, adding that her client would be available to testify under oath.
Nelson said she waited so long to speak up because she was afraid, saying she "felt that Mr. Moore would do something to me or my family."
The Alabama resident joins four women who went on record with damaging allegations against the U.S. Senate hopeful in a Washington Post report published last week.
In the most serious accusation, Leigh Corfman said Moore sexually assaulted her in 1979, when she was 14.
Moore was a 32-year-old assistant district attorney in Alabama when, according to Corfman, he approached her and asked for her phone number. Corfman said he later brought her to a wooded area, where he kissed her and touched her over her underwear, guiding her to touch him as well.
Three other women told the Post that Moore pursued them when they were between the ages of 16 and 18. Wendy Miller said she was 14 when she first met Moore and 16 when he asked her out, but added that she didn't go on any dates with him. Debbie Wesson Gibson said she briefly dated Moore at age 17 and that the relationship did not go beyond kissing. Gloria Thacker Deason was 18 years old, one year below Alabama's legal drinking age at the time, when Moore began taking her on alcohol-infused dates, she said.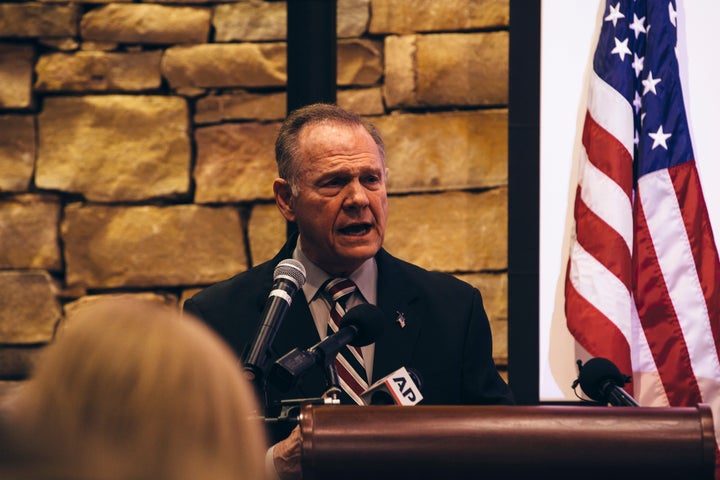 In response to the report, the Senate's campaign arm, the National Republican Senatorial Committee, severed its ties with Moore on Friday.
Yet only a handful of Republicans have voiced criticism individually and pulled their support of Moore.
Nelson said coming forward was not about politics.
"My husband and I supported Donald Trump for President," she said Monday. "This has nothing to do with Republicans or Democrats. It has everything to do with Mr. Moore's sexual assault when I was a teenager."
This article has been updated with comments from Moore's press conference on Monday.
Support HuffPost
The Stakes Have Never Been Higher
Popular in the Community