HUNTSVILLE, Ala. — "You wanna see some Alabama politics, man?" a local chiropractor asks. "I'll show you Alabama politics."
It's around midnight at a smoky bar surrounded by gun shops and a stretch of highway outside downtown. I've been speaking with the chiropractor, and the subject has turned to Alabama politics, which is in the national spotlight as of late due mostly to the Senate candidacy of Judge Roy Moore, an honest-to-God theocrat who is a good bet to win Attorney General Jeff Sessions' old seat on Dec. 12.
The chiropractor would prefer not to talk politics. He didn't vote in this year's primary — only 20 percent of eligible voters did — because why would he? Alabama is most assuredly going to vote Republican, he says, and the only Republicans voters got to choose from were "a couple of nutjobs."
The man advises me not even to mention that I'm a reporter for HuffPost, lest I get my ass kicked. He's friendly about it, at least, and now he wants to demonstrate for me the alpha and omega of Alabama politics.
He gets up from the bar, ambles over to the open front door and puts his hands around his mouth in the shape of a cone.
Two men at the bar look up, jostled out of their thousand-yard stares by the Crimson Tide rallying cry. "ROLL TIDE!" one hollers.
More shouts, lower now, can be heard coming from outside the bar. "Roll tide!"
The man sits back down triumphantly. "That's fuckin' Alabama politics for you."
The ¯\_(ツ)_/¯ Election
It's hard to pinpoint when or why Republicans decided to overlook Roy Moore's ongoing scandals.
He was drummed out of Alabama's Supreme Court in 2003 after he'd refused to remove a statue of the Ten Commandments that'd he'd put up at the courthouse. Ten years later, he won an election to serve as chief justice, only to be suspended in 2016 for refusing to comply with a federal ruling that legalized same-sex marriage across the nation.
"You can't legislate patriotism, you can't legislate morality, and we have a candidate who wants to do exactly that."
"He puts us Republicans in a difficult place where we gotta hold our nose ― once again ― to vote for a candidate that we don't believe has the capability to get things done in Washington."
But as with Donald Trump, Republicans will vote for the Republican anyway. Lomax may have his qualms about Moore, but not so many that they prevented him from attending a gala for the candidate. I met Lomax on Oct. 12, at an event for Moore titled "Freedom Gala: A Celebration of Freedom." The night was supposed to rally support for Moore's increasingly turbulent Senate run, but it started with a series of missteps, and the apathy Lomax described seemed to hang over the room like a weather pattern.
First, Moore salivated over the president ― despite not being Trump's first pick for Senate ― and was met with uproarious laughter.
"I remember November 2016, after the election of Donald Trump, I felt a great burden — I don't know if anybody else felt that, raise your hand if you felt that — a great weight taken off of me," he said to a now-guffawing crowd. He was being serious; the audience seemed to think he was joking.
Then, during a memorial for Republican state Rep. Jim Patterson, who'd died unexpectedly 10 days prior, Moore couldn't put his finger on the congressman's name. Patterson's widow was in the audience.
"My heart goes out to Mrs. Peterson," Moore said.
But he quickly shifted to the platform that got him through the primary in the first place: God and country. Riffing off "I Can Only Imagine," the song that played during a memorial slideshow for Patterson, Moore said: "We can only imagine how great heaven would be. We could only imagine how great our country would be, if we'd only go back to the things that made us great."
What would make us great, he offered, is "an understanding of the Constitution and its relationship with God." It wasn't surprising that he barely touched on policy during his speech ― Moore expresses few discernible policy preferences beyond echoing Trump's views on immigration and citing his own extreme Christian values.
There was a great sucking hole at the center of the evening, however, down which all the gaffes and solecisms fell. Nobody seemed to care about the candidate; several Republicans in attendance said they downright hated the guy. This impression was borne out in various locations across Alabama over the following week. From Republicans who paid to attend Moore's gala to conservative Christians at a Montgomery church service, nobody seemed terribly excited by the prospect of him taking office.
Three people at the gala, who didn't want to reveal their names because they work in local politics, said they voted for Moore in the primary because he'd be ineffectual as a legislator and therefore become a free, quiet vote for Republicans in D.C.
Others characterized Moore as a "hypocrite" who portrays himself as a constitutional conservative despite being removed as a judge ― twice ― for his eccentric interpretations of the law.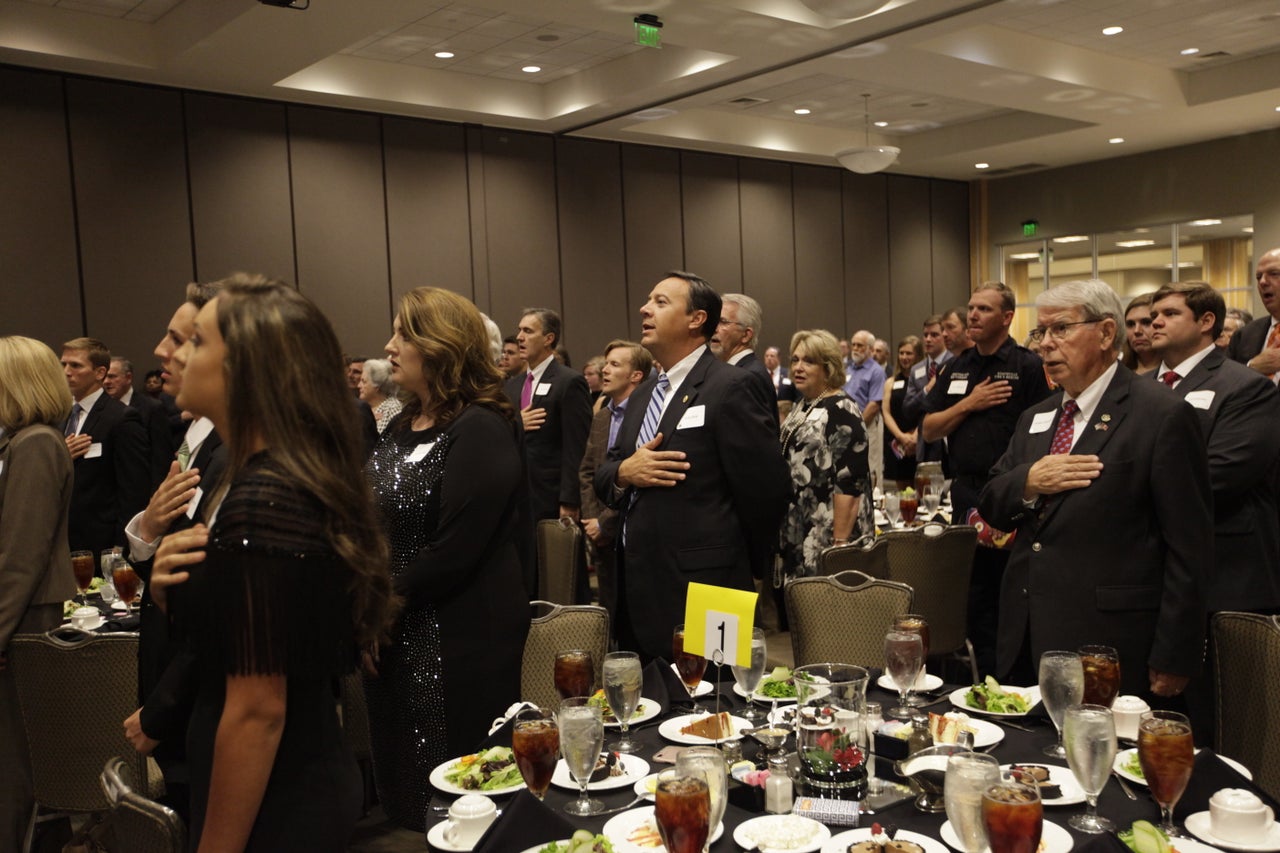 Some Democrats, meanwhile, are worried they don't stand a chance despite a close margin in the polls between Moore and his liberal opponent, Doug Jones. This is Alabama we're talking about. The state hasn't had a Democrat in the Senate since 1997.
Few people who spoke to HuffPost stood firmly in Moore's corner, and fewer still looked forward to whatever he plans to do as senator. Moore didn't respond to repeated calls for comment for this story, and he escaped out the back door of his gala event before holding the press conference that he'd promised that night.
But plenty of Alabamians were happy to talk about Moore. In their telling, the race is the political equivalent of the shrug emoji ― potential voters are throwing their hands in the air in some combination of disgust, befuddlement and bemusement.
Voter turnout was abysmally low for the primary and the runoff between Moore and incumbent Luther Strange.
The 14 percent of eligible Republican voters who actually showed up during the runoff were left with an awkward decision: They could take Strange, who'd won Trump's endorsement despite criticism by some that Strange was "more of the same" and too tight with disgraced former Gov. Robert Bentley. (Bentley had resigned amid a sex scandal and criminal investigation in which he pleaded guilty to allegations tied to funneling campaign contributions to himself.)
Or they could take Moore, whose gunslinging, evolution-denying, homophobic platform just doesn't do anything for Republicans other than normalize the resentment politics of people like, well, Trump.
Conservatives like Lomax said they want a legislative leader in D.C. and policy-driven discussion (how novel!). With Moore, they get more God and country, with a dash of divisiveness and corruption.
"Republicans traditionally have been a limited government party, and you have a guy saying that we need to pass a law that makes NFL players stand up during the national anthem," Lomax said. Indeed, Moore erroneously said this month that NFL players taking a knee during the national anthem are breaking the law.
"You can't legislate patriotism, you can't legislate morality, and we have a candidate who wants to do exactly that. And this is a guy that got removed or suspended, twice, for not respecting the rule of law."
'Nobody Feels Good About Roy Moore'
On Oct. 15 in Montgomery, a church service was held on the steps of the state Capitol where, 52 years earlier, Martin Luther King Jr. had addressed 25,000 people after a five-day, 54-mile voting rights march.
The service mingled the congregations of Landmark Church and Southside Church ― predominantly white and black churches, respectively. The churches hoped to help curb ongoing racism in the community by giving worshippers a chance to meet one another.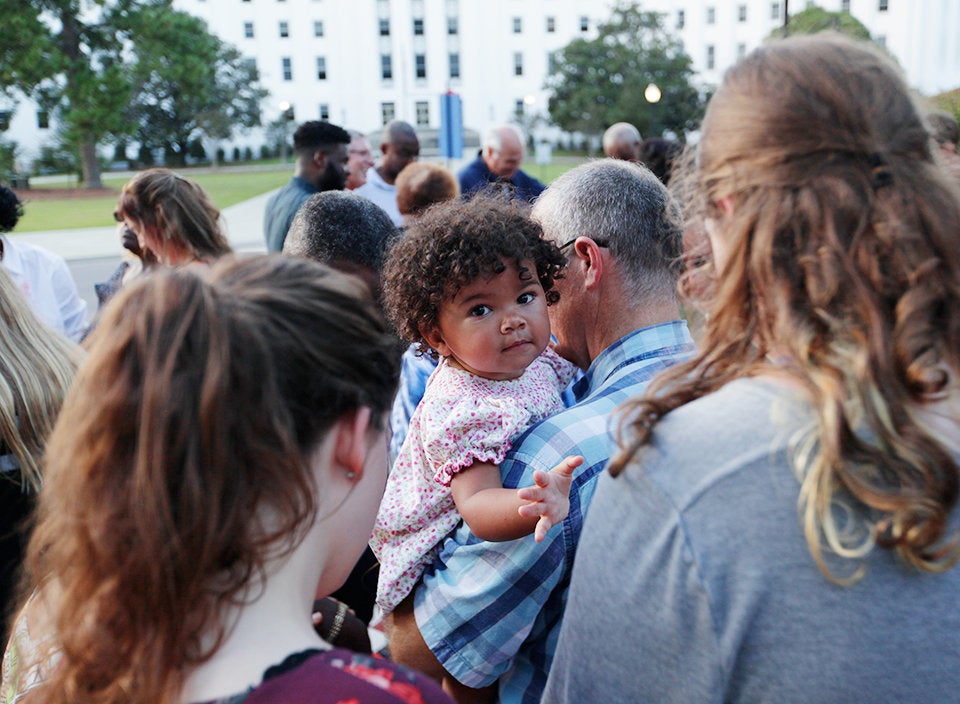 "We have to fix issues with racism here," said Buddy Bell, senior minister at Landmark Church. "We're not listening. We've gotta put ourselves in positions where we can eat together, worship together and work together. It's easy to dislike somebody from a distance. It's easy to go on social media and say something to somebody I've never met in person, but when I'm face to face with somebody, that wall comes down."
It was a beautiful service with a heartfelt message. And just like many religious services across the state, this one didn't have any problem mixing a little politics in with God.
At one point, Montgomery County District Attorney Daryl Bailey ― a member of Landmark Church ― addressed the audience to emphasize God's role in the city's future.
"As district attorney, I'm often asked about how can we solve the problems that we have in Montgomery," he said. "And I always tell people that government is not the answer. I, as district attorney, or the president of the United States, or the governor of the great state of Alabama, we cannot make the changes that need to be made. But guess what? God can."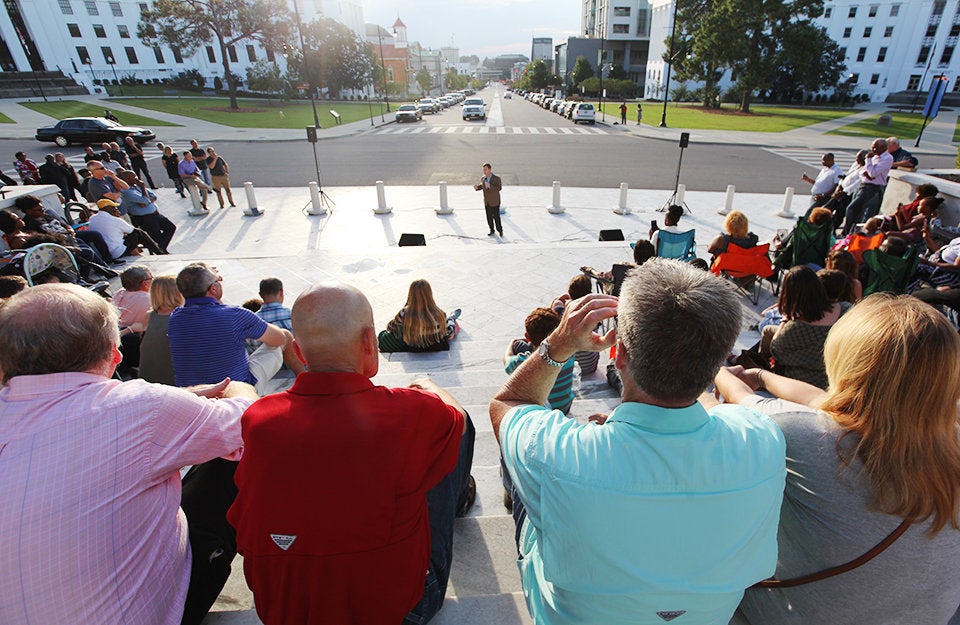 But speaking with congregants and religious leaders at the service painted a different picture. Even here, Moore's message is off-track. The joint service in Montgomery was fighting racism; Moore is fighting against government without God, which is a problem that doesn't really exist in Alabama.
"In the primary I felt like I had nobody to vote for, because they were both trying to out-Trump each other," said a religious leader at the service, who spoke about Moore on condition of anonymity. "Whether I could vote for the Democrat or not, that's a challenge. I just don't know. But nobody feels good about Roy Moore. Personally, I think there should be a separation of church and state."
With A Win, Republicans Have Everything To Lose
To be sure, it's possible to find Republicans who support Moore in Alabama. Their reasoning, however, is often tangential to Moore's own platform: Don't worry about the Republican candidate; worry about the other guy, Doug Jones.
"You've got a choice: Do you want someone who has said, 'I am for NFL players taking a knee,' or 'I'm for late-term abortions that go right up until birth?'" Alabama's Republican secretary of state, John Merrill, told HuffPost. "Or do we want someone who's a proven conservative, who we may not agree with, who we may think is a little extreme in some of his views, to be there for us?"
Of course, that statement is an egregious misrepresentation. In an interview with MSNBC about abortion that's being widely circulated on right-wing media sites, Jones never said he's "for" late-term abortions; he said he's against legislating a woman's body.
But statements like Merrill's have power, because they stoke the resentment of a base that would never vote against traditional, far-right Christian values. Jones' camp, meanwhile, just wants a better voter turnout than the 20-something percent it saw during the primaries.
Volunteers met at a high school football game in Huntsville earlier this month, handing out cups that read "VOTE" with the simple hope that Democratic voters would rally just a little more come the next election. The current polls are close enough that, given enough voters, Democrats think they can win this thing.
"I've met Democratic voters, many of whom are older, who feel a bit helpless," said Kate Messervy, 30, who volunteers for Jones' campaign. "But I think Moore winning the Republican nomination has rejuvenated some of those people to vote. It might be good for the Democrats that this aggressive candidate was chosen, because it is revitalizing a party that hasn't won in forever."
Whatever the outcome, it appears that state Democrats have everything to gain, while the GOP has everything to lose. Either a liberal politician sits in the Senate for the first time in decades, or the Republican Party gets an embarrassing legislator who will be marginalized in D.C. and potentially sandbag his party in future elections.
"Here in Alabama, we all feel that Washington's out to get us. It's kinda sad, and my generation as a result gets ruined by that in a lot of ways," Lomax said. "We need people that can go to Washington, D.C., and actually accomplish things. And that means compromise; that means actually talking to the other party; that means being able to talk to people in your own party."
He added: "Roy Moore, if he makes it to D.C., is going to be more of a wild card than people think. If it doesn't fall in line with his schtick of God and country, he'll vote against it."
Popular in the Community