Senate candidate Roy Moore has said he believes "homosexual conduct should be illegal." Asked Tuesday whether the former judge holds the same opinion on the day of Alabama's special election, Moore's campaign spokesman said, "Probably."
Ted Crockett, spokesman for Moore's campaign, told CNN anchor Jake Tapper that engaging in same-sex relations goes against the Christian Bible, on which, he asserts, all U.S. law is based.
"Homosexuality is a sin in the biblical sense," Crockett said, saying that's the opinion Moore and "the state of Alabama" hold.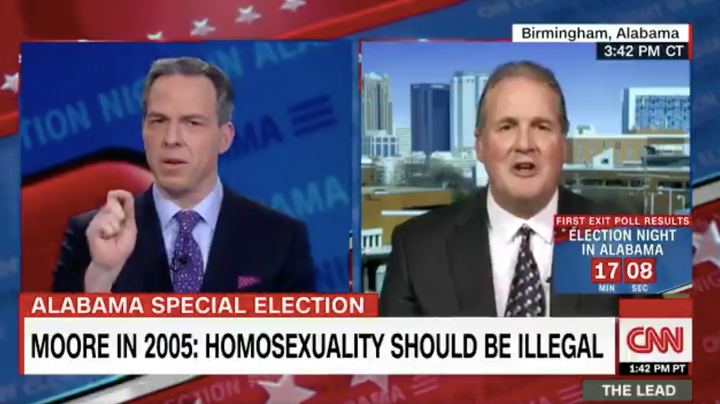 Moore said in a 2005 interview that he believes homosexuality should be illegal and that same-sex relations are akin to bestiality.
As chief justice of Alabama, he acted of these beliefs. After the U.S. Supreme Court declared same-sex marriage legal in all 50 states in 2015, Moore instructed state judges to flout the order. In September 2016, he was removed from the court for the remainder of his term. It was the second time in his career that he'd been suspended from the court for breaking U.S. law.
But Moore and his supported largely believe that "God's law" should trump "man's law." Questioned by Tapper on what he thought the proper punishment would be for engaging in same-sex relations, Crockett evaded, answering simply: "It's just a sin."
Tapper pressed him on whether he thought the Bible ― which, by the way, isn't clear cut on the question of homosexuality ― should govern U.S. law. Crockett reiterated similar claims Moore has made throughout his campaign and career, namely that the country "was founded on the Christian Bible."
"You people want to take the whole two or three thousand years of our history and ... throw it out the window, as if you're just going to make your own rules, your own man-made rules and do whatever you want, and sin, and that's part of the problem we've got in Washington, D.C., today, Jake," Crockett claimed.
Crockett falsely asserted: "You have to swear on a Bible to be an elected official in the United States of America. [Moore] alleges that a Muslim cannot do that ethically."
In fact, elected officials are not required to place a hand on the Christian Bible in order to swear an oath of service.
Popular in the Community