MONTGOMERY, Ala. ― A few dozen women gathered on the steps of the state Capitol on Friday to argue that those accusing former Alabama Chief Justice Roy Moore of sexual misconduct are liars, people who identify as transgender are awful, guns are good and abortion is bad.
It was a day of wide-ranging messages from Moore's supporters, who hoped to rehabilitate the Senate candidate's character after he was accused of sexually abusing teenage girls while in his 30s.
Moore's wife, Kayla, kicked off her speech by saying that she and other women feel attacked and stalked by the press. She jokingly called for a "thank you" from President Donald Trump, now that national media is focused on her family instead of the White House.
"I personally think he owes us a thank you," she said with a smile. "Haven't you noticed we aren't hearing that much about Russia?"
But beyond acknowledging that they themselves hadn't been touched inappropriately by Moore, the women's messages often went in unexpected directions. Instead of defending Moore, they focused on his accusers, and especially his Democratic opponent, Doug Jones ― a tactic that Moore himself has used.
"[The media] is down here trying to distract the attention from our opponent, who is ultra-liberal, who was an Obama delegate, who is for full-term abortions, who is for more gun restrictions, who is for transgender bathrooms, who is for transgender in the military, is against everything we in Alabama believe," Kayla Moore said.
The remark about "full-term abortions" was likely a reference to a September interview with MSNBC where Jones said he's against legislating a woman's body. The segment has been widely circulated on right-wing media sites. Jones has since said he supports "the law... that late-term procedures are generally restricted except in the case of medical necessity."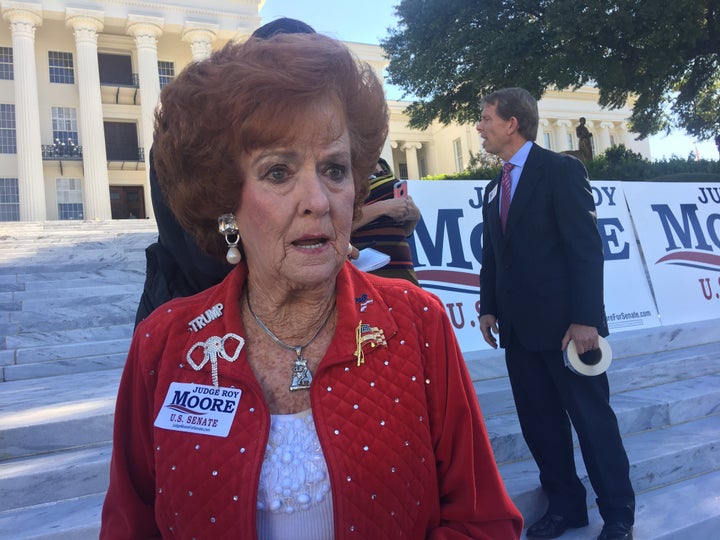 Faith2Action President Janet Porter hit the same notes when it came her turn to speak. "We shouldn't be able to suck a child's brains out at the moment before birth," she said.
Several women attacked Moore's accusers, saying the stories of abuse they've heard from multiple news outlets smell fishy. Martha Shiber, 79, wondered why one of the young women didn't tell her parents she'd been attacked.
"She didn't say anything to her mother about it ― why didn't she tell her mom? Why didn't the mother say anything about it?" Shiber said to HuffPost. "Roy has a beautiful wife! Why would he want to fool with some ugly-looking woman? She needs a sign over her head asking to pay for somebody to be with her."
Asked to elaborate on why the accusers' keeping quiet for several decades is evidence that they are lying, she said: "The more you stir shit, the more it stinks."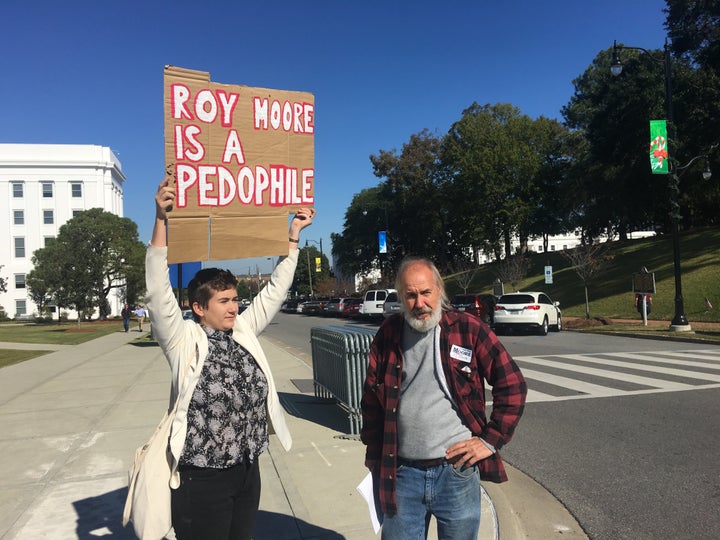 Even if the allegations turned out to be true, some voters wouldn't be swayed. Montgomery native Tim Hensley, 58, was seen arguing with a protester just outside the event. The protester held a sign that read "Roy Moore is a pedophile." Hensley told HuffPost that he'd forgive Moore for sexual assault.
"Nothing's really gonna change my mind," he said. "This was 40 years ago. I probably did some things I wasn't proud of then. I'd forgive him unless we found out about something, say, five years ago."
The special election between Moore and Jones is scheduled for Dec. 12. Many in the national GOP have called for Moore to step down, but he has repeatedly said he'll continue his race.
Popular in the Community