The Foundation to Defend the First Amendment is one of several nonprofit groups Carto used to shuffle money around to his anti-Semitic and racist conspiracy publications, to fund Holocaust deniers, and, apparently, to donate to Moore's nonprofit. The Carto-founded group touts its support for Moore and his Foundation for Moral Law on its web site. The contribution to Moore's group stands out as one of just a handful it has made to organizations not explicitly involved in Holocaust denial.
The people who run the Foundation to Defend the First Amendment have an ideology that is, "Total Nazi; and notice I didn't say neo-Nazi," Todd Blodgett, the former head of the white supremacist record label Resistance Records — and later an FBI informant — told HuffPost.
The contribution to Moore's nonprofit from Carto's group was found after a HuffPost review of public tax documents. There is no evidence that the nonprofit returned the check.
Moore's campaign did not respond to a request for comment. His foundation did not immediately respond to a request for comment.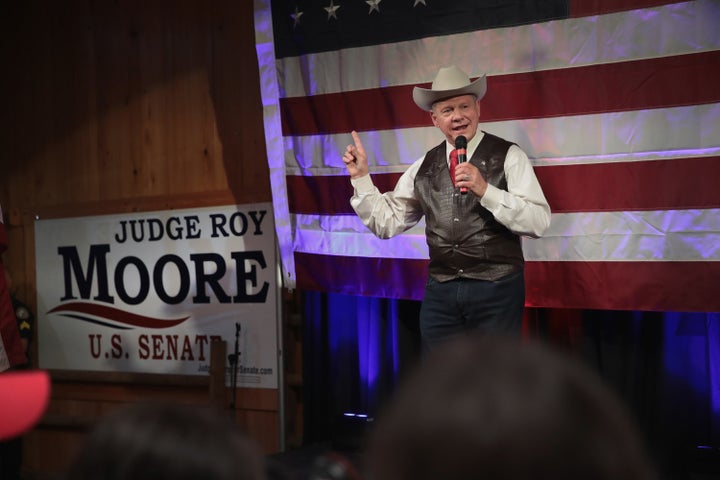 Carto, who died in 2015, was one of the most notable leaders of the racist and anti-Semitic far right in the U.S. after World War II. Through his Liberty Lobby political advocacy group and its attendant publications ― including American Free Press and SPOTLIGHT magazine ― he spread racist and anti-Semitic conspiracy theories to his readership. 
Carto supported former Alabama Gov. George Wallace's segregationist presidential campaign in 1968 before founding the Populist Party, which gave a political platform for noted racists like David Duke. In 2004, he signed the Duke-penned New Orleans Protocol, which advocated for the mainstreaming of white supremacist ideology. Carto's publications included those where the white supremacy was watered-down in an effort to target paleo-conservative supporters of Pat Buchanan. Other publications explicitly promoted Nazism and fascism.
In addition to donating to Moore's group, the Foundation to Defend the First Amendment provided tax-exempt donations to Carto publications including The Barnes Review, an explicitly white supremacist magazine that in 2004 ran an article stating that Adolf Hitler should have won the 1938 Nobel Peace Prize.
But most of the nonprofit's donations went to support Holocaust deniers, in particular those who faced prosecution in Europe or Canada. In 2005, the same year the foundation donated to Moore's nonprofit, it also gave $1,000 to Ingrid Rimland, a Holocaust denier married to Ernst Zundel, who himself had been imprisoned in Germany for promoting Holocaust denial. The foundation also gave $1,000 that year to Germar Rudolf, whom the U.S. extradited to Germany to face Holocaust denial charges in 2005. The Canadian Association for Free Expression, a white supremacist group headed by Paul Fromm, also received $1,000 from the foundation in 2005. Two other $1,000 donations in 2005 went to a 9/11 truther group called Reopen911.org and to Police & Military Against New World Order, a far-right wing conspiracy organization. The latter group, however, returned the $1,000 donation in 2006.
At the time the Foundation to Defend the First Amendment donated to support Moore's nonprofit, the group was headed by a Carto protege named Jim Tucker Jr. Tucker, who died in 2013, was a writer for both SPOTLIGHT and American Free Press with a specialty in conspiracy theories related to the Bilderberg Group, an international collection of leaders in business and government. Other individuals who sat on the board of the nonprofit at that time included Christopher Bollyn, a 9/11 conspiracy theorist who claims Israel was behind the attacks, and American Free Press author Pat Shannan, who believes both 9/11 and the Oklahoma City bombing were committed by the U.S. government with Israeli help.
"The basic goal of every editorial board meeting for Carto was to find out what's upsetting people and find ways to blame it on Israel," said Blodgett, who frequently sat in on editorial meetings at both SPOTLIGHT and The Barnes Review.
Moore, a controversial figure even within Alabama, has emerged as a favorite of the far-right wing in the U.S. and earned the endorsement of former White House chief strategist and Breitbart head Steve Bannon. A former chief justice of the Alabama Supreme Court, Moore was kicked off the court in 2003 for refusing a court order to remove a statue of the Ten Commandants that he placed at the state courthouse. After winning election to serve as chief justice again in 2013, Moore was suspended in 2016 for refusing to comply with the U.S. Supreme Court's Obergefell ruling that legalized same-sex marriage across the nation.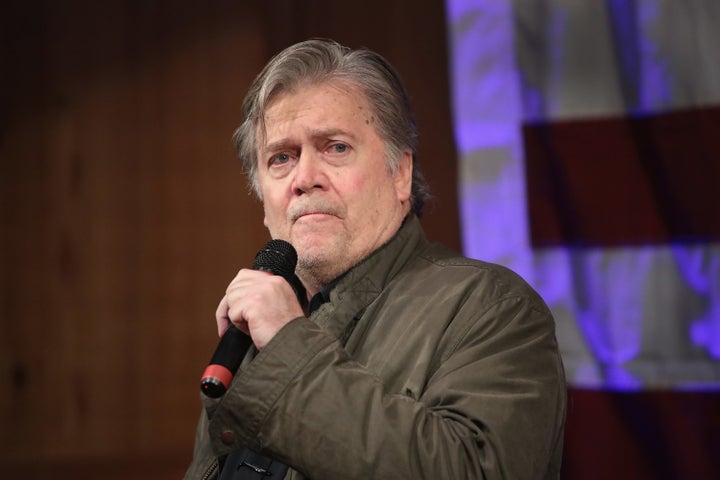 Moore is "much closer to our ideal Alt-South candidate: Southern, Christian, populist and nationalist, slashing and willing to defy the federal government," Shannan, the 9/11 truther who sat on the board of the Foundation to Defend the First Amendment when it donated to Moore's nonprofit, wrote in an endorsement of Moore published last month. "The White vote in the South, which was splintered during the late 20th century, has reconsolidated like it was in the Jim Crow South."
Shannan added that he declined to endorse Moore until after the primary, because "it would have been fodder for a media narrative that 'white supremacists support Roy Moore' and would have been an unnecessary distraction in the race."
The receipt of a contribution from a bonafide pro-Nazi organization is far from the first controversy surrounding Moore's Foundation for Moral Law. The nonprofit paid more than $1 million to Moore between 2007 and 2012, far more than the group reported on its tax disclosures, according to the Washington Post. Moore's group also hosted two events at its offices by neo-Confederate, pro-secession groups, according to a CNN report.
The foundation's largest known donor is Michael Peroutka, a Maryland county commissioner who used to sit on the board of the League of the South, a white Christian separatist group, according to Talking Points Memo. The League of the South was one of the organizers of the white supremacist march in Charlottesville, Virginia, that ended with the killing of a counter-protester.
When HuffPost called the Foundation to Defend the First Amendment, the phone was answered by an operator who stated the location as American Free Press. HuffPost's call was then directed to Chris Petherick, the editor-in-chief of American Free Press and current head of Carto's foundation.
When asked to explain the group's 2005 donation to the Foundation for Moral Law, Petherick responded, "That's Roy Moore." Then he hung up.
CORRECTION: A previous version of this story said that Blodgett sat in on meetings at SPOTLIGHT and American Free Press. He sat in on meetings at SPOTLIGHT and The Barnes Review.
Calling all HuffPost superfans!
Sign up for membership to become a founding member and help shape HuffPost's next chapter